Good morning! It's only 8am and my schedule has already been turned upside down. I had big plans to wake up early and get my run out of the way before work, but extra sleep and my to-do list trumped that idea. Sometime in the next 14 hours I need to: work 8 hours, run 9 miles, make it to a 6pm meeting, volunteer at CSA pick-up, and vote (it's primary day in NY State!). Errr, this is going to be interesting….
In other news, I ran 20-miles on Sunday! I was a bit nervous because 1) I was a little jet-lagged 2) the forecast called for rain and 3) I had to run most of it by myself, but it ended up being pretty okay. In fact, at one point I remember thinking "20 miles? No Big Deal". Don't get me wrong – it was still kind of hard and I was tired by the end, but once I got movin' it wasn't as daunting as I feared.
After my usual coffee + clif bar and about 30 minutes for digestion (ahem, time to use the bathroom), Alma and I set out to Central Park. I had company for the first 4 miles and then headed over to West Side Highway for the remainder of my run. The weather was cool and a little drizzly – pretty good for distance running! I ate a GU around mile 13 (hey, mint chocolate tastes sort of like thin mints….) and sipped water a few times. Everyone is different, but I'm more of a minimalist when it comes to mid-run fueling. If you haven't checked it out – hop on over to Sarah's blog and read her recent post about (not) eating/drinking while running.
Fancy stats thanks to Mr. Garmin!

1    00:09:39  <—- Starting out slow is important! 🙂
2    00:09:18
3    00:09:21
4    00:09:01
5    00:08:34
6    00:08:47
7    00:08:14
8    00:08:12
9    00:08:14
10   00:08:10
11    00:08:11
12    00:08:08
13    00:08:07
14    00:08:17
15    00:08:12
16    00:08:08
17    00:07:58
18    00:08:05
19    00:08:15
20    00:07:43
Summary: 20.00 miles  in 2:48:46 (08:26 average pace)
I was a little sore post-run, but an easy 6-mile jaunt and some ART (active release therapy) on Monday made the leggies happy.
Besides running, I've been getting back to a normal eating routine (I miss you burgers and fries!). This can be a little tough when I take into account my busy schedule and a copious amount of perishable CSA produce. To remedy the latter, I whipped up some homemade dill mayonnaise and tossed it with boiled potatoes, onions, and some salt & pepper. Voila! Homemade potato salad! You can also try adding chopped celery or hard boiled eggs. I may have been making this at midnight on Sunday…. Oy.
Homemade Dill Mayonnaise
1 egg yolk
1/4 teaspoon fine salt
1 pinch sugar
1 teaspoon lemon juice
1/2 tablespoon white wine vinegar (I used rice vinegar b/c it's all I had)
1/2 cup oil, olive oil (you can also use canola oil)
Handful of minced dill (fresh from the farm!)
In a glass bowl, whisk together egg yolk, salt, and sugar. Combine lemon juice and vinegar in a separate bowl then whisk half into the yolk mixture. Start whisking briskly, then start adding the oil a little bit a time until the liquid seems to thicken and lighten a bit. Continue adding the oil as a thin stream. Once half of the oil is in add the rest of the lemon juice mixture (this will "brighten" up the mayo).
Continue whisking until all of the oil is incorporated. Stir in dill and leave at room temperature for 1 to 2 hours then refrigerate for up to 1 week. Note: I used a wire whisk and arm muscles, but you could also use a food processor.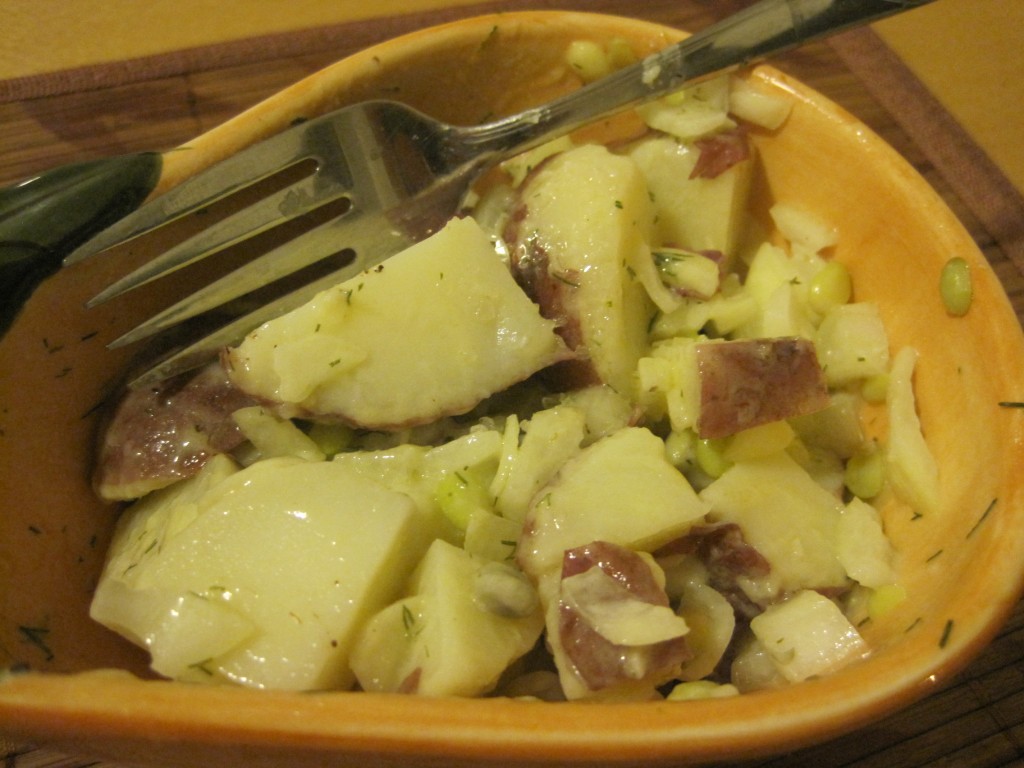 And finally, I came home from work yesterday to find this: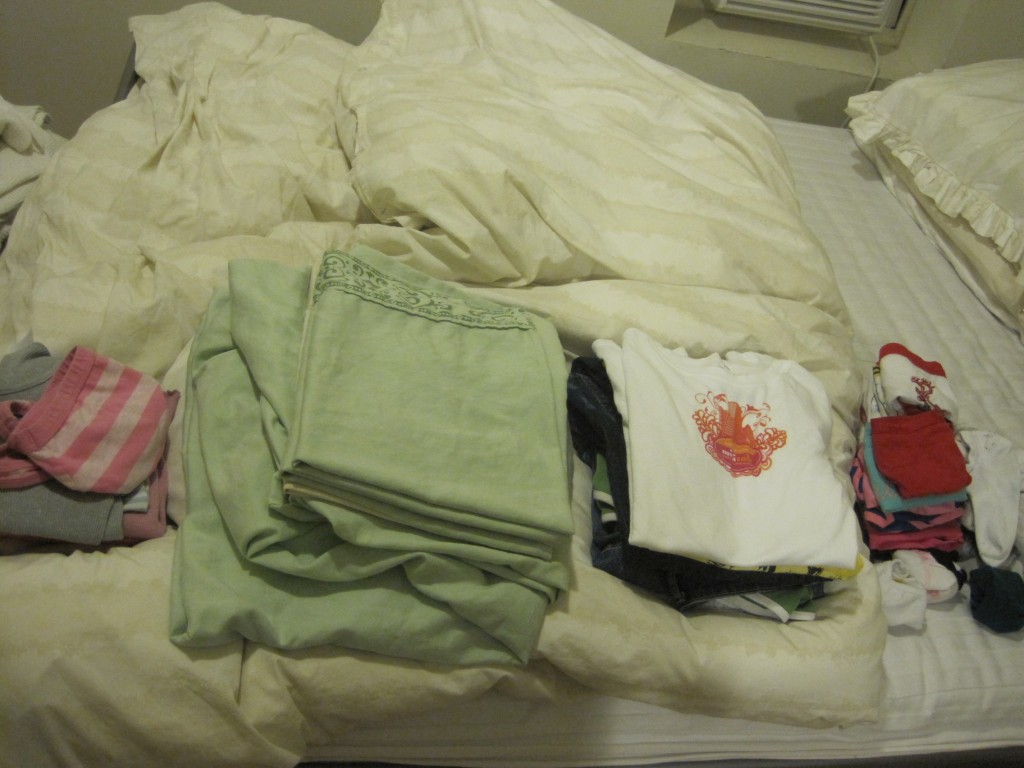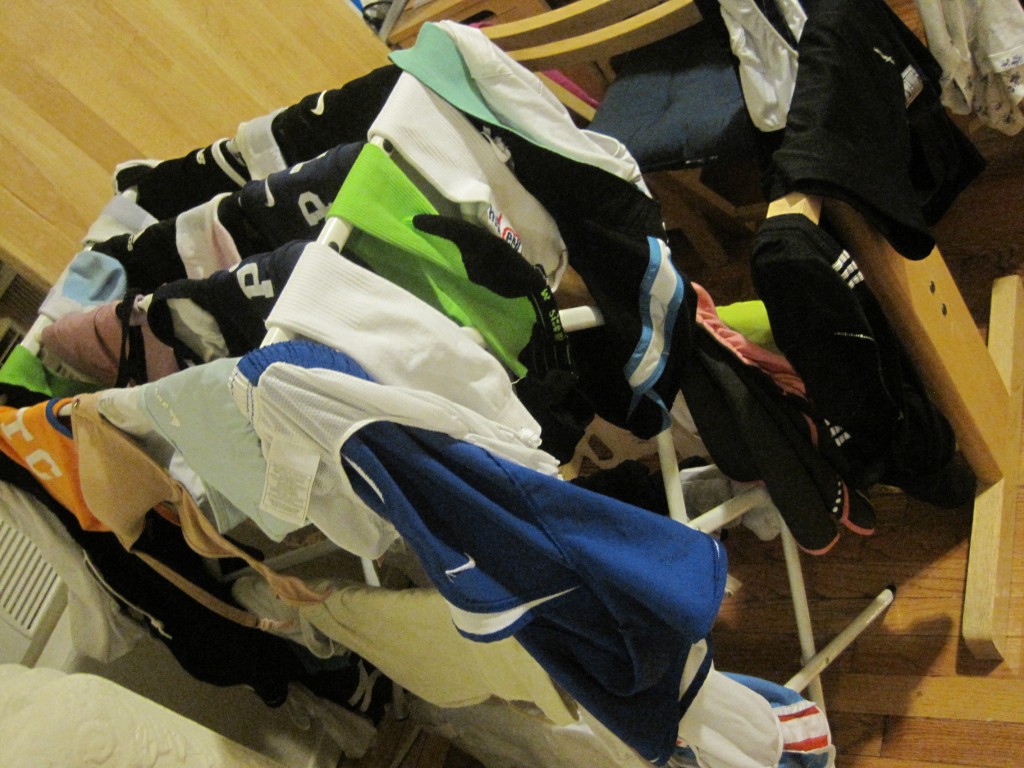 Yup, that's right. My roommate washed, dried, and folded my laundry for me as a birthday present. BEST GIFT EVER. Thanks Alma!!! <3
Question: What's your living situation? If you have a roommate (or spouse) – do you cook together?