The long run. It's an essential part of every training plan (you won't survive a marathon without it), but it can also be one of the most daunting workouts of the week. Even experienced runners stress out about completing this weekend ritual. And me? After many years of running, I still get anxious about my ability to complete the 18-20 milers required for marathon training. However, I've come up with a few tips that make it just a little easier to tackle the long run beast. Read on for the details!
Make it managable: Lately I've been running the 3 miles or so from my apartment to a meeting spot in Central Park. By the time I've met my friends, I've shaken off the rust and have knocked a few miles off the daily total. Usually we'll run 10-12 miles together and then I'll head back home (another 3 miles). I end up completing my mileage, but since it's broken up into chunks, it doesn't seem as daunting!

Hop into a race:

One of the great things about living in New York City is the abundance of races going on every weekend. While training for my first marathon, I signed up for a bunch of fall 1/2 marathons in the area (they only cost $15!) and incorporated them into my long runs. For example, I'll warm up for 2 miles, run the half-marathon  (13.1 miles) at a moderate pace, and then add on some more miles at the end. I did this a few weeks ago during the

Bronx 1/2 marathon

and it really made the miles fly by. If there aren't any 1/2 marathons near you, you can do the same thing with a shorter race. Is there a 5k being held in the next town over? Run the 10 miles there, complete the 5k, and have your family meet you at the finish line for brunch. Be creative! It's makes running more fun.

Break it up: Although not ideal, I've had to do a few long runs on the treadmill. Once I survived an indoor 15-miler by switching treadmills every 5 miles. At the end of each 5 mile segment I grabbed a sip of water and started watching a new program on the gym's TV.

"Run" an errand: Using running as a form of transportation gives my long run a purpose. For example, if you're on vacation with the family, wake up a little early, and head out for your run. Have them meet you XX miles away at a pre-determined pancake spot or beach locale. Knowing you won't be able to stop until you reach your destination is a nice motivator 🙂

Listen to a fun book on tape: I haven't tried this yet, but I'm keeping it in mind in case I get really desperate.
Yesterday's run was an easy 4.5 miler down the East side to an appointment (see tip #4 – using running as a form of transportation!). When I got back home I whipped up a dinner that I've probably made dozens of times, but there's a reason for that. It's cheap, easy, quick, and healthy. Win, win, win.
Noodles with vegetables and peanut sauce (serves 3)
Ingredients:
1/2 box whole wheat linguine (or soba noodles)

Tbs olive oil

1 small head of cabbage, sliced

1 red bell pepper, sliced into 1″ peices

1 cup cherry tomatoes, halved

1/4 cup peanut butter

2 Tbs rice wine vinegar

2 Tbs soy sauce

1 Tbs sriracha

splash of lime juice

crushed cashews
Directions:
Bring a large pot of salted water to a rolling boil and prepare pasta according to directions on box. Drain pasta and set aside.

Meanwhile, heat the olive oil in a large pan. Stirfry cabbage and pepper for about 5-7 minutes or until softenend. Remove from heat and add tomatoes. Allow to cool for a few minutes.

In the bottom of large bowl, whisk together peanut butter, rice vinegar, soy sauce, lime juice, and sriracha.

Add noodles and veggies to bowl and toss with sauce to combine.

Garnish with crushed cashews and more sriracha.

Note: This would also be great with shrimp or tofu, but I didn't have any on hand.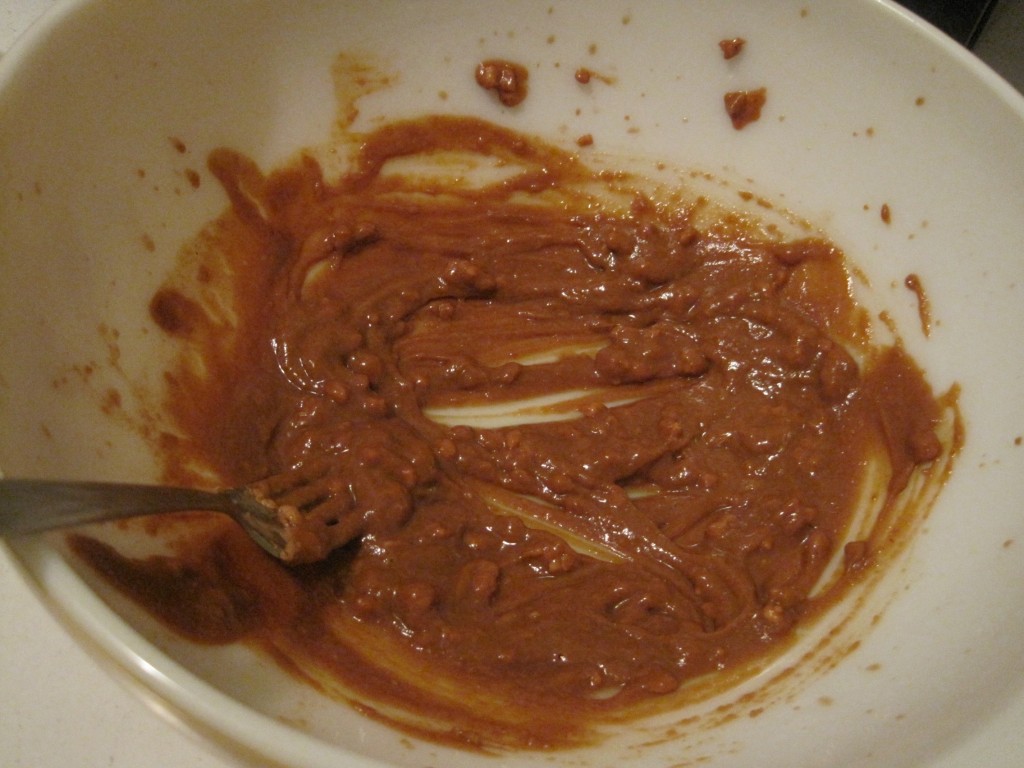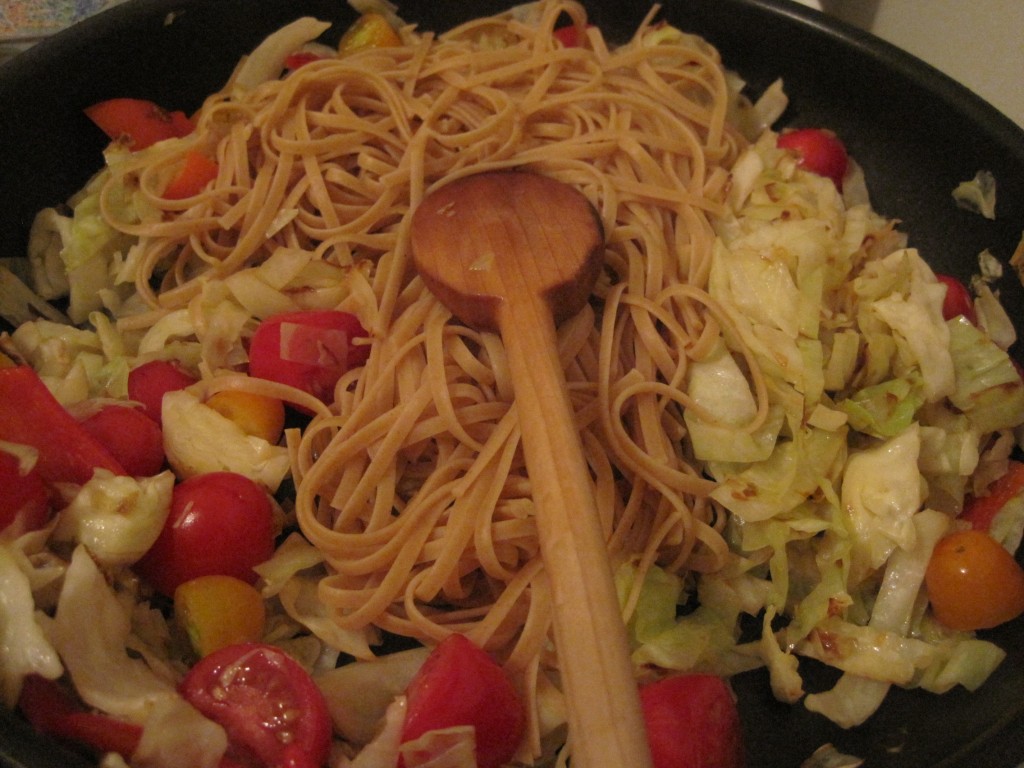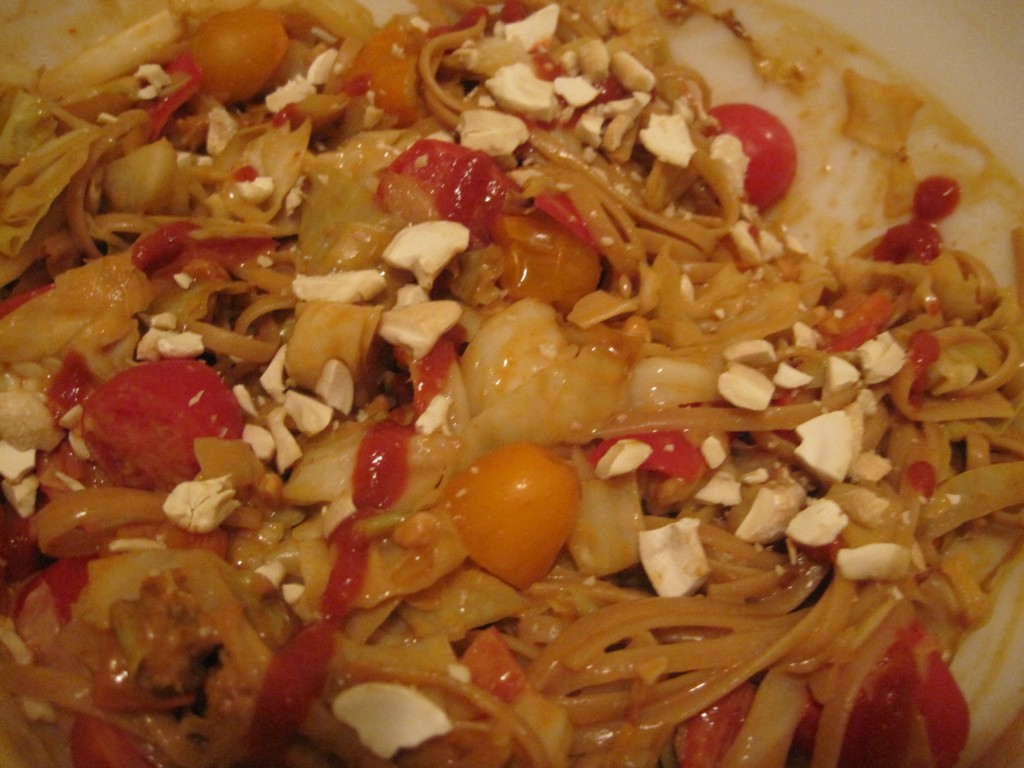 Nutritional stats per serving: 450 calories, 62 g carbohydrates, 17 g fat, 16 g protein, 11 g fiber. Plus a good amount of vitamin C and iron.
I love that this dish can be made with pantry ingredients that I have on hand and the opportunities for variation are almost endless!
What's your go-to dish for a busy weeknight?