Greetings from the Keystone State (a.k.a. Pennsylania!). I slept for 12 hours last night and feel like a new woman. Note to self: start sleeping a solid 7-8 hours every night. On Friday I ran an easy 6 mile recovery run in CP. I wanted to take it easy in preparation for my longest run in over a year – an 18 miler! On Saturday I woke up about an hour before I needed to leave in order to drink my coffee –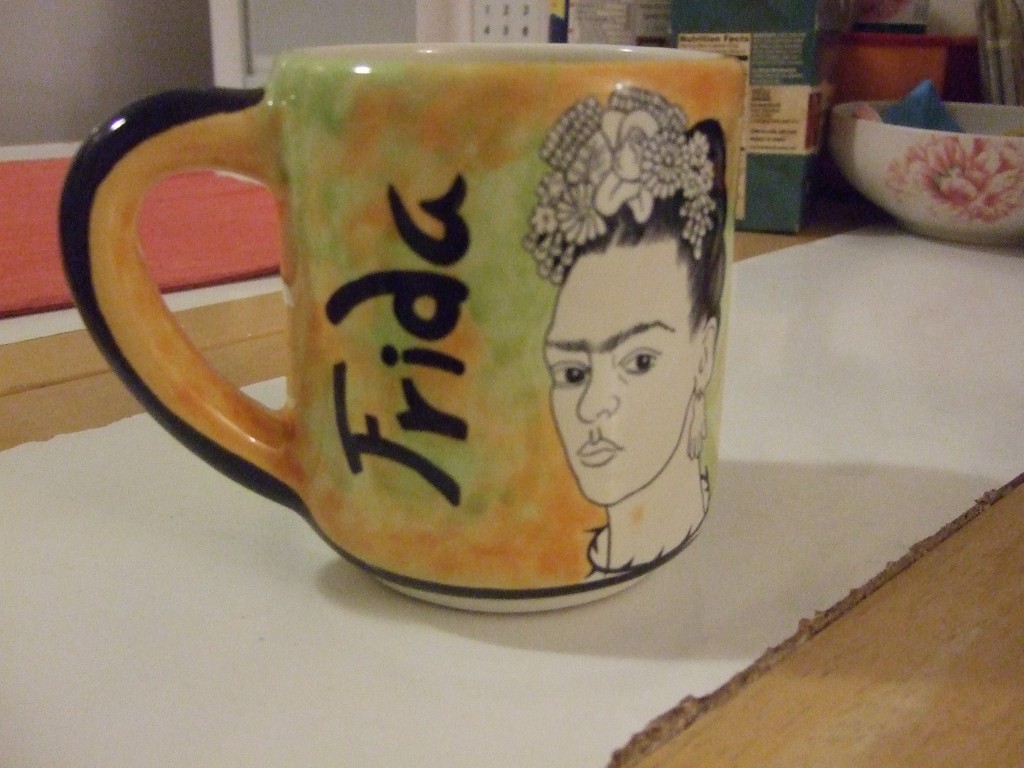 and nibble on a lara bar.
Around 8am, I headed out the door and ran from my apartment to Columbus Circle, met the girls, and then ran down to the BK bridge and back (via Summer Streets – Park Ave was open to pedestrians!). Shelby and I added on a few more miles in the park and while I was tired at the end, I could have easily down a few more. The company made the time fly by and awesome long run overall. I ate an espresso flavored gu at mile 11 and had some water a few times. 18 miles in 2 hour and 38 minutes (~8:46 pace).
Within 5 minutes of finishing my run I downed a smoothie made with milk, apple cider, banana, and frozen strawberries. Refuel win!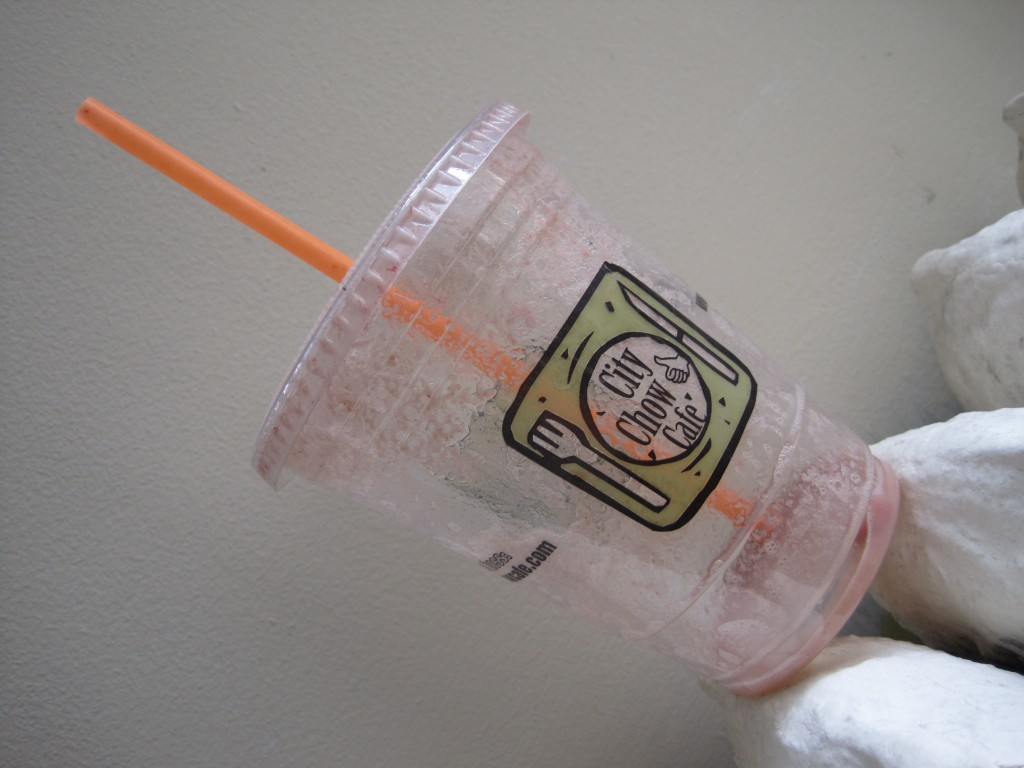 And then I suffered through enjoyed a dip in my gym's "cold plunge pool" a.k.a. an ice bath. The cold water constricts blood vessels in the legs and helps remove lactic acid. It was pretty painful, but I ended up having minimal soreness the next day, so I guess it works! I lasted for about 3 minutes for my first dip and 5 minutes for my second dip. I hope to last a solid 10 minutes after my next long run, but maybe I'll need to find some neoprene booties first.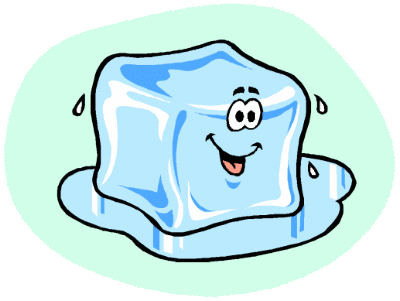 I'm about 36 hours removed from my long run and so far feeling minimal soreness. I think the combination of immediate refueling (smoothie), ice bath, and compression socks really helped the recovery process. I ran an easy 5.5 miles on Sunday bringing me to 60 miles for the week. High mileage isn't for everybody, but I think I respond well to it. I was thinking about it the other day and this is the first time in a long time that I have absolutely no lingering aches or pains. Keeping my fingers crossed that this lasts until November 7th!
Running 18 miles makes for a hungry Megan. Some yummy selections from my day of eats –
Roasted corn, cherry tomatoes, and homemade pesto salad. The pesto was super easy to make – I just mixed together 2 cups of basil, 1/2 cup Parmesan cheese, 1 garlic clove, 1/4 cup walnuts, salt, pepper, 2 Tbs lemon juice, and 2 Tbs olive oil in a food processor.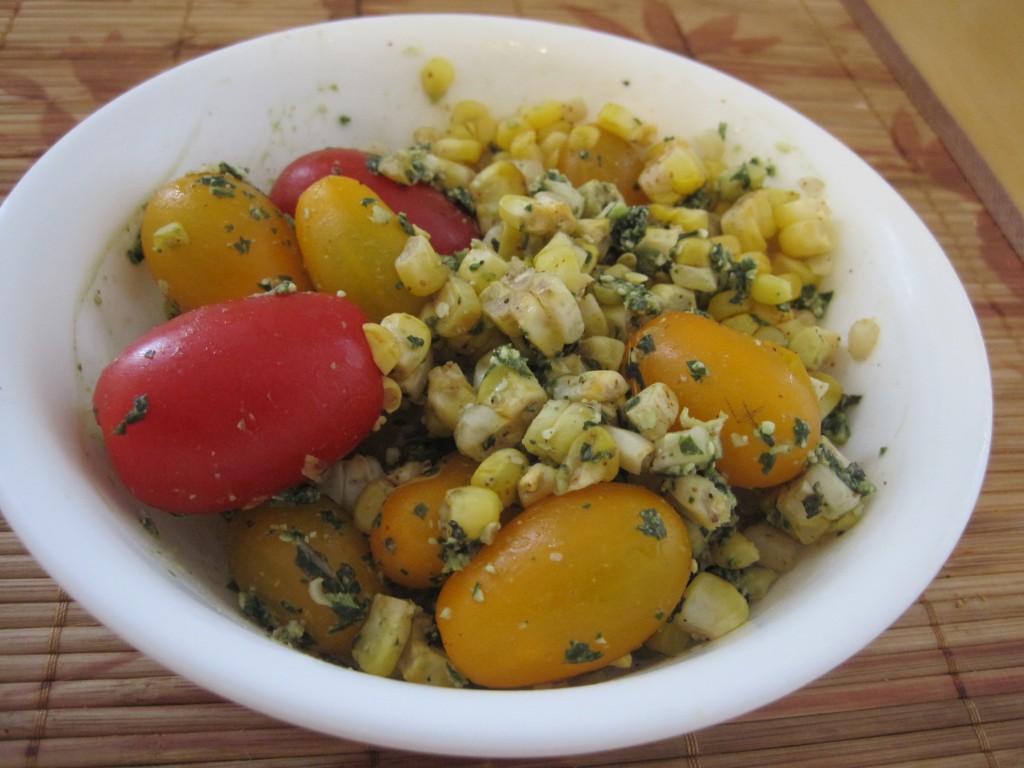 Salty tortilla chips + cheese + salsa + guac. YUM. Eaten in bed, while wearing compression socks of course. The best way to recover from a long run!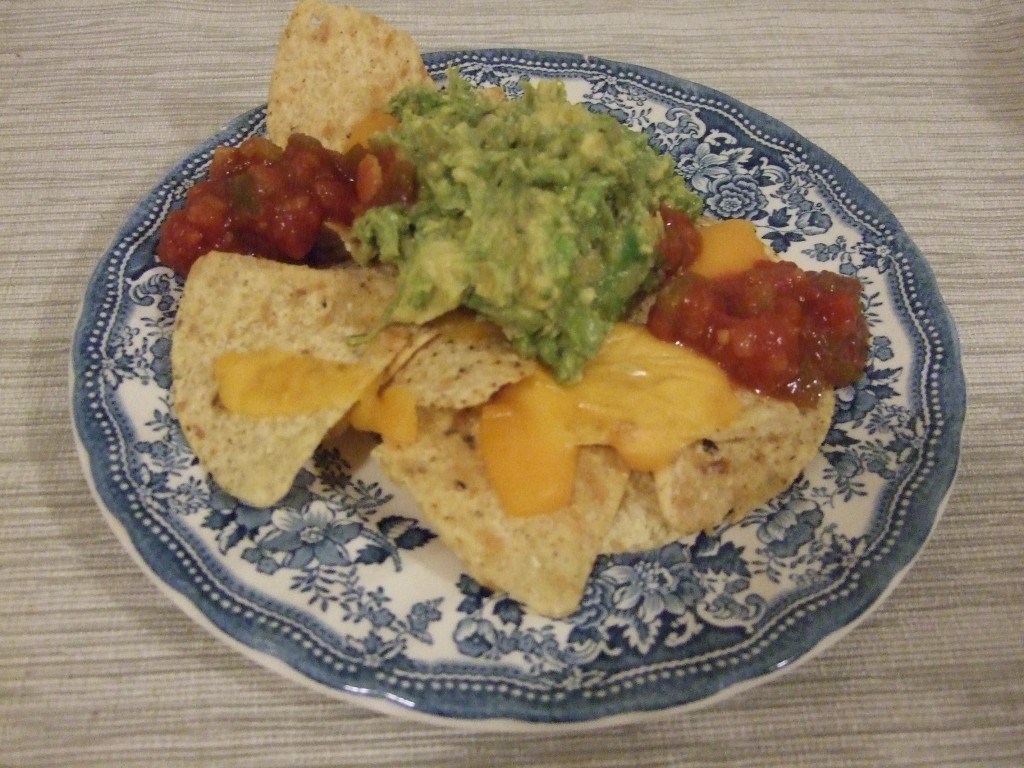 Some wild Maine blueberries and Greek yogurt made for an antioxidant packed afternoon snack.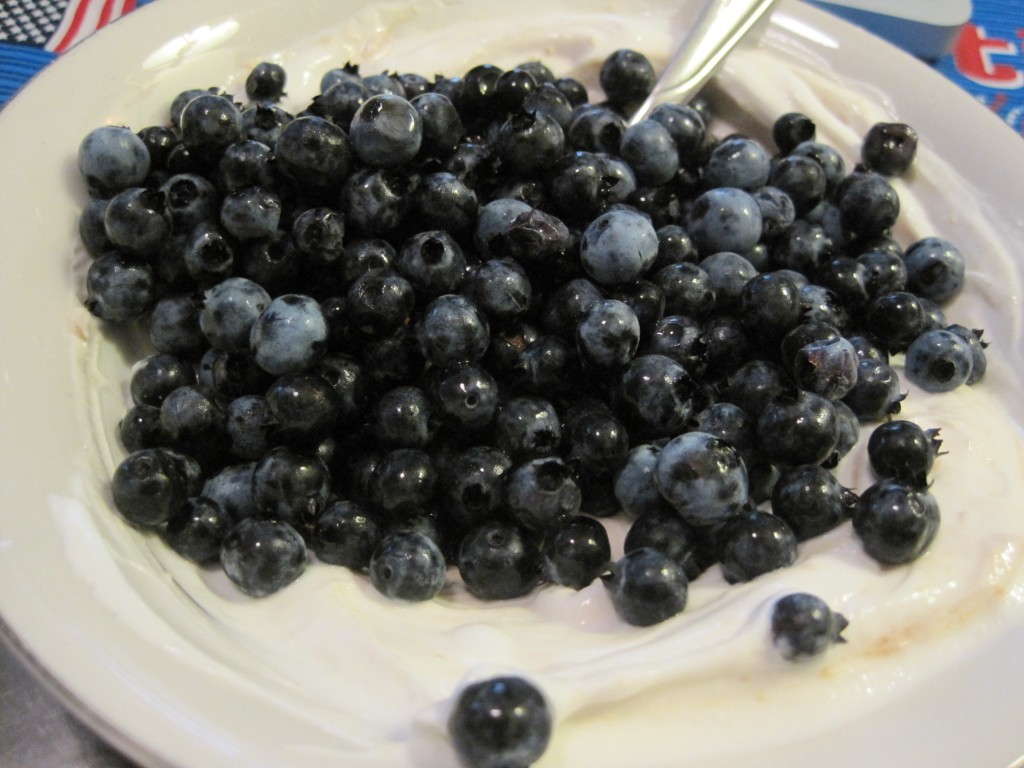 I love fruits and veggies, but I also love cake and ice cream! On my drive to Pennsylvania, I stopped at a Dairy Queen for a chocolate dipped cone.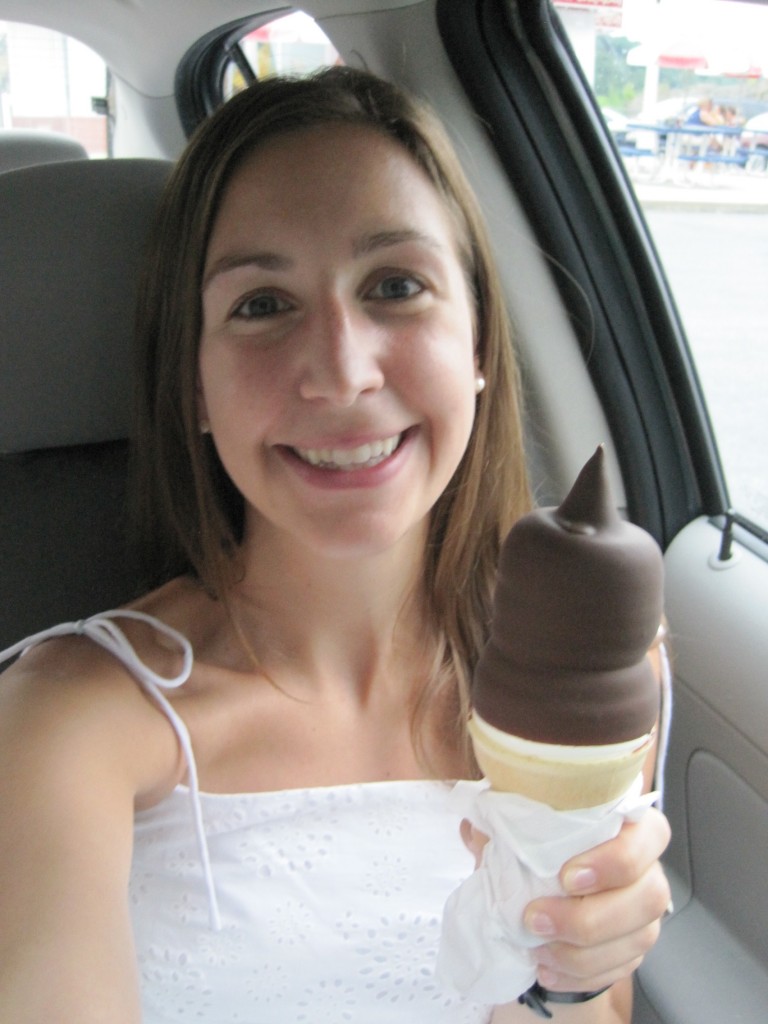 Followed by a slice (or two) of birthday cake. My bday's not for another 10 days, but the fam insisted on celebrating a little early because I might not make it home again till Thanksgiving! Bonus points to anyone who tells me I don't look a day over 18 🙂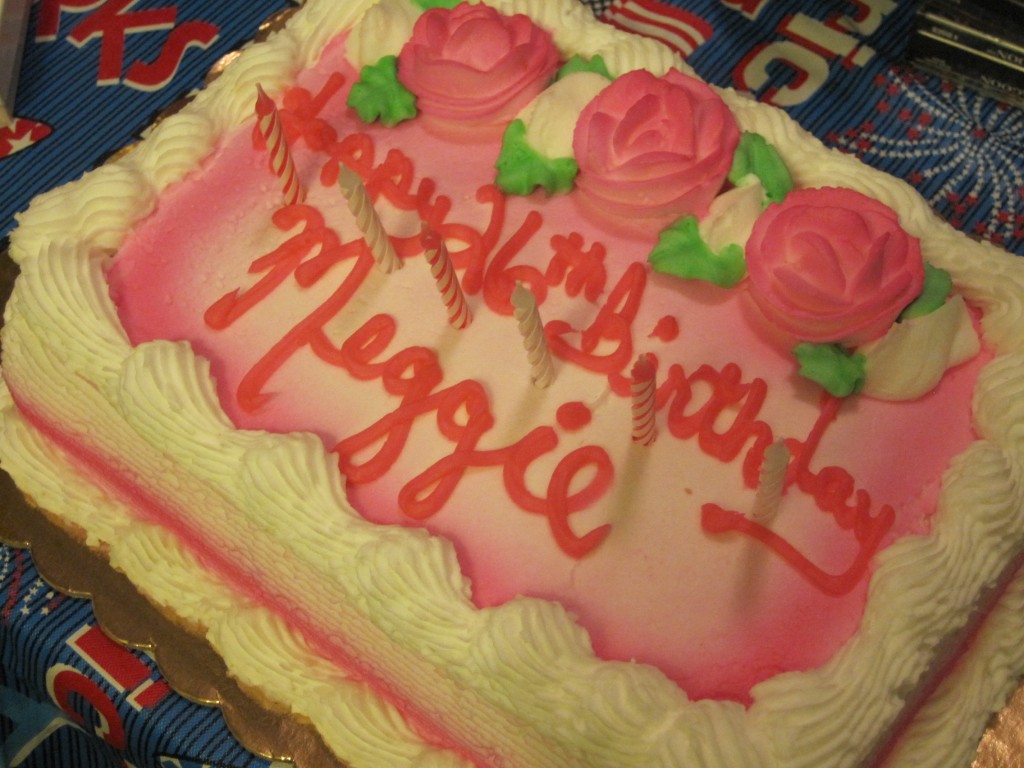 18 mile run with my lady friends, ice cream, cake, and some quality time with my sister's new kitten = a pretty good Saturday!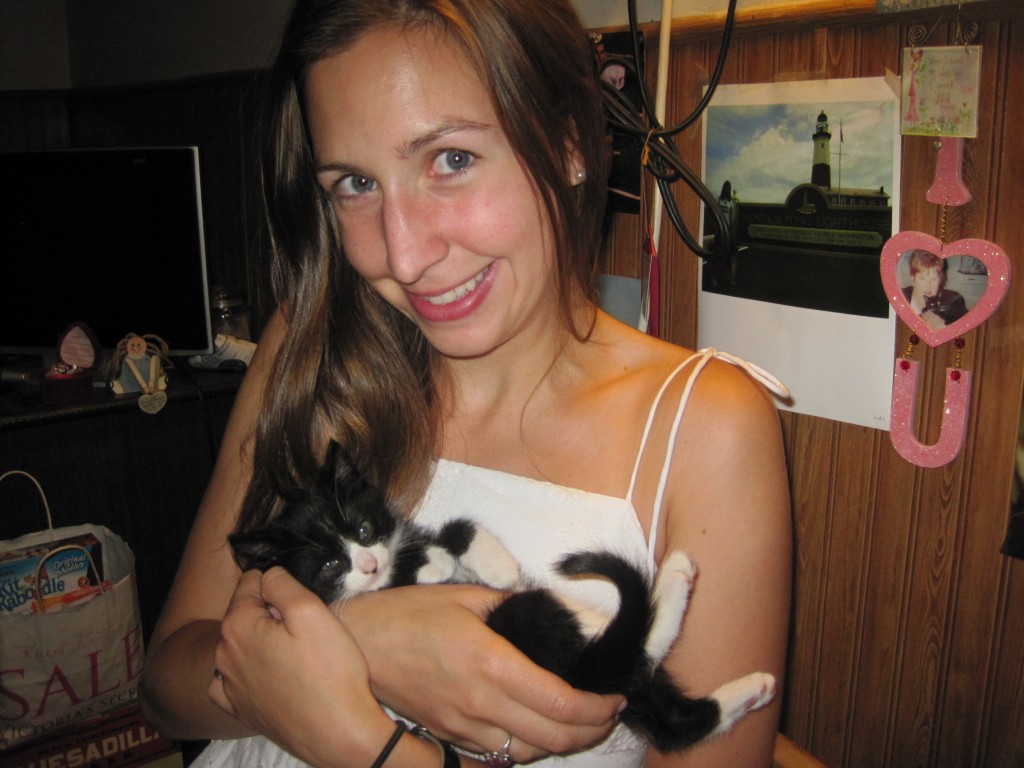 How did you celebrate birthdays when you were a kid? For as long as I can remember, my mom has ordered me a marble cake with butter cream icing (and pink roses!) from the local bakery.