Hooray and Happy Saturday! I am freshly showered and re-fueled from this morning's race. At 9am I raced in the NYRR Club Championships in Central Park. Every August, the local running clubs go head-to-head in a 5-mile race. As a proud member of the Central Park track club, pride (and a PR!) was on the line.
After my usual pre-race breakfast (coffee, banana, pb) I headed to the park for a warm-up. I ran easily for about 3 miles and included a 2 minute tempo pace segment. I've heard that a few minutes of quick running before a race can get the body in "race mode", so that a fast start isn't such a shock to the system. I did this 2 minute fast segment instead of strides (~100m pick-ups) and I think I liked it better!
I lined up with my teammates and started the race off fairly conservatively. A lot of people were ahead of me in the first mile or so and that made me a little worried, but I gradually picked them off. I'm really happy with my racing strategy today!
mile 1- 6:47
mile 2- 6:33 (downhill)
mile 3- 6:37
mile 4- 6:47 (uphill)
mile 5- 6:25
Total – 5 miles in 33:09 (6:37 pace)
I think the funniest part of the day was after I finished. I was feelin' pretty exhausted, so I sat down on the ground after crossing the finish line. One of the race officials came over and yelled (loudly) – "Hey, we've got a medical [emergency] over here!" I quickly stood up and assured him that I was fine, just tired. Hehe. It was a little embarrassing!
After team photos, I cooled down for about 1.5 miles, bringing me to 9.5 miles for the day.
This was my last summer race and I'm kind of looking forward to focusing on marathon training full time. Shelby and I have 15 miles planned bright and early tomorrow. Oy.
So today's race was a good one. What can I attribute it to? I think solid training (team workouts 1-2x per week and long runs), adequate sleep, and delicious meals all helped! After a busy July, Alma and I were finally both at home this week. We reconnected with some lovely roommate dinners. On Thursday, we made some pita pizzas with arugula salad and wine (tres romantique!) on the side.
This dinner was super easy to make and quite healthy.
Pita Pizzas (for two)

Ingredients:
whole wheat pitas (1-2 per person), split in half
1 cup marinara sauce
1/2 cup shredded cheese
2 oz. goat cheese
your favorite veggies – onions, olives, red pepper, tomato, etc.
fresh basil
Directions:
Preheat your oven to 400 degrees
Place pita bread on a baking sheet, top with sauce, cheese, and veggies
Bake for 8-10 minutes, adding fresh basil in last 2 minutes of baking time
EAT!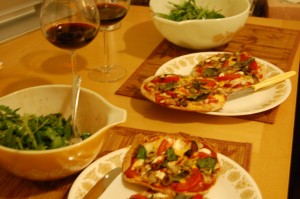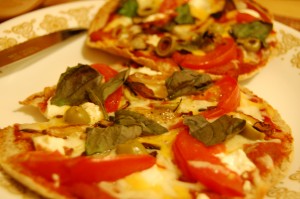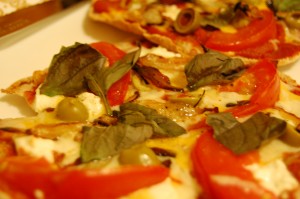 And yes, we eat our salads out of mixing bowls 🙂 With EVOO and balsamic vinegar.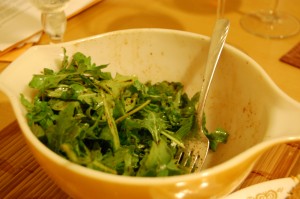 For our pre-race meal, Alma cooked up her famous noodles with vegetables, tofu, and peanut butter sauce. Apparently my dislike of pasta does NOT transfer over to asian noodles. I love this dish! We used regular pasta (not whole wheat) to keep the fiber content in check…no one likes unnecessary tummy troubles on race day.
We topped our bowls with generous amounts of lime juice and sriracha (I've gone through 3 bottles already this year…)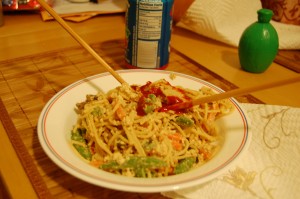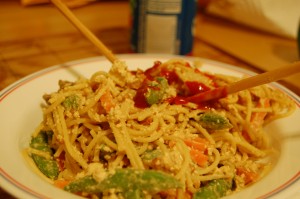 I also continued carbo-loading (hehe) with some mint chocolate chip ice cream before bed.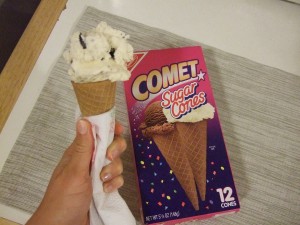 After a few months of injury, Alma also had a really awesome race today. Wooo! Teamwork.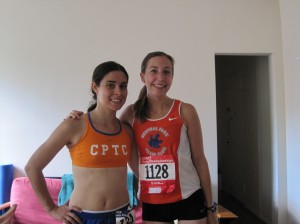 I'm off to to Starbucks for a frappuccino (yes, I'm addicted) and a softball game in Central Park. Enjoy your summer Saturday!
Too busy to get to the gym? Strength train while you watch Jersey Shore! Check out this couch potato workout.
Question 1: What's your favorite pizza topping?
Question 2: What's one healthy thing you've done (or are going to do!) this weekend?
p.s. I still haven't done core work….maybe tonight? Keep me accountable!