For someone who loves food (and running!) as much as I do, New York City is a pretty great place to live. Saturday's temperatures (sunny, breezy, and 70 degrees!) were perfect for a morning jog through Central Park. This week's training has been pretty intense (track workout Tues, tempo Thurs, long run Sun), so I took it nice and easy and ran for about 2.5 miles. My destination? H&H bagels and Zabar's for homemade scallion cream cheese!
The weather was perfect for a picnic in Central Park!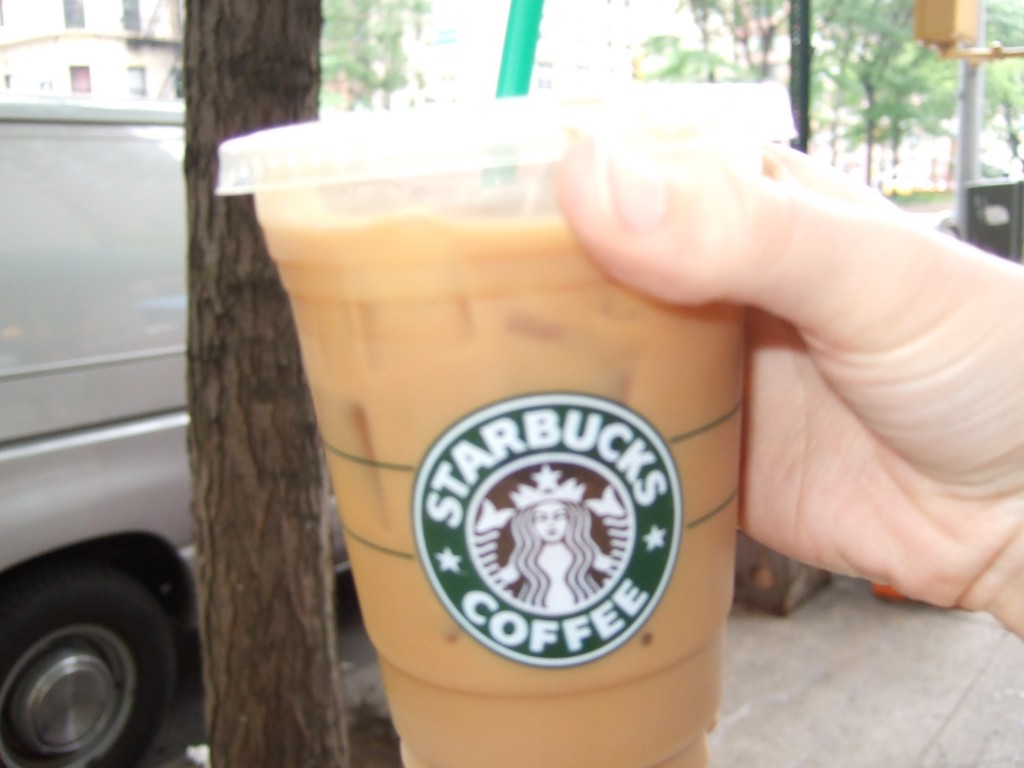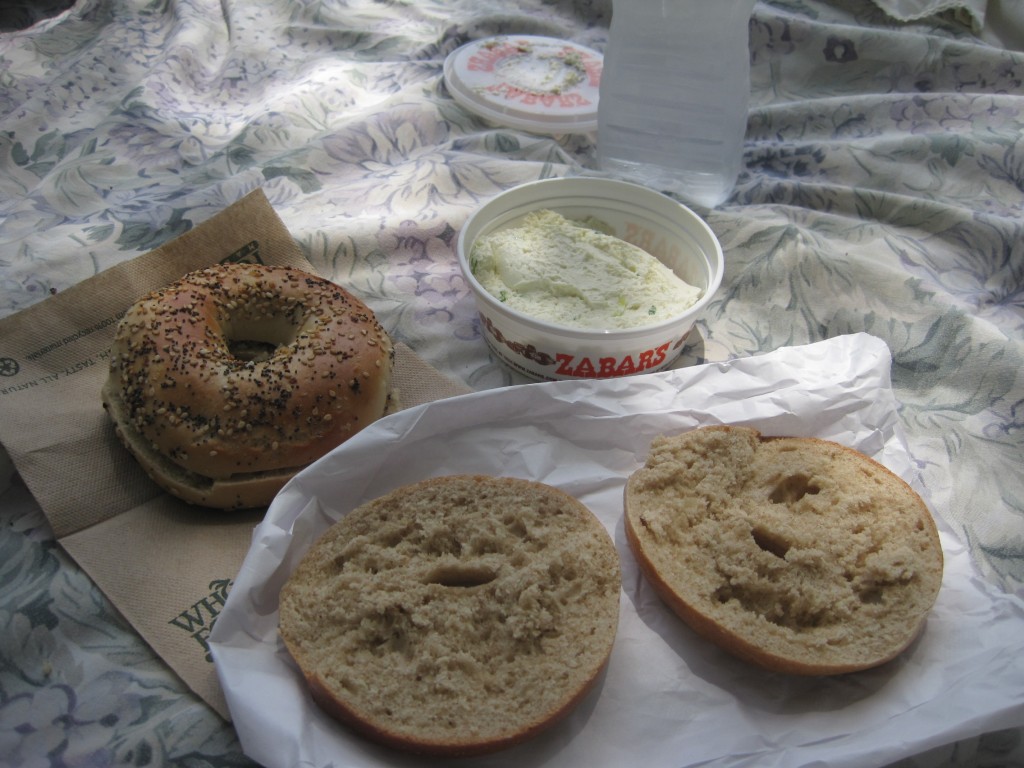 I had a fellow foodie to keep me company (and take photos):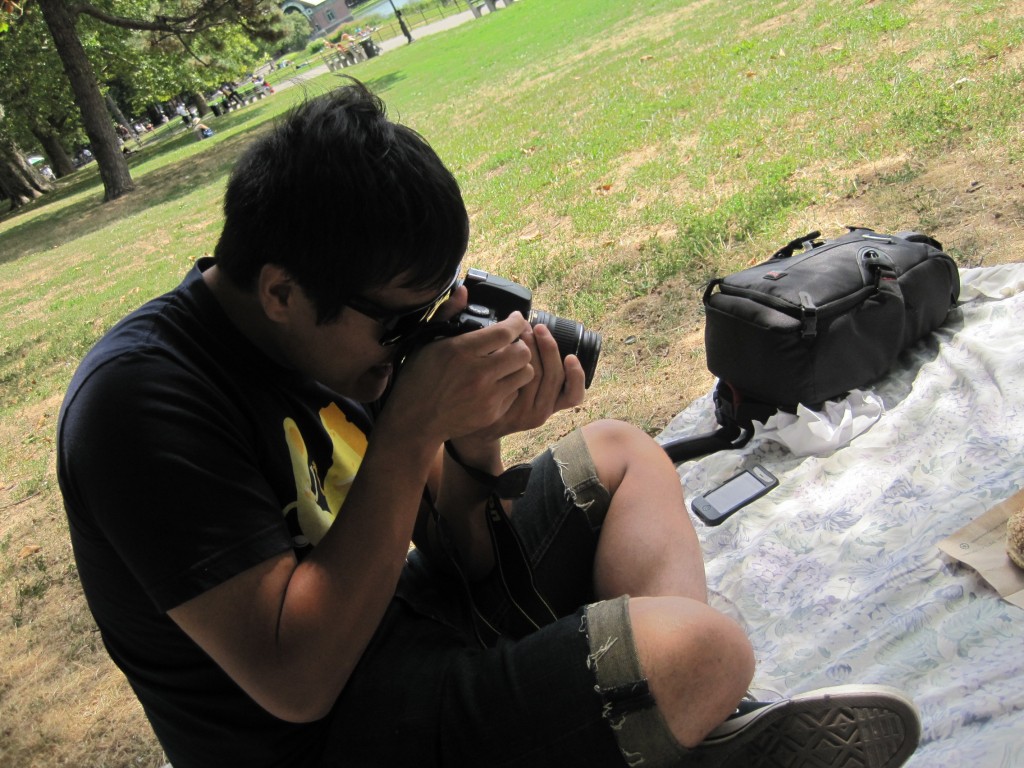 Next on the agenda? A tour of the Brooklyn Brewery and some sampling of the brews…I tried the unfiltered Weisse (very wheat-y) and a Summer Ale. The bar tender told me that the unfiltered beers contain more B-vitamins. That makes it a healthy lunch, right? Hehe. I had some trail mix too.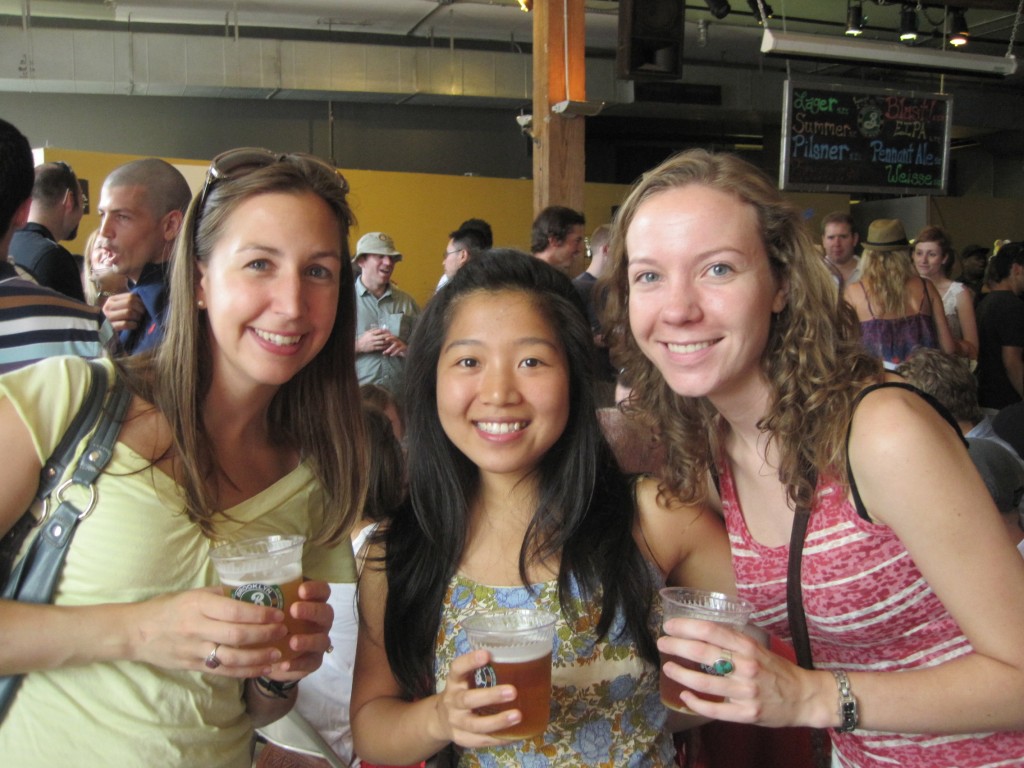 After the brewery, we paid a visit to Trader Joe's to pick up some essentials – cheese! Our plan for the night: Gourmet mac n' cheese with cheddar, gruyere, fontina, gorgonzola, and parmesan.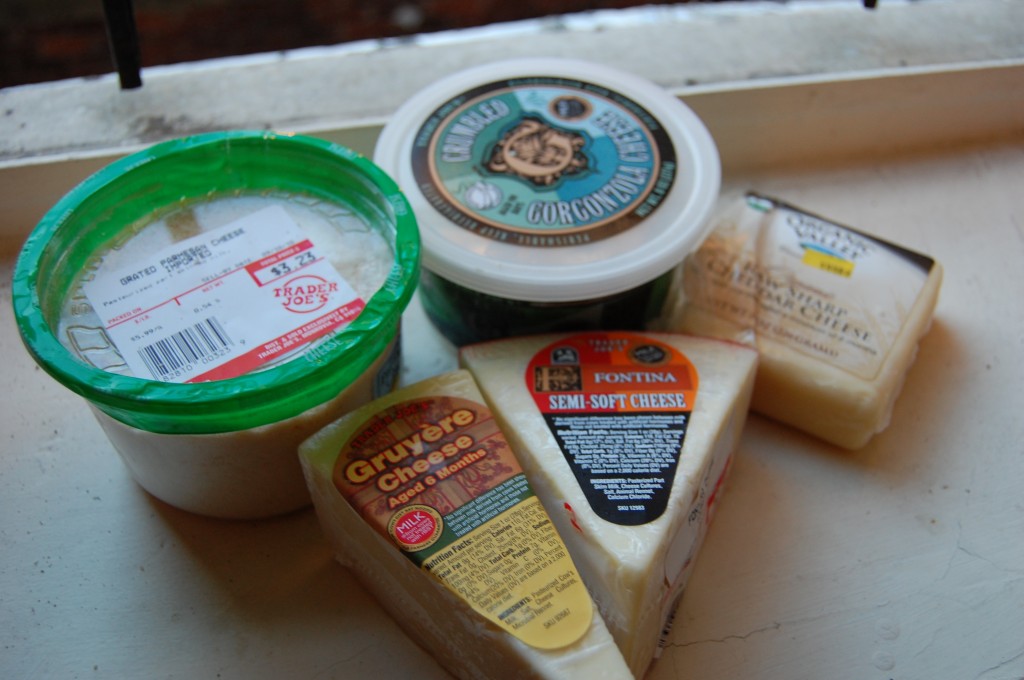 How to chiffonade basil – a pictorial
1) Stack basil leaves with the larger leaves on the bottom.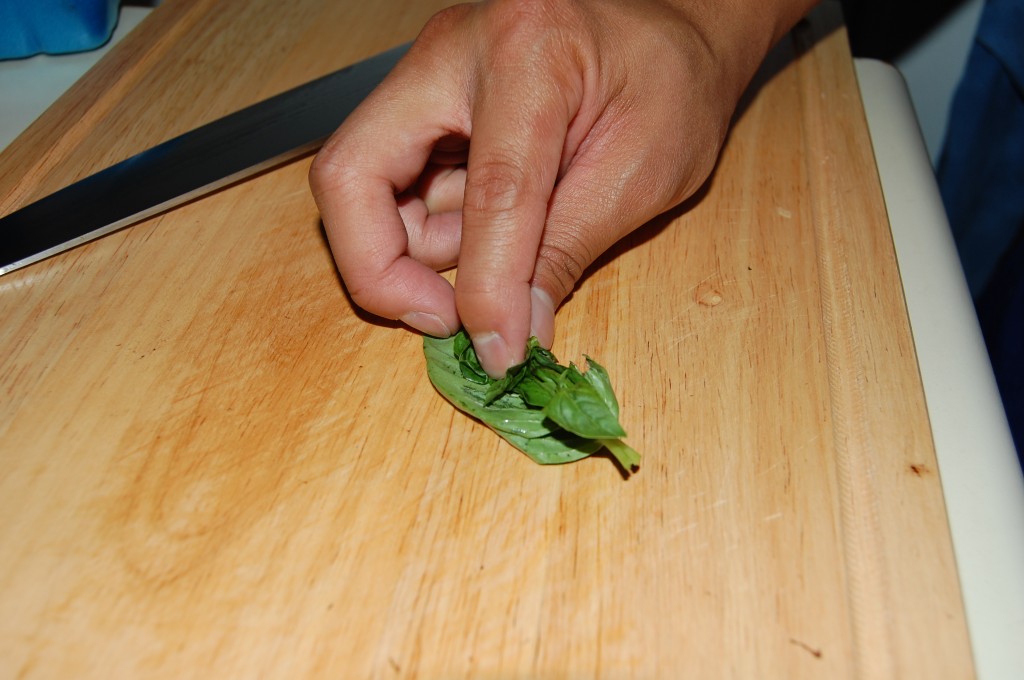 2) Roll into a cigar shape and hold closed.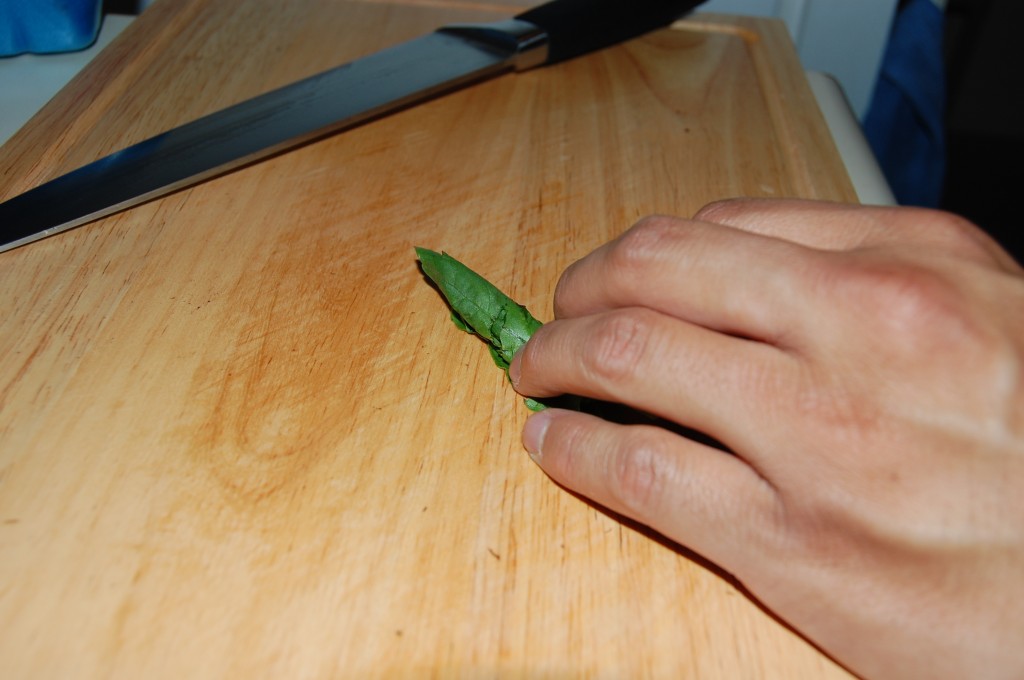 3) Finely chop with a chef's knife.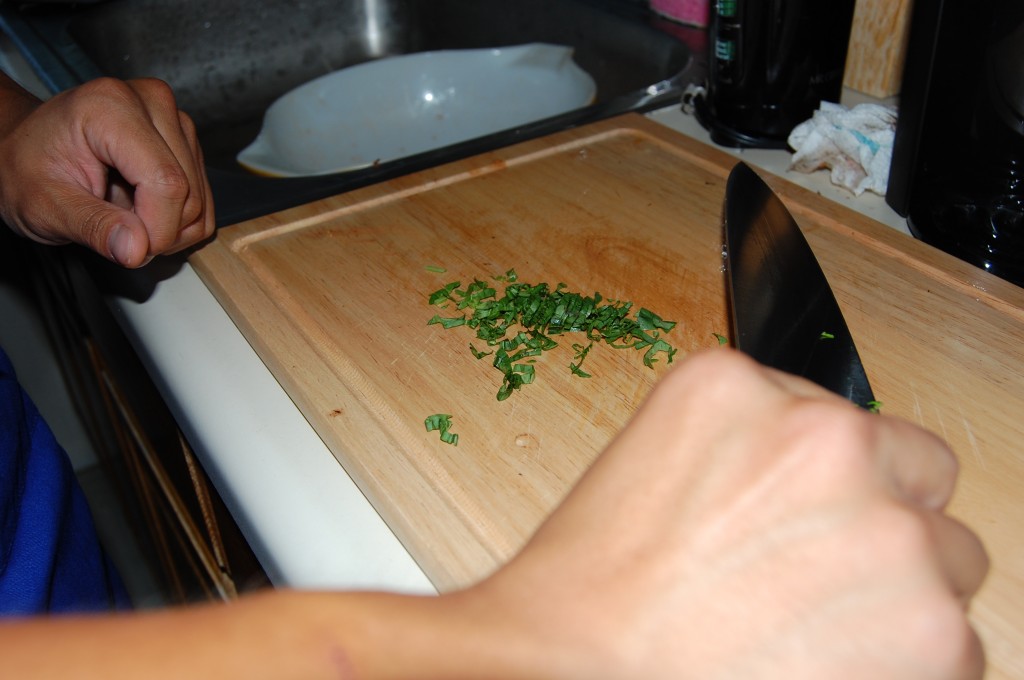 4) Ta-da! Thanks Chef Brian.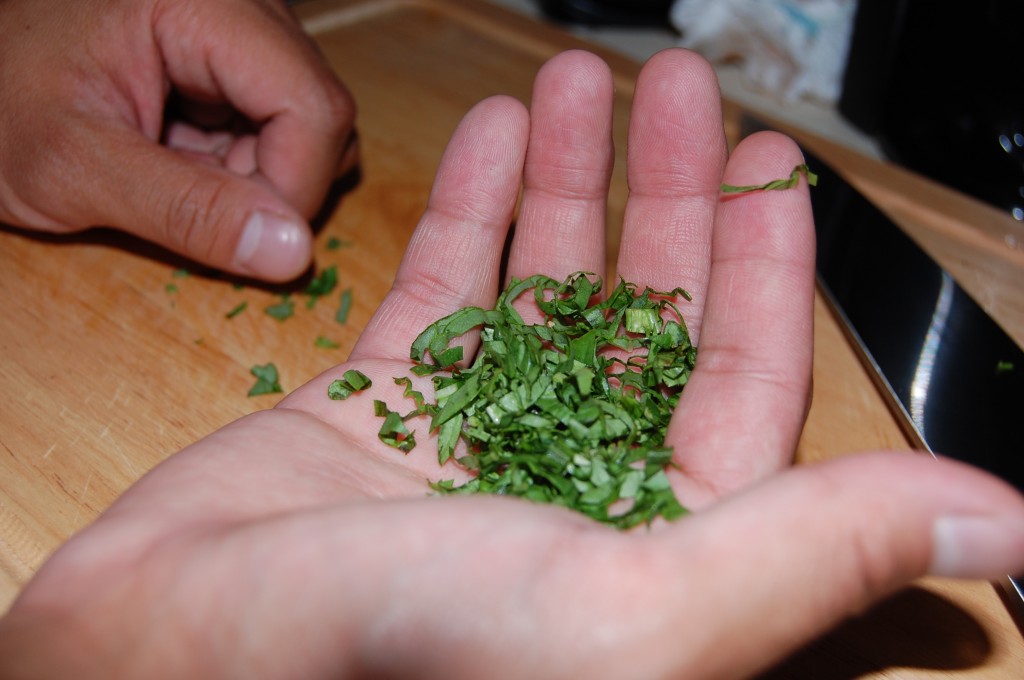 As a side, we tossed some Roma tomatoes and baby portabella mushrooms in a splash of evoo, s & p, and roasted at 475 F for about 15 minutes. Topped with basil – easy, seasonal, and delish!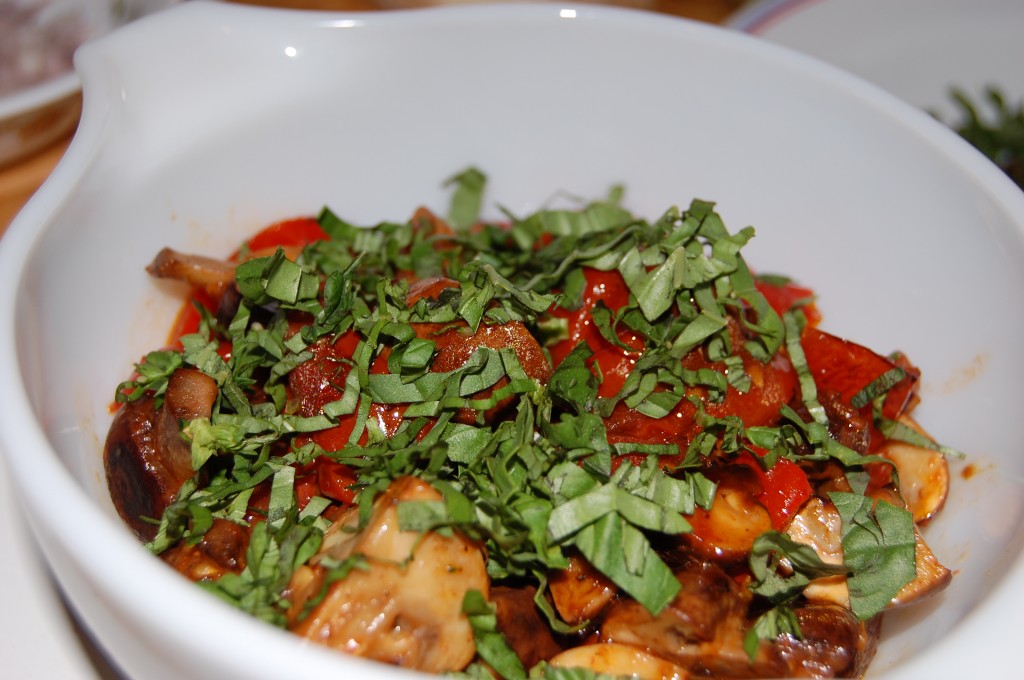 And then….we made:
The Best Macaroni and Cheese….EVER.
Adapted from Saveur's Four-Cheese Macaroni and Cheese
Ingredients
16 oz campanelle pasta ("bells" in Italian) or macaroni
3/4 cup panko breadcrumbs
1 cup grated Parmesan cheese
6 tbsp. unsalted butter
1/2 tsp. paprika
2 shallots, minced
1 bay leaf
1/4 cup flour
1/8 tsp. cayenne pepper
3 cups milk
10 oz. grated sharp white cheddar
8 oz. grated Gruyère
8 oz. grated Fontina
3 oz. Gorgonzola, crumbled (about 1/2 cup)
Freshly ground black pepper, to taste
Kosher salt, to taste
Directions
Heat oven to 375°. Cook pasta, stirring occasionally, until cooked halfway through, about 5 minutes for campanelle pasta. Drain pasta and set aside.
Combine 3 Tbs. butter, 1 cup grated Parmesan, and 3/4 cup panko breadcrumbs in a saute pan over medium heat. Stir until butter is melted and breadcrumbs are toasted. Set aside.
In a large saucepan, melt the remaining butter and add the paprika, shallots, and bay leaf; cook, stirring often, until shallots are soft, about 5 minutes. Add flour and cayenne and stir until mixture thickens, 1 minute. Whisk in milk and cook, continuing to whisk often, until sauce has thickened and coats the back of a spoon, about 10 minutes. Discard bay leaf and remove pan from heat.
Stir in cheddar, Gruyère, Fontina, and the Gorgonzola (reserve about 1/2 cup of cheese mixture for topping!); continue stirring until smooth. Stir in pasta and season sauce with salt and pepper. Transfer mixture to an 13″ x 9″ baking dish. Sprinkle remaining cheese over top of pasta and then top with bread crumb mixture.
Transfer baking dish to an aluminum foil––lined baking sheet and bake until macaroni and cheese is golden brown and bubbly, 30 minutes. Let cool for 10 minutes before serving.
There was a lot of cheese involved. A lot. Thank god I'm not lactose intolerant.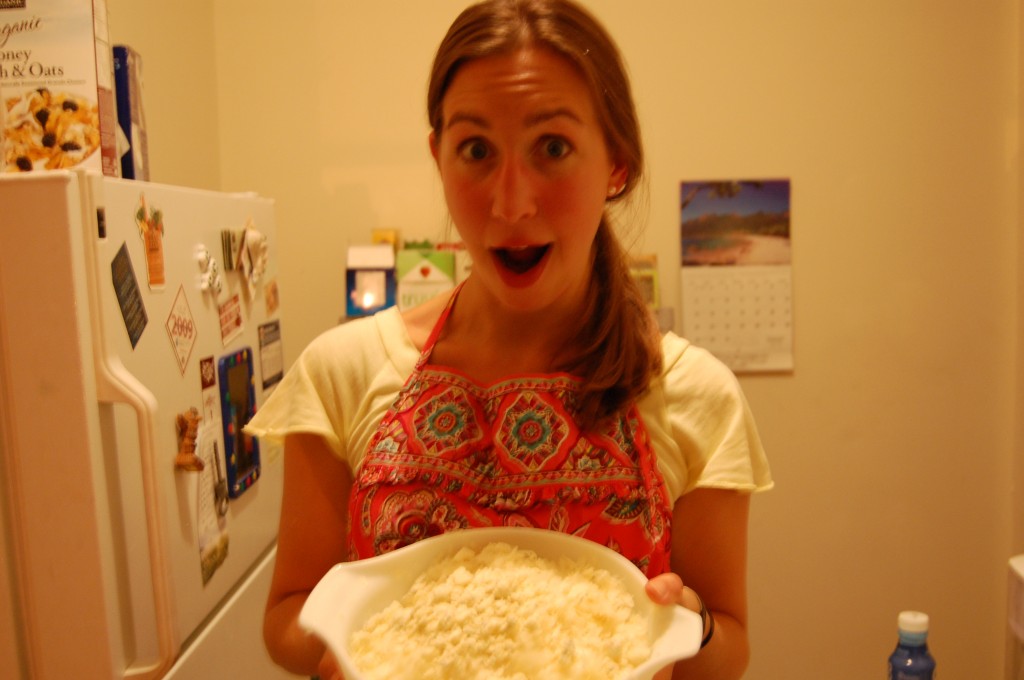 Tender noodles, melt-y cheese, crispy crust. Heaven. I will let these photos speak for themselves.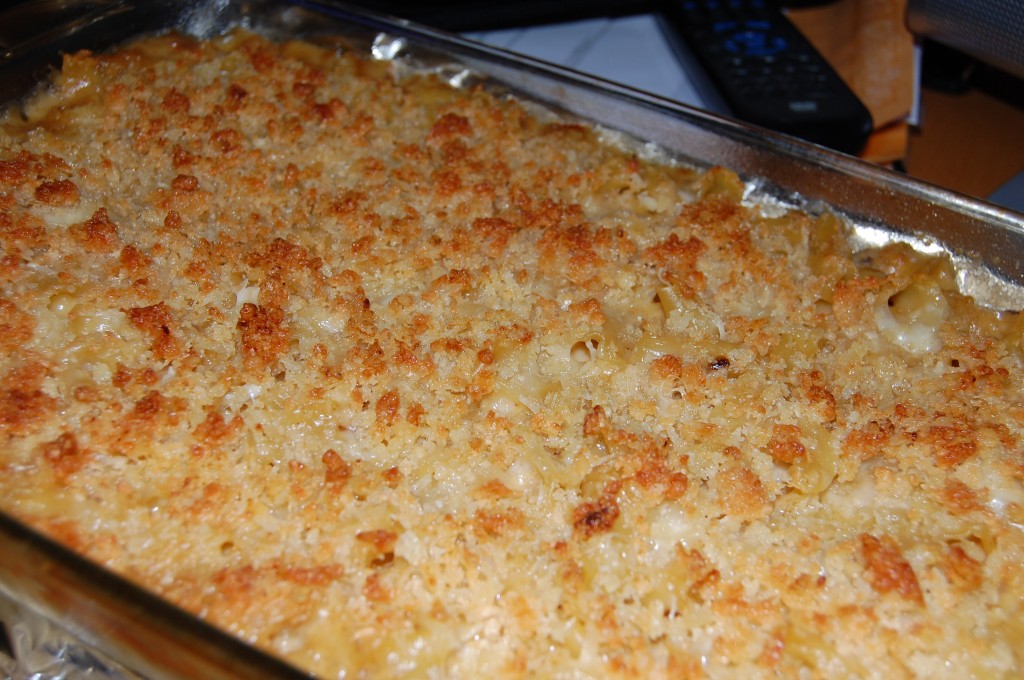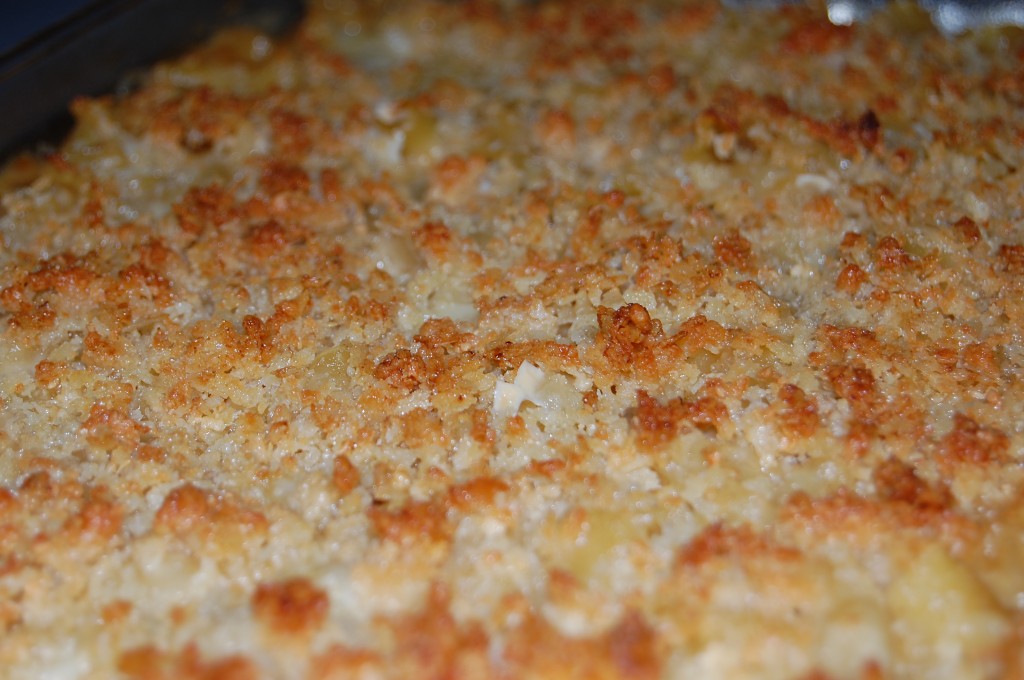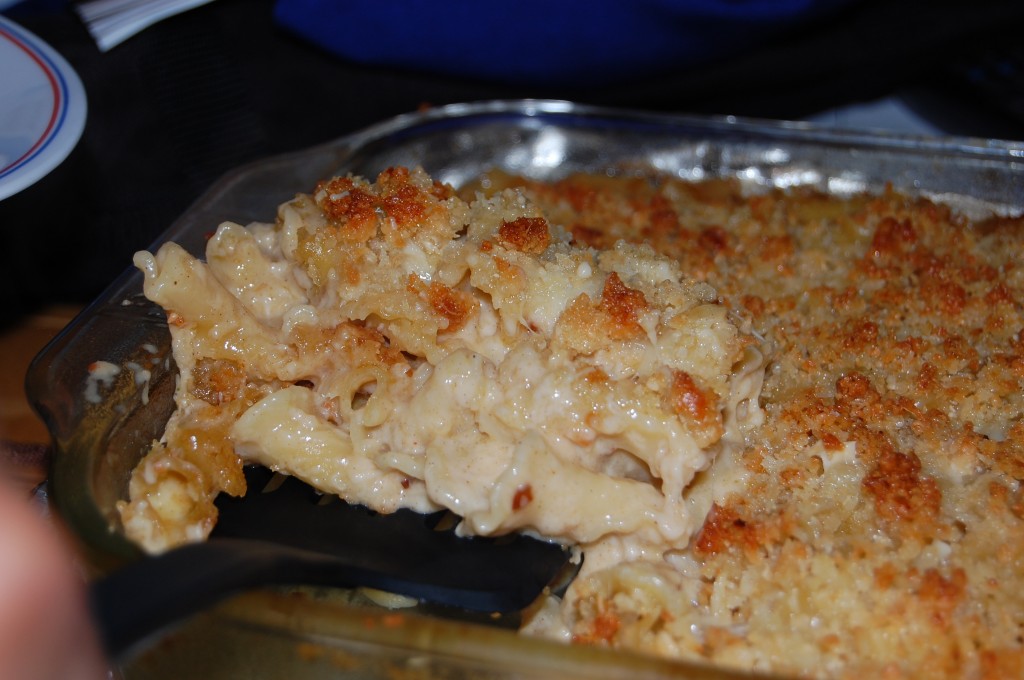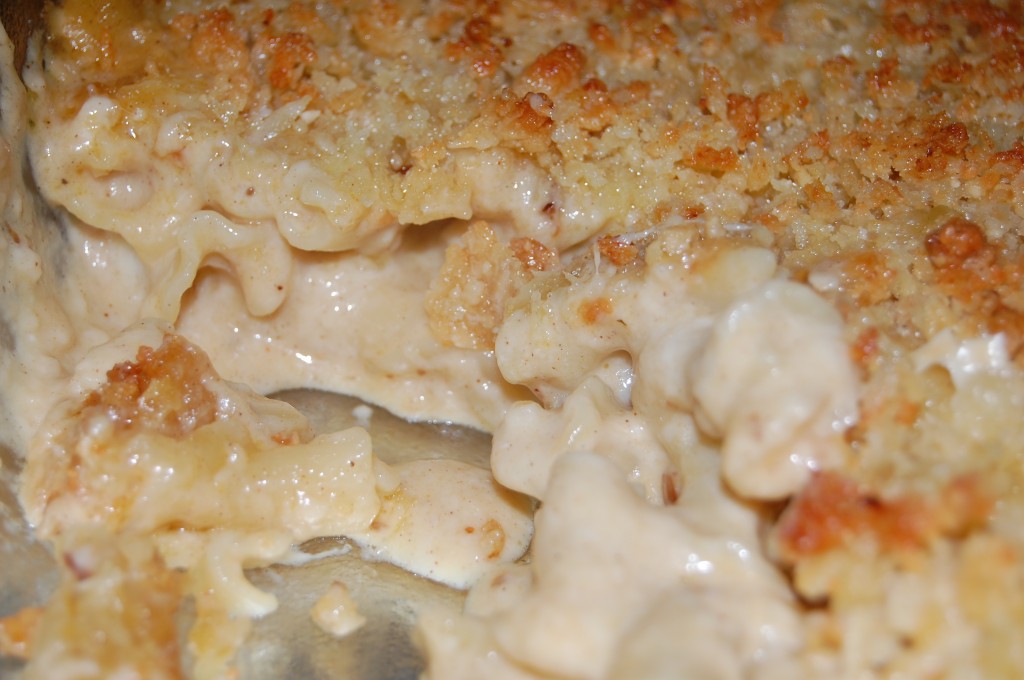 Finished macaroni and cheese topped with basil chiffonade. Roasted tomatoes and mushrooms on the side. Let the food coma commence.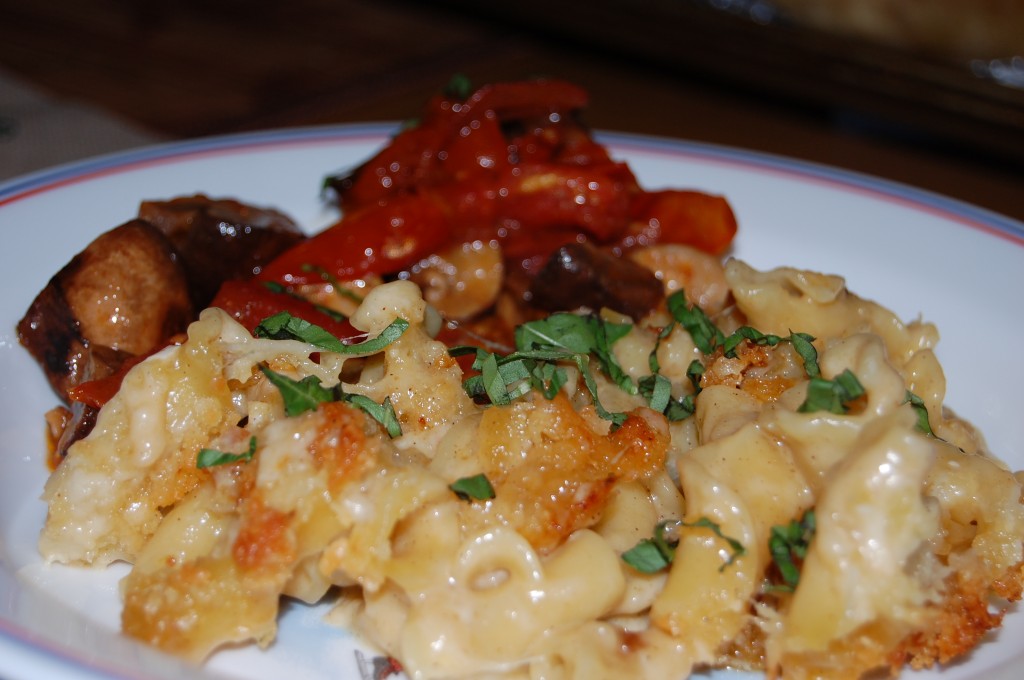 Beer and cheese…and maybe a little icecream…Perhaps not the best way to prepare for a long run, but at least I got my carbs in, eh? I was up bright and early on Sunday (5:20am, yikes) to run 17 miles. Stay tuned for a recap!
Question: What's your favorite CHEESE?