Often times, when I discuss running with my non-competitive friends, they express awe that I actually enjoy cranking out interval workouts  or 18 mile long runs. "I could never do that", they say. "I can barely even run a mile!" They think I must have always loved running or that I'm naturally crazy talented. Neither of those things are true. I was overweight in junior high and when I first joined the track team my initial intent was to be a shot put thrower (yes, really). However, I soon realized that my lack of coordination might hinder efforts in that arena. So instead, I decided to be a runner.
On my first day of practice, I could barely run one lap around the track. I remember finishing that first 400 meters, bending over, gasping for breath and asking my coach "Is…it…going…to…get…easier?" And you know what? It did get easier. As a freshman I stuck to the 100m and 200m sprints, Sophomore year I was racing the mile, and by Senior year I was able to run a decent 5k cross-country race. I still wasn't fast by any means (I couldn't even beat the girl with the knee brace most of the time), but I kept showing up day after day, season after season.
The summer before college, I got the crazy idea to join my school's D3 cross-country team as a walk-on. I started freshman year very undertrained and came thisclose to quitting after getting my butt kicked during the first week of pre-season. But for whatever reason (stubborness? pride?) I kept going back for more. I wasn't always the most dedicated runner (I admit to skipping long runs Freshman year), but eventually I decided that if I wanted to be good, I had to put in the work.
I'm sure this isn't a big secret, but the better you are at something, the more FUN it is. Winning your age group in a race is a lot more fun than coming in at the back of the pack. That's not to say that you can't enjoy running if you're slow, but being successful at something is a huge motivator. I don't think I have a ton of natural talent, but doggedly training for 10+ years has caused me to run smarter and race faster.
So to all the runners out there who think you can't run fast or long, I want to tell you that yes, you can. I think running is 50% training, 49% mental, and 1% DNA. What you were born with doesn't matter nearly as much as dedication and desire. You can run that  sub-6:00 mile, a 20 minute 5k, or a 3:30 marathon. Maybe you don't have the time or motivation to dedicate yourself to that type of training right now, but if you ever decide that you want to – it's yours for the taking.
Okay, enough rambling from me! What was on my agenda for Thursday? A 7-mile progression tempo run with the team. Let the grinding mileage begin.
We started off at marathon pace and from W. 72nd St ran up the West side, across the 102nd street cut off, and South on the East side to E. 72nd St (3.75 miles). From there, we picked it up to half-marathon pace and completed two lower loops of Central Park (3.35 miles).
Warm-up: 2.75 miles
3.75 miles @ marathon pace in 27:55 (7:27 pace)
3.35 miles @ half-marathon pace in 23:39 (7:04 pace)
Cool-down: 3.15 miles
Total 13 miles
I felt decent albeit a little tired for today's workout. I wasn't sure where the mile markers were and so I thought I was running much slower than I actually was. I just plugged my times and distance into my running log and it's very close to what I was hoping for (7:30 marathon pace, 7:00 half pace). Hooray.
All this running makes me hungry, yo. I pretty much eat non-stop, so here are the Thursday highlights:
My breakfast involved some local apricots, Siggi's plain yogurt, and a crumbled granola bar. YUM.
Mid-afternoon, I snagged a $1 coffee smoothie from Jamba Juice today. Yes, it's little high in sugar, but when you plan on running mega miles after work, you need those carbs and calories. Plus it was only a buck!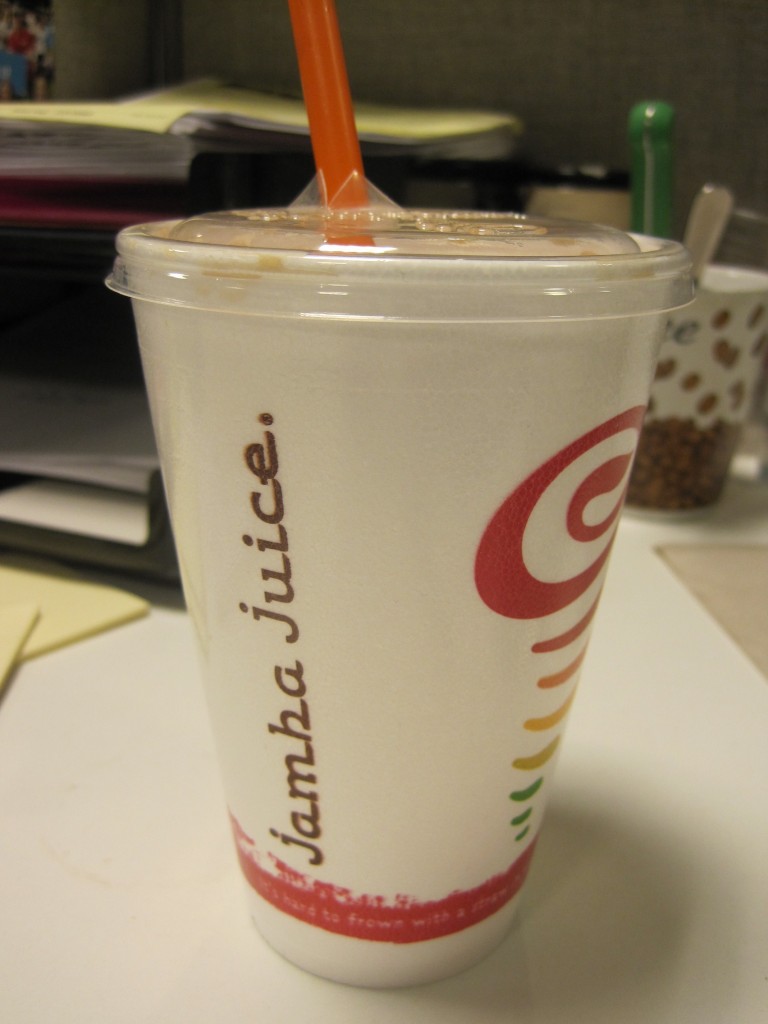 Dinner was super late because of my running adventures, but my summer corn and tomatoes were so fresh they didn't need much work. Inspired by Leslie, I dredged some sweet corn in butter and chili powder and then roasted it for about 30 minutes. I also topped a deliciously ripe tomato with olive oil, balsamic, and some Parmesan cheese. Quick, wholesome, and delicious.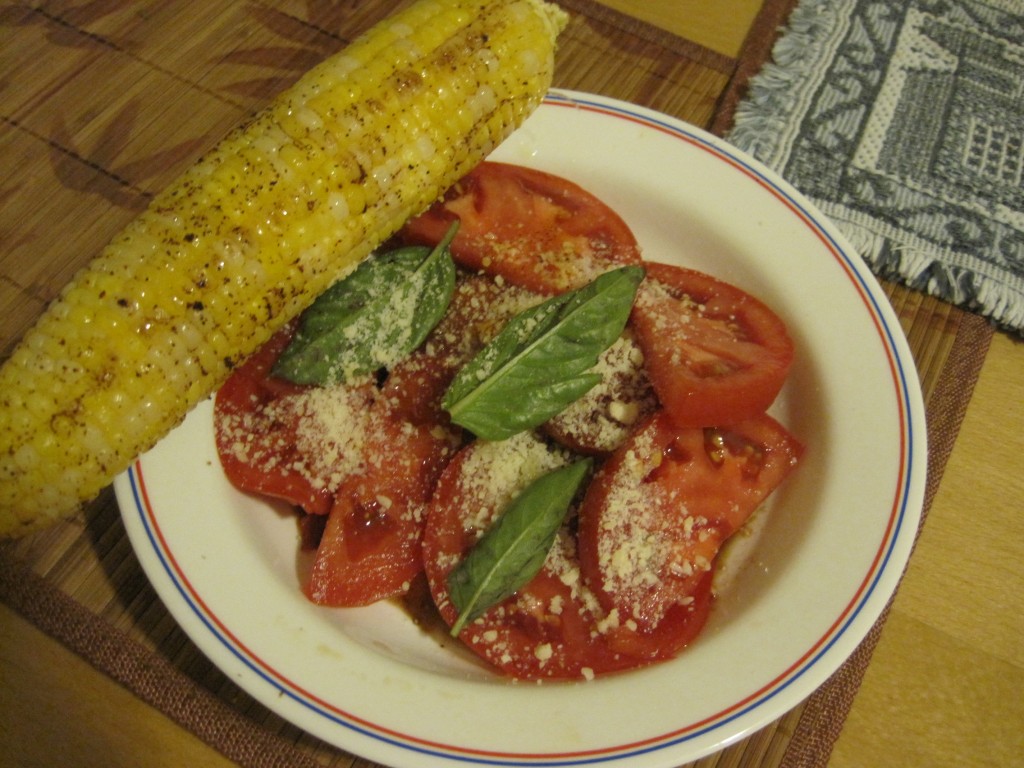 The best part of today? 5 minutes of fame. I was featured in a news story on healthy lunches and marathon training. Whee!
This has been a rough week of training and socializing and I can't remember the last time I've felt this tired. I have a long run planned for Saturday morning, but then I'm headed home to Pennsylvania for a few days of family time and rest. See you from the Keystone state!