First things, first – Congratulations to the JASON natural product/ped-egg  give-away winner:
Erika @ Dr.TriRunner says:  August 9, 2010 at 12:23 pm  
I. NEEED. those socks!! No joke – I've been looking for those all summer. The neon green ones specifically. And CANT FIND THEM. Grrrrr….
My favorite summer moment so far is a tie: I would have said hands down farmers market, but I had the best open water swim of my life yesterday at the lake practically out my backdoor. It was 50 minutes of clear, still water, sunny gloriousness!
Erica – Email me your mailing address! runnerskitchen [at] gmail [dot] com
I ran an easy 4 miles on Monday night and then trekked to the E. River track for a sweaty, soupy Tuesday speed workout. Can someone please remind of this gross weather in January? I'm trying to enjoy Summer, but I'm nearing the end of my rope regarding running in heat and humidity. Ew.
Anyway, I felt good on the warm-up, but a little fatigued during the workout. Our coach gave us a lighter workout this week (intervals were to be run at 5 mile race pace instead of 5k pace), but it was not as easy as I was expecting. In the middle of the 5th  repeat, I felt mentally and physically "done" with the workout, but alas I pushed through and got it done. That's what it's all about, right? When I was finished, I cooled down back to my gym for a few minutes of core work.
The assigned workout was 6 x 800m at 5 mile race pace (~6:30-6:40 per mile) with 200m jog recovery in between. For simplicity's sake, I combined all of the 200m recovery jogs into a 1 mile recovery run. Make sense?
| Activity | Reps | Distance | Duration | Pace |
| --- | --- | --- | --- | --- |
| Warm Up | 1 x |         3.00 mi |  00:27:00 | 9:00 min/mi |
| Intervals | 1 x |            .50 mi |  00:03:15 | 6:32 min/mi |
| Intervals | 1 x |            .50 mi |  00:03:13 | 6:28 min/mi |
| Intervals | 1 x |            .50 mi |  00:03:11 | 6:24 min/mi |
| Intervals | 1 x |            .50 mi |  00:03:13 | 6:28 min/mi |
| Intervals | 1 x |             .50 mi |  00:03:11 | 6:24 min/mi |
| Intervals | 1 x |             .50 mi |  00:03:09 | 6:20 min/mi |
| Recovery Run | 1 x |           1.00 mi |  00:12:00 | 12:00 min/mi |
| Cool Down | 1 x |           2.02 mi |  00:18:00 | 8:54 min/mi |
9 sweaty, sweaty miles total. I swear, Gatorade never tasted so good.
In other news, I've been a ravenous beast lately. I ate neatly an entire loaf of cinnamon date manna bread yesterday afternoon. 8 grams of protein and 5 grams of fiber per serving X 5 servings.  At least I got good nutritional bang for my buck 🙂
But in all seriousness, I've been increasing my mileage steadily over the last few months and my appetite has increased as well. I'm not complaining – there are definitely worse things than getting to eat a lot of yummy food, but it does pose certain challenges. For starters, I'm away from my apartment for a minimum of 10 hours a day (usually it's more like 12 hours). I eat breakfast and lunch at work and usually (ok, always) need some snacks afternoon. By my estimates, I need to consume (and pack) close to 2,000 calories to last me until I get home for a late dinner.
I suppose I could buy all of my food from vendors/restaurants, but purchasing food gets expensive and since my days are busy, I don't always have time to search for something healthy and inexpensive. What's a hungry gal to do?
I pack a decent sized breakfast and lunch each day, but I've noticed that snacks have become more important than ever. Over the past few weeks I've discovered some tips for surviving till dinnertime, read on to learn more about my desk drawer stash!
I've stopped buying non-fat yogurt and reduced fat cheese. Reading Nina Planck's book, Real Food sparked this change and I'm more satisfied with higher fat versions of dairy. Plus it tastes better! I try to keep a couple cups of 2% Greek yogurt in the office fridge at all times.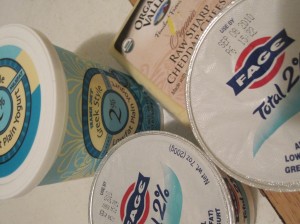 I've also been stocking my desk drawer with filling and nutritious non-perishables such as raisins, dates, and cashews. These make great pre-run snacks!
An apple and peanut butter is one of my favorite snacks. The combo of fiber, protein, and healthy fat work well as a light pre-run meal or an afternoon snack.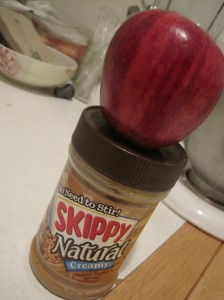 I try to stick with whole foods, but I'm busy and energy/granola bars make eating on the go a lot easier. I keep a lot of varieties on hand so I don't get bored. The new Clif crunch bars are yummy and the pb granola bars from Trader Joe's are a great deal (less than $2 per box!).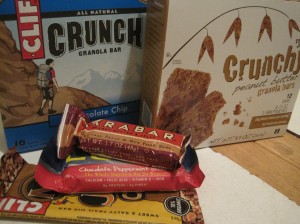 Belonging to a CSA (Community Supported Agriculture) group this year has provided me with a lot of produce. This means I always have veggies on hand for snacks! Have you tried carrots and celery dipped in peanut butter? Yum.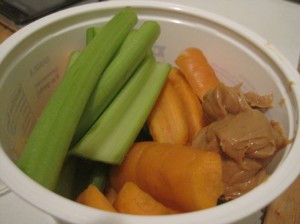 Question: What essentials do you keep in your desk drawer/glove box/purse for snacking?
*Exciting Announcement* – I just updated my recipe page, so all of your Runner's Kitchen favorites are now easily accessible! Check out the recipe tab at the top of the page.