On Sunday (yes, I realize it's now Tuesday – bear with me) I did my long run in CP with two awesome  teammates. I began with a run from my apt to Columbus Circle (3.25 miles) and then ran another 11.4 miles with the ladies. According to Sarah's Garmin we averaged 8:25 pace for the 11+ miles we did together. Faster than I expected! I was a little tired from Saturday's 5k, but I think all the sleep I got the night before really helped with recovery. I was happy to get in a solid long run since last week I was at the beach and my miles weren't as consistent as I would have liked. Total for the day 14.65 miles in 2:05:12 (about 8:30 pace). Less than 100 days till the big dance – training is gettin' serious 🙂
Edited to add: Anthony Edwards was spotted not once, but TWICE on the bridle path Sunday morning.
Megan: I'm glad to see Dr. Mark Greene is running. He was lookin' a little busted in his final season on ER.
Sarah: You mean like, when he had brain cancer?
After returning home and gobbling up some food, I was inspired to get creative in the kitchen. One of my favorite granola recipes has middle-eastern influences (pistachios, cardamom, olive oil – yum!) and since the weather has cooled off a bit, I decided that turning on the oven would be possible.
Middle-Eastern Granola
Ingredients:
3 cups old-fashioned oats
2 cups shelled pistachios (or your favorite nut)
1 cup unsweetenend flaked coconut
1/2 cup brown sugar
1/2 cup maple syrup (note: I used agave and it made things a little too brown)
1/2 cup olive oil
1 tsp each of salt, cardamom, and cinnamon
3/4 cup raisins (or your favorite dried fruit)
Directions:
Preheat the oven to 300 F, line a large baking sheet with parchment paper or silpat
Combine all ingredients EXCEPT raisins in a large bowl and mix until combined
Pour granola mixture onto baking sheet and bake for 30-40 minutes, stirring occasionally
Once granola is lightly browned, remove from oven, and mix in raisins (don't bake the raisins – they'll get dried out!)
When it is completely cool, store in tupperware container for 2-3 weeks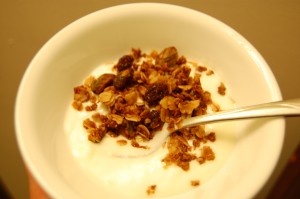 Next up – Borscht! What the heck is borscht? And why did I make it? Well, I had two weeks worth of CSA beets that needed to be eaten up ASAP, so making a big pot of Ukrainian Borscht (a.k.a. chilled beet soup) seemed to be a good solution.
Still on the fence about eating beets? Beet juice may be more effective than blood doping! Andy Jones, physiologist and advisor to Paula Radcliffe, discovered that a nitrate found in beet juice decreases oxygen uptake (a.k.a. the oxygen cost of workouts). The study compared performance after cyclists consumed 500 ml of beet juice for 6 days straight.  Another group consumed a placebo. The cyclists who consumed the beet juice were able to workout for 16% longer, equivalent to a 2% reduction in time over the same distance.  That means a 4-hour marathoner would be able to take 5 minutes of his time – just by consuming beets juice! The nitrates in beets can increase your endurance and shave minutes off your race times. Hello, new PR!
Anyway, where were we? Oh, right. Borscht.
Ingredients:
6 medium beets, trimmed and peeled

1/2 large onion, chopped

2 cups water

2 cups chicken stock

1 tsp salt

1/2 tsp black pepper

2 Tbs sugar

juice of one lemon

1 egg, beaten

cucumber, parsley, greek yogurt for serving
Directions:
In a large pot, bring the beets, onion, water, chicken stock, salt, and pepper to a boil and cook for about an hour, stirring occasionally.

Reduce heat to a simmer, add sugar and lemon, and cook for 30 additional minutes.

Remove 1/4 cup of liquid from the pot and slowly stream in beaten egg. Once egg and 1/4 cup hot beet liquid have been incorporated, add the egg mixture back into the pot. This is called tempering and it prevents scrambled eggs in your soup 🙂

Allow soup to cool slightly and then remove the beets from the pot. Grate the beets into a bowl and then add them back to the liquid.

Chill for at least 4 hours and then top with cucumber slices, parsley, and thick greek yogurt.
Note: I also like to eat this soup hot with croutons and goat cheese – actually, I think I prefer it that way!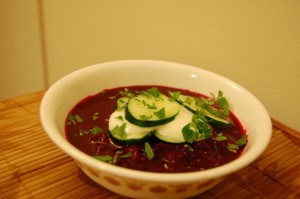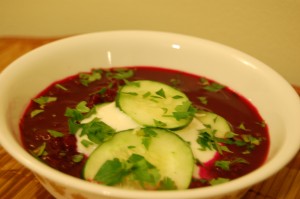 After a long run and some serious time in the kitchen (so.many.dishes) it was time for a little field trip. With marathon training in full swing, I was in need of a new pair of training shoes. I stopped by the best running store ever and tested out about 6 different shoes on the treadmill. I got a ton of personal attention and a detailed gait analysis – love The Running Company!
I walked away with my first ever pair of Brooks shoes (the Ghost 3) and a fancy schmancy set of CEP compression socks. Watch out roads, here I come!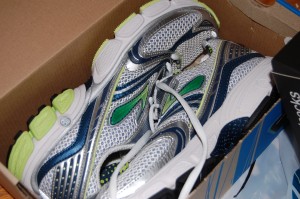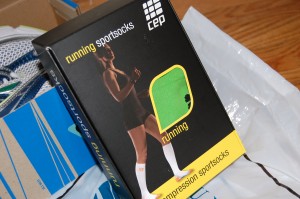 Yesterday (Monday) was a rest day. It wasn't entirely intentional, but I fell asleep after dinner (lights ablaze, still wearing work clothes) and did not wake up until 6:30am this morning. Evening run just didn't happen – must have needed the rest! Luckily, I got myself out the door this morning for a longer effort. Stay tuned for details…
Need some racing advice? Check out my favorite tips on NYC Runs.
Okay, gotta go cross some things off my to-do list. Adios Amigos!
Question 1: What kind of running shoes do you wear?
Question 2: Favorite brand of granola? If you have a homemade favorite – share the recipe!