TGIF. Almost. The last few days have been a little crazy, so I can't wait for the weekend!
On Tuesday, I woke up early to run some speedy miles in Central Park. I ran super easy for first 3 miles and then ran:
10k pace (~6:45) for mile 3-4
recovered 1/2 mile
10k pace for mile 4.5-5.5
recovered for a bit
4 × 400m pickups @ 5k pace
8.5 miles total in 1 hour, 12 minutes
Usually on Tuesdays I workout with my running club, but this week I had to pick up my CSA vegetables. I don't mind though – I love being part of the West Harlem CSA (community supported agriculture).
I have a half share, which means I only pick-up every other week, but I still need to plan carefully in order to use up all my produce. Below are some of my tips for making sure you eat your veggies before they go bad: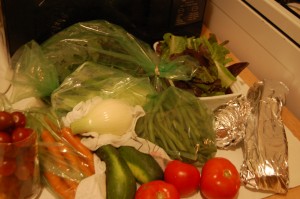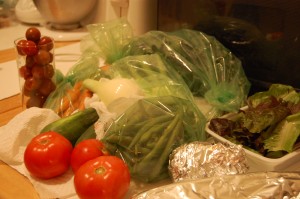 As soon as you get home, wash, trim, and thoroughly dry your veggies. It might take 30 minutes now, but the produce will be so much more accessible later in the week (i.e. after a long day at work). I recommend putting lettuce in salad tupperwares and trimming the leaves off beets, carrots, etc.
Use the most perishible vegetables first (lettuce greens, tomatoes) and save the heartier picks (onions, kale, carrots) for later.
Moisture can cause produce to rot more quickly, so make sure you DRY your produce after washing it. I like to put my veg in "green bags" along with a paper towel to soak up moisture.
Take stock of your produce and make a rough meal plan for the next week. You'll be more likely to use up that bok choy if you have a recipe in mind!
After taking care of my veg, I set out for an evening recovery run (Tuesday was a double run day). I ran for about 30 minutes (3.5 miles-ish), nice and easy.
Lately I've been stepping up my mileage for marathon training and so my carbohydrate requirement has increased (carbs = energy for running!). Manna Organics recently sent me some samples to try out and I've been loving the all-natural, sprouted manna bread. So what exactly is manna bread??
It is a cake-like, sprouted, yeast free, organic, free of salt, no oils, no sweeteners, no leavening agents. Manna is a moist and delicious, high in protein and fiber.
The texture is very dense and the taste is sweet (from the fermented and sprouted grains). My favorite combination was the carrot raisin bread topped with whipped cream cheese. Yum! The only ingredients are sprouted organic wheat kernels, filtered water, organic carrots, and organic raisins. This bread does taste pretty "healthy" and the dense texture might take some getting used to, but it makes me feel really good when I eat it. For more information on the health benefits of sprouted bread, check out the Boston Globe article. You can order manna bread online or purchase it from any number of Whole Foods markets and health food stores. Look in the freezer section! Note: I am also a big fan of Ezekiel bread, another sprouted product.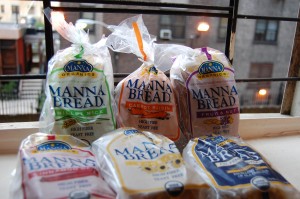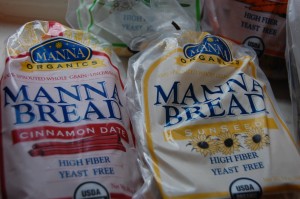 Wednesday morning involved another early run. I ran 7 miles, including a few bridle path miles with my CPTC  teammate, Nicole. After I entered the mileage into my running log, I realized I had run 19 miles in Central Park over the past 24 hours. CP and I are going to be BFF by the end of marathon training….
Wednesday evening was a late one (Hot Chip concert in Central Park, whee!), so a run did NOT happen this morning. I slept in and then pulled another double –
3 miles on my lunch break (stress relief!!!) and then another 5 or so miles in CP with my roomie after work.
Now, if you'll excuse me, I have to go catch the MOUSE that is frolicking in my apartment. UGH. New York City.
Question 1: Any tips for keeping produce fresh?
Question 2: Do you ever run doubles (i.e. 2 runs in one day)? Have a look at this RW article on running twice a day!