My alarm went off prettyyyy early on Saturday morning (i.e. 6am). Oh running. I sipped on some coffee (black) and ate a banana while I caught up on emails.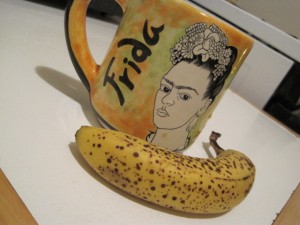 I also topped a hearty piece of whole wheat bread from Not Just Rugelach with peanut butter, maple syrup, and cinnamon. Tasty combo! And then it was time to trek to Brooklyn for the CPTC Founder's 5k in Prospect Park.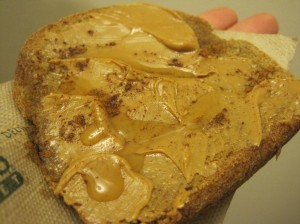 I arrived with plenty of time to check-in and warm-up (~2 miles), but I got distracted at the start and didn't leave enough time for pre-race strides. Boo. I really like to do a few strides (80-100m pick-ups) before short races – I feel like they get my heart, lungs, and legs ready to run FAST.
| Activity | Reps | Distance | Duration | Pace |
| --- | --- | --- | --- | --- |
| Warm Up | 1 x | 1.90 mi | 00:16:30 | 8:41 min/mi |
| Race | 1 x | 3.11 mi | 00:19:55 | 6:24 min/mi |
| Cool Down | 1 x | 3.50 mi | 00:31:30 | 9:00 min/mi |
We were treated to unseasonably beautiful weather – it was sunny, dry, and about 75 degrees at the start. Perfect! My first mile was downhill and fast (6:04), but my second mile was uphill and wayy slow (~6:47). The last mile hurt, but I managed to finish up in about ~6:20 pace. My finish time was 19:55 (62nd place out of 213 runners) – haven't seen sub-20 since my college track days! Hooray!
I was pretty pleased with my race, but of course there's always room for improvement. Things I can work on include: 1) getting more than 5 hours of sleep the night before the race and 2) performing a better pre-race routine (strides, etc). I'm running a 5-mile race next weekend, so I might eschew workouts this week. Gotta rest up the leggies!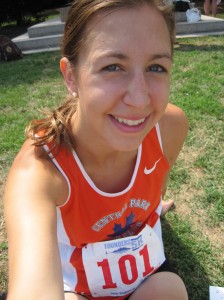 Post-race I chilled for a little bit in Prospect Park and refueled with an apple and a bottle of coconut water (I actually sort of like the stuff!).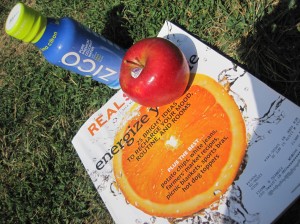 Arond noon, I headed back to Manhattan to meet some friends for brunch. We met at Curly's Vegetarian Lunch – a restaurant that's been on my "must go" list for a while.
I was craving salty, so I ordered the basic veggie burger. My homemade bean-soy-vegetable patty was served atop a ciabatta bun with lettuce and tomato and CURLY FRIES. Yum.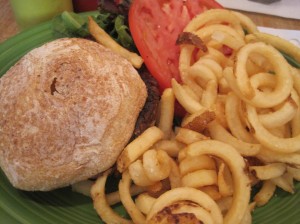 I walked around Union Square for quite awhile and was in need of something cold – Starbucks mocha frappuccino to the rescue! Yes, they're overpriced. But I love 'em 🙂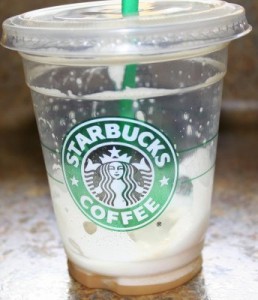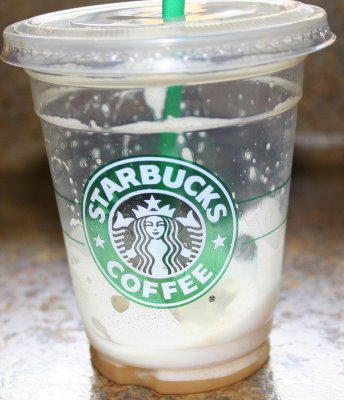 Once I got back to my apartment, I crashed pretty hard and took a 3 (!!) hour nap. It was awesome. Once I woke up, I mixed together a pretty simple dinner – Fage greek yogurt, peanut butter, diced nectarine, and Peanut Butter puffins. So many puffins. I had 2 giant bowls whilst watching Annie Hall.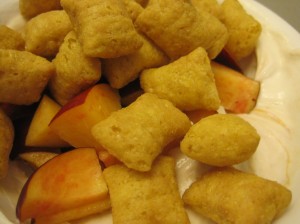 A Skinny Cow ice cream pop was had at some point…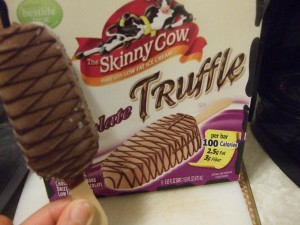 And then I hit the sheets before 10:30pm. Typical Saturday night for a 20-something New Yorker. Try not to be too jealous of my glam (hah!) lifestyle. Why the early bedtime?? I had a long run date bright and early this morning! Stay tuned for the details…there may have been a celebrity stalking sighting.
I think it's time for a Monday mini-goal! I am going to do a least one 15 minute core strengthening session this week.
Question 1: What's your mini goal for the week?
Question 2: Coconut water – love or hate?