Happy Monday! I was a little MIA from social media this weekend, but only because I was busy running lots of miles and eating yummy food. After Thursday's beastly tempo workout I was feelin' a little beat up, so I took it nice and easy on Friday and completed a 7-mile recovery run.
Running in the morning left the evening wide open for relaxation and a home-cooked dinner. I feel like I don't consume nearly enough omega-3's, so I picked up some wild coho salmon (on sale!) and made it the star of my dinner. I sort of winged it and cooked it in a foil packet. 8 oz fillet of salmon + dollop of pesto + foil packet + 400 degree oven for 10 minutes = dinner!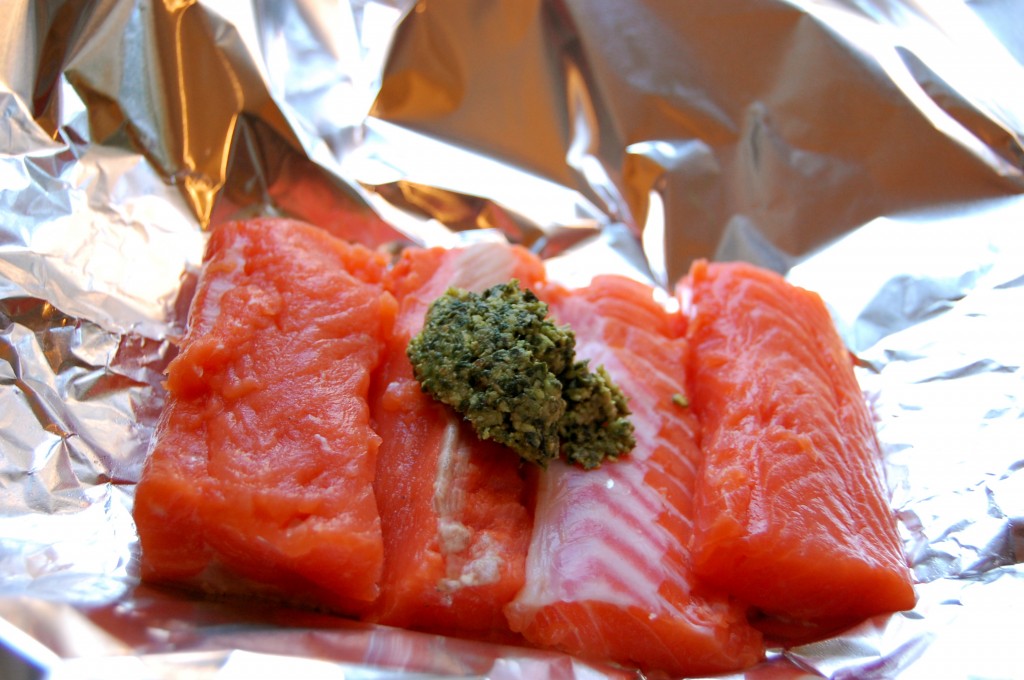 Alongside my salmon I hit up the carbs via baby red potatoes roasted and tossed in pesto. Perfect pre-long run fuel 🙂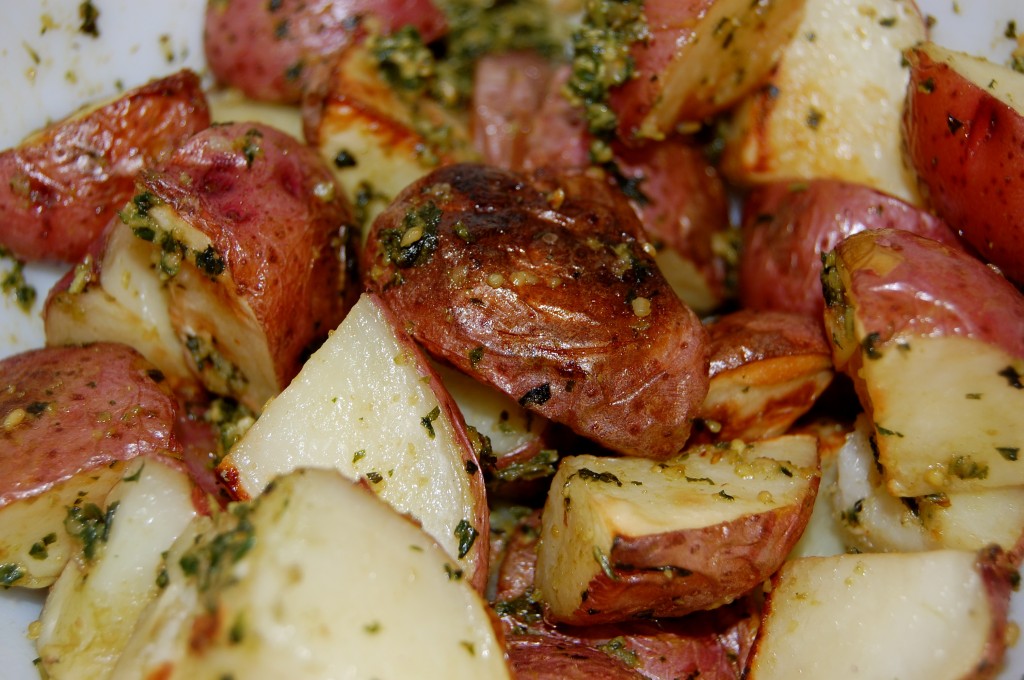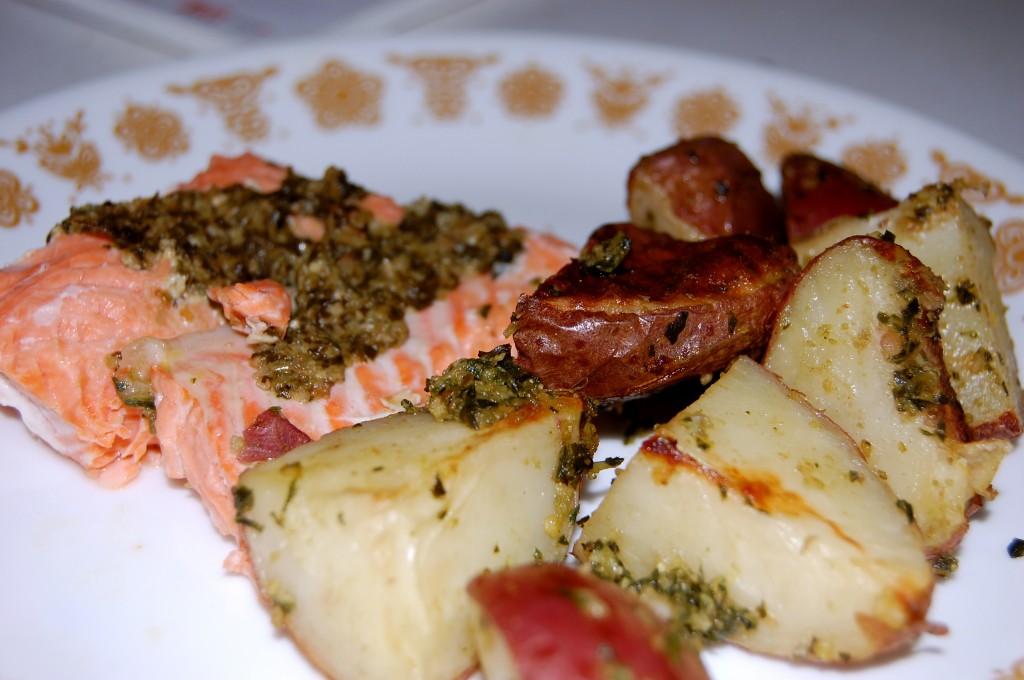 My fruit & veg intake had been a little sparse that day, so instead of having ice cream for dinner (wahh), I sliced up fresh figs and ate them along with some greek yogurt and a crumbled granola bar. It took incredible will power to eat fruit & yog for dessert – that's usually not how I roll – but I'm trying to eat a little "cleaner" since I'm training pretty intensly. Food = fuel!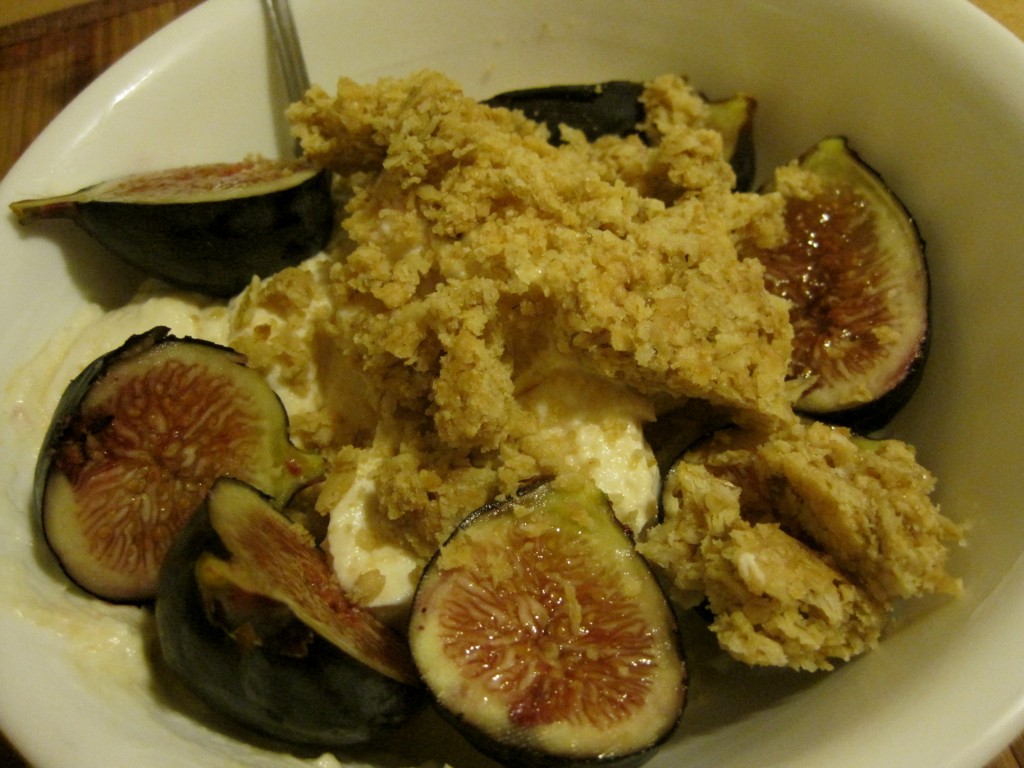 I woke up bright and early on Saturday a.m. in order to do my long run. I felt a little lame going to bed at 10pm on Friday night and drinking Gatorade instead of a beer, but sometimes a girl's gotta sacrifice.
I fueled up with a sliced peach, Fage greek yogurt, and a crumbled granola bar. Yeah, I realize I eat this combo a lot. Go with what works. I had coffee too – even if it goes unpictured, I always, always, always have a cup o' joe in the a.m.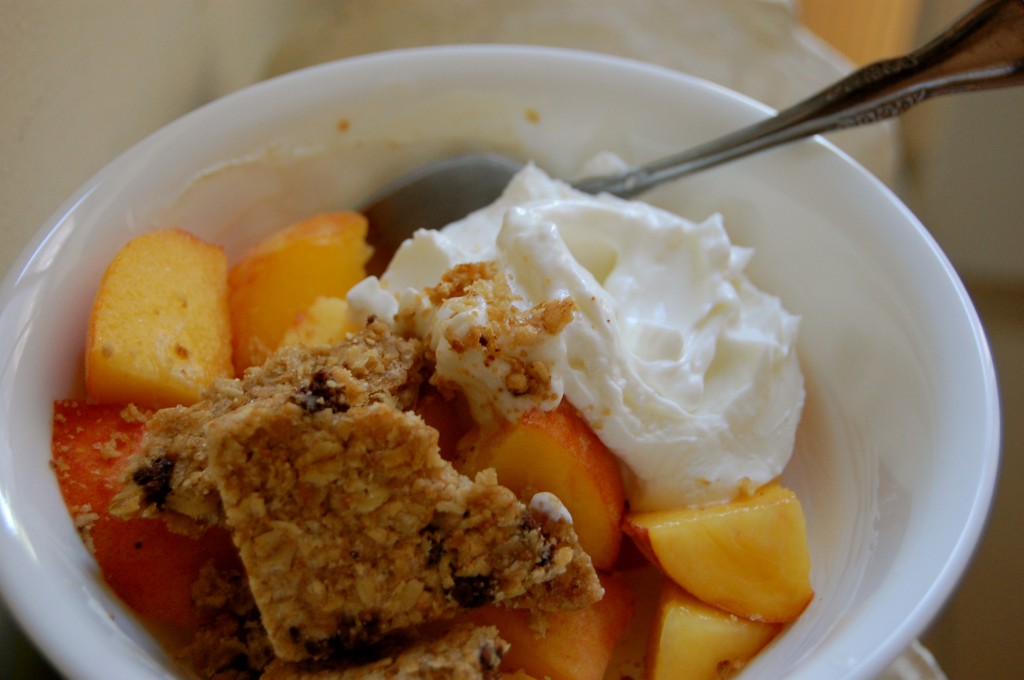 Despite some lingering fatigue from Thursday's mega miles, I felt surprisingly good. I ran from my apt, met Kelly at the Engineer's Gate, enjoyed her company for ~10 miles, ran solo for a mile, and then spotted my co-worker Elise on the west side. We ran together for the last few miles and the time flew by. I felt relaxed and easy the whole time – the weather was gorgeous!! 65 degrees and sunny. I had a few clif shot bloks and some water fountain sips during the middle miles and it worked out well. My Nike+ pedometer told me that I ran ~19 miles in 2:38:34 (~8:20 pace). This seems almost too good to be true, but in the past the Nike + has been fairly accurate, so I'll take it! I always get myself SO worked up for long runs. For wheatever reason I start thinking that I won't be able to complete the mileage and that I'm not "tough" enough to stick it for XX miles. Luckily these fears are usually unfounded, but I still feel them before nearly every long run or race!
After a much needed shower (I smelled like a homeless man, yo), compression socks, and LUNCH,  I headed to NJ to spend some time in the 'burbs with my friend Jess.
I was greeted with a porch swing. It was delicious and deceptive. It didn't taste like alcohol at all and after sucking down 3/4 of this baby I was already tipsy. At 3pm in the afternoon. Yessss.
Best.Summer.Cocktail.Ever.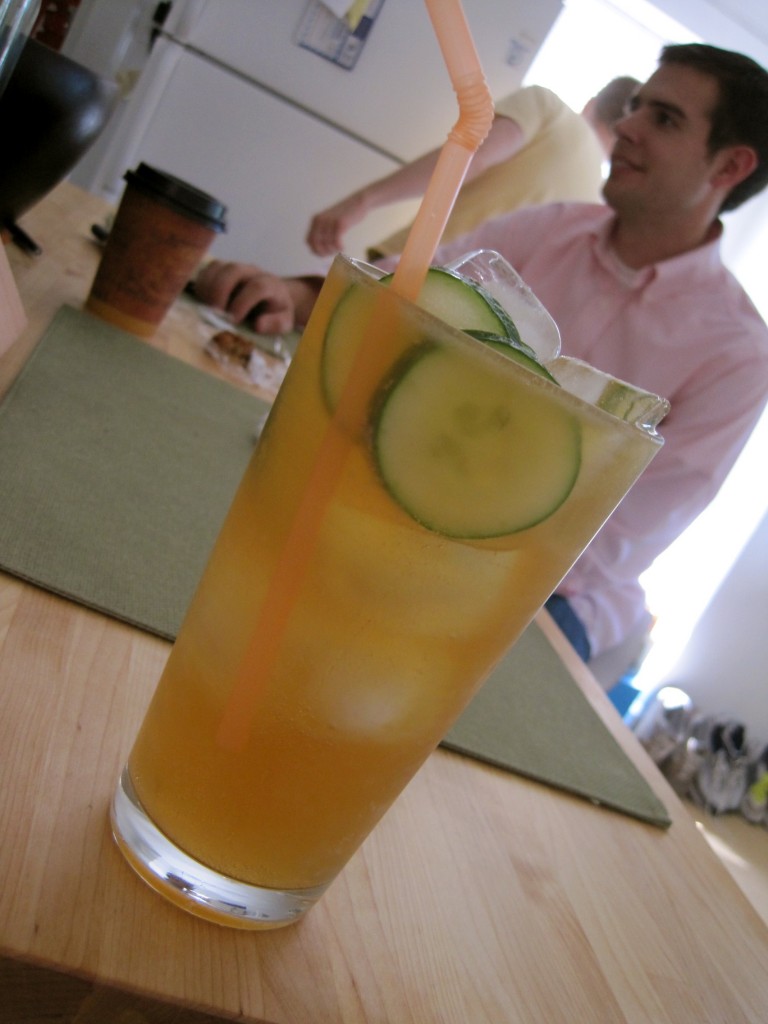 The rest of the evening involved some quality brews, rooftop stargazing, and a fab dinner.
Lambchops, mashed potatoes, and summer sweet corn.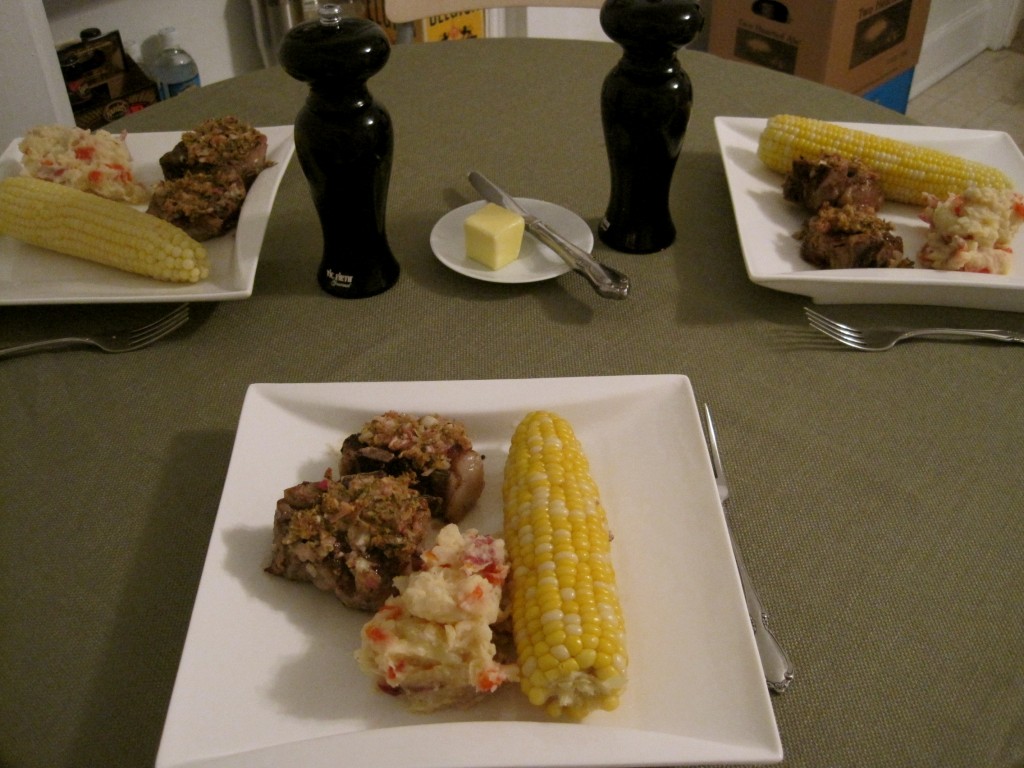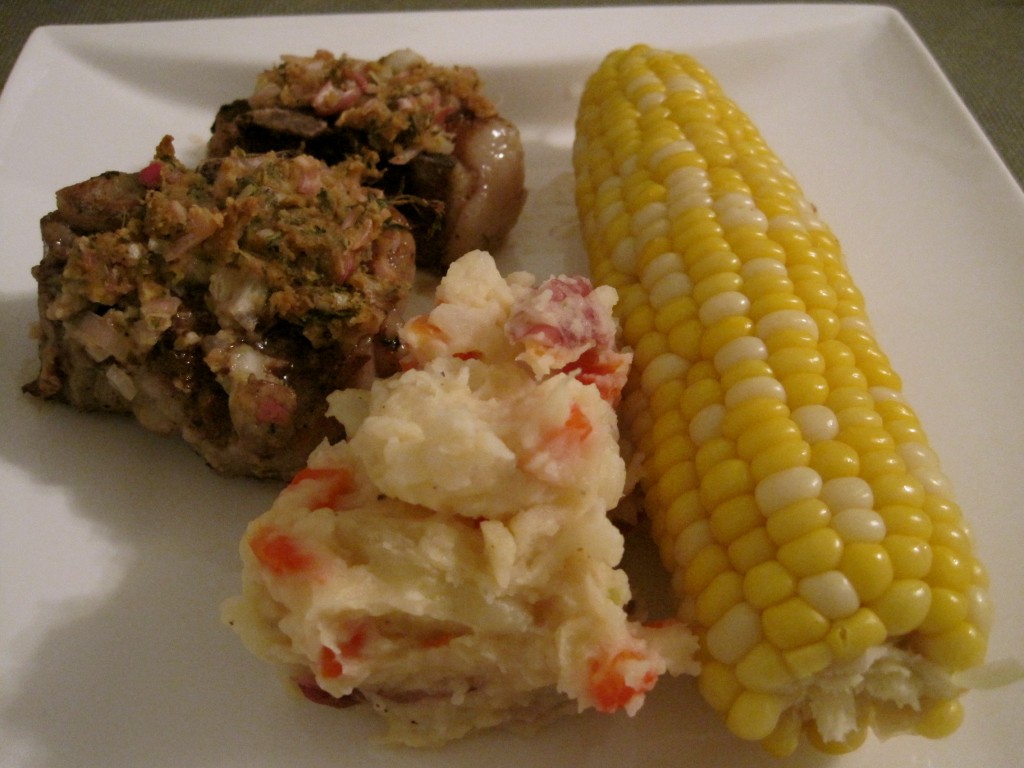 The lamb chops were simple, yet elegant. After pan searing on both sides, they were topped with Jess's famous thyme-shallot sauce and finished in the oven.
From the chef herself –
J-Cat's Lamb Sauce
finely minced shallots (2-3?)

big squirt of dijon mustard

chopped thyme (a few sprigs)

Italian bread crumbs (big handful)

Extra virgin olive oil (generous drizzle)

Squeeze of lemon juice

S & P, to taste

Mash together with a fork until a paste forms and then add to your fav protein – lamb, fish, chicken, tofu, etc.
Sunday was a running rest day, but I still managed to channel my inner dork athlete.
The football makes me look deceptively sporty. I assure you I'm as uncoordinated as they come 🙂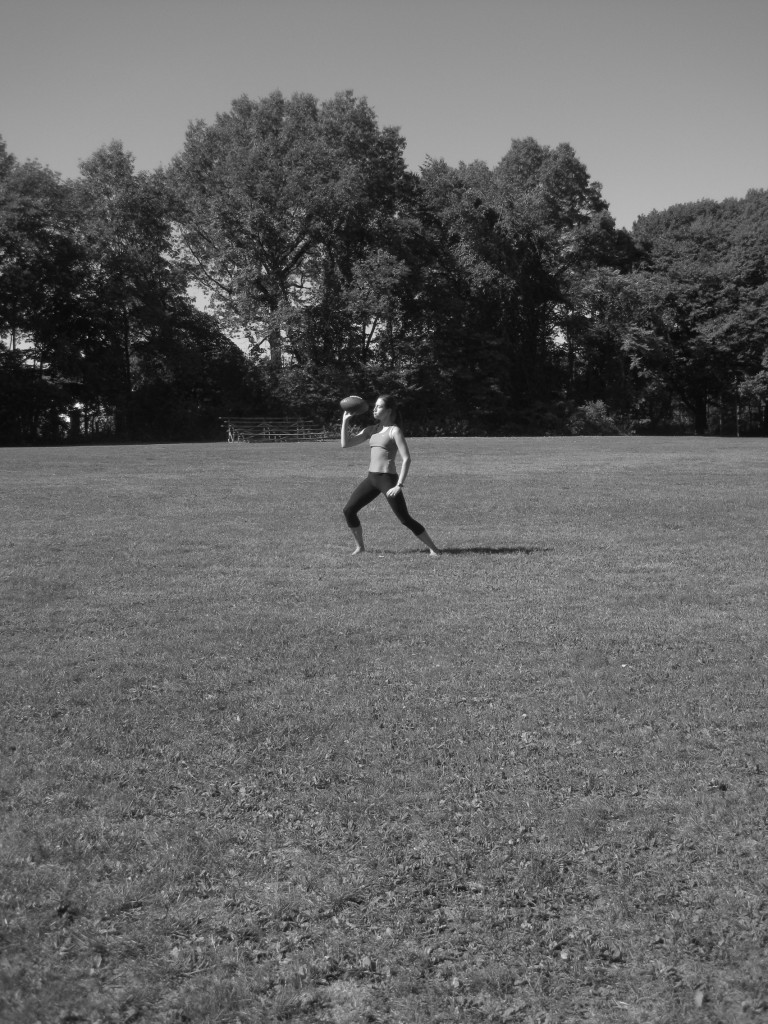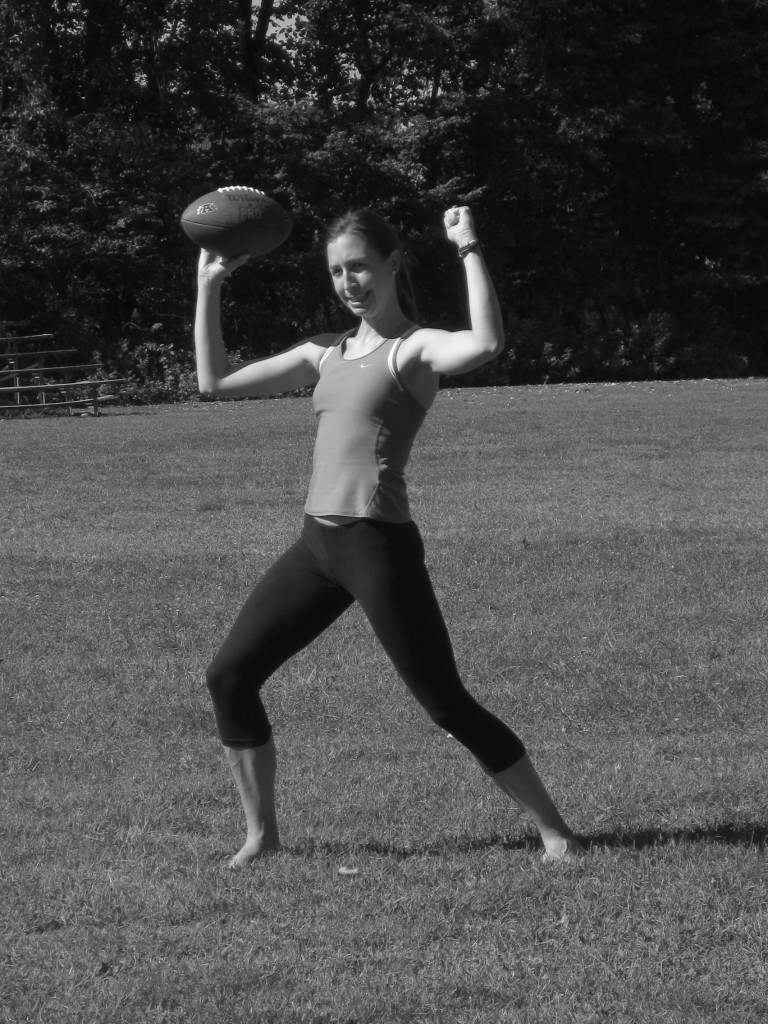 A little bit of yoga happened. Jess please don't hate me for posting this photo, heh.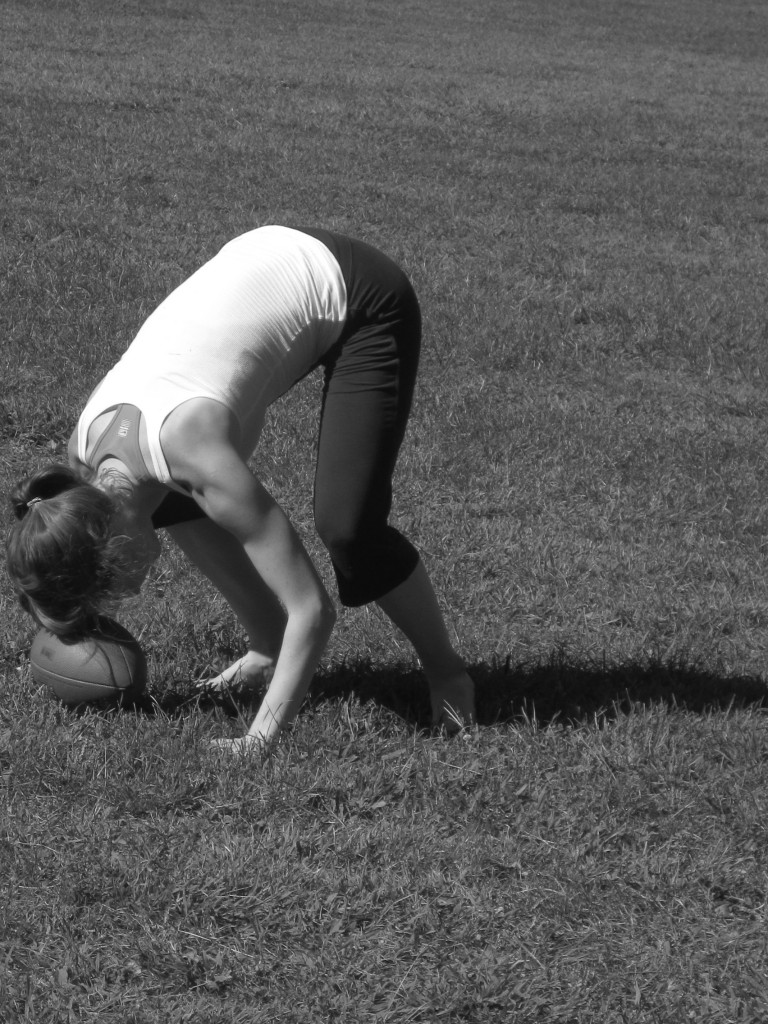 Some Superman ice cream was sought out and devoured. Summer on a cone.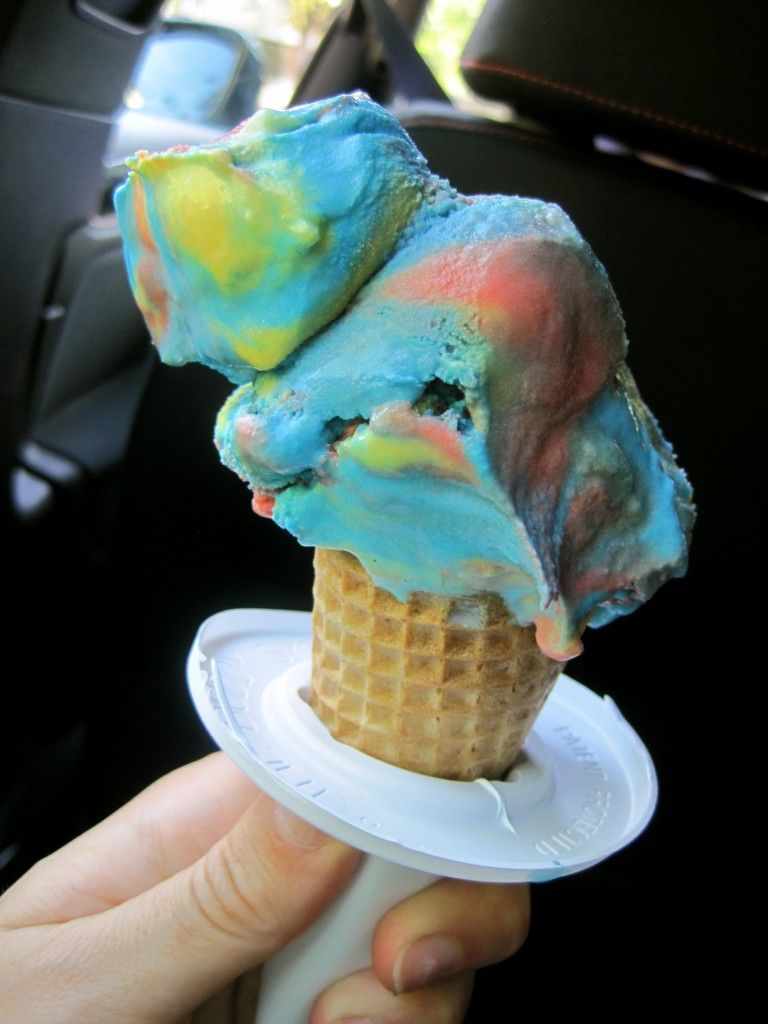 Dear August,
I don't think I'm ready for you to end yet.
Love, Megan
What last minute summer fun are you going to cram in before Autumn arrives?