Tuesdays are for speed workouts and Thursdays are for tempo runs, right?? Not this week, apparently. After an intense 4 x 600m, 4 x 400m workout on Tuesday, I ran a moderate 6 miles with Alma on Wednesday. My legs were feelin' a leeetle tired, but good enough to do Thursday's workout. I arrived at my apartment about 30 minutes before I needed to leave for practice and I was d-r-a-g-g-i-n-g. I didn't have time for a nap, but I DID have time for a snack. I sliced up a Golden Delicious apple and ate it with several spoonfuls of peanut butter. I was a little bit worried about how this 350+ calorie snack would affect my stomach during a workout, but it ended up being completely fine!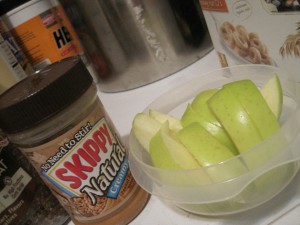 Around 6:45pm, I headed out the door and ran about 3 or so miles for a warm-up. After grouping up with the team in Central Park, we tackled the workout: 4 x 1 mile repeats w/ 400m recovery (First 2 @ 10k pace, Last 2 @ 5k pace). Yikes. I'm used to doing tempo runs on Thursdays (a.k.a. comfortably hard effort), so these mile repeats felt hard and fast the whole time. In fact, last night felt like I was racing. When I finished the 10k pace miles, I thought to myself "How could I ever string together 6.2 miles at this pace?!?!
 Luckily I had some great teammates to keep me company during this workout 🙂
Mile 1 – 6:48

Mile 2 – 6:49

Mile 3 – 6:22 (downhill!)

Mile 4 – 6:45 (ehh, this is a guestimate – Shelby and I started at the wrong spot).
After a 2 mile cool-down (10 miles  total) and a quick subway ride downtown, I met a friend for a scoop of vegan ice cream at Lula's. Ice cream after a workout? Yup, it's summer. It happens.
No camera (I was running!!), but please accept this photographic stand-in circa July 2009.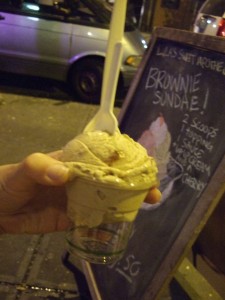 I chugged a lot of water and green tea to re-hydrate and then whipped up a simple smoothie using a frozen banana, blueberries, POM juice, Fage Greek yogurt, and a big scoop of peanut butter. Fruit? Check. Protein? Check. Carbs? Check. Healthy fat? Check! Yay, smoothies. I downed this glass in about 90 seconds.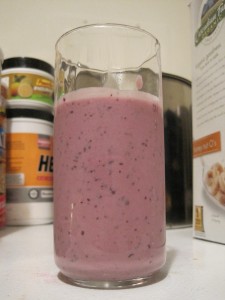 My stomach was still feeling a little hungry so I had not one, but two Fiber One chewy bars. These are delicious, but I'm not sure anyone needs 18 grams of fiber at once. Just sayin'….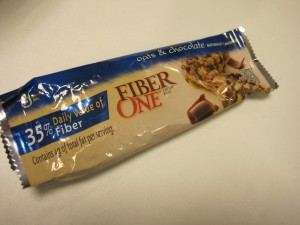 I'm planning easy mileage for Friday and Saturday because on Sunday….dum de dum…I'm doing a 3-mile 4th of July race in my hometown. I started running this back in 2000, right after freshman year of high school and if I play my cards right, this might be my fastest year yet. Sub-20:00 or bust! Stay tuned for a race report 🙂
Are you ready for July 4th Weekend? Check out these 101 Grilling Recipes.
Question: What's your favorite BBQ/Cook-out/Picnic food?