TGIF! Not that I'm complaining, but this week has flown by. Last night was my regularly scheduled Thursday night tempo workout. The temperatures were breezy and in the high 70's – approximately 20 degrees cooler than Tuesday, sweet!
I ran the 2.75 ish miles from my apartment to the team meeting spot and met up with a solid crew of runners (including a celebrity appearance made by Ms. Washington Ran Here, woo!). We jogged another mile or so up to the reservoir and then began the workout. On tap: 2 x 2.5 mile bridle path loops – the first @marathon pace, the second @half-marathon pace.
First 2.5 mile loop in 18:45 (7:30 pace)
Second 2.5 mile loop in 18:26 (7:22 pace)
5 miles in 37:11
The pacing wasn't as good as it could have been – first loop was a bit too fast, second loop was a bit too slow, but given the terrain of the bridle path (sandy and rocky), I'm decently pleased with the workout. I also got stuck in between groups and ended up running all of the second loop by my lonesome – that always makes it a little harder to push. I finished feeling strong and cooled down for another 1.75 miles or so bringing me to 10.5 miles total for the night. Phew.
I rehydrated like whoa while my stomach settled down (note to self: never eat 2 x fiber one chewy bars on a workout day. ever.) and then chowed down on some cold veggies and noodles in peanut sauce.
I didn't really measure anything, but here are some approximations:
Peanut sauce
1/4 cup peanut butter, 2 Tbs soy sauce, 1 Tbs apple cider vinegar, 1 Tbs sesame oil, 1 Tbs sriracha sauce – mix everything together until combined. Set aside.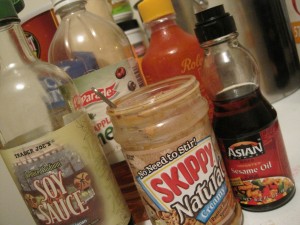 Noodles, Tofu, and Vegetables
Ingredients:
1/2 box whole wheat linguine

1 Tbs canola oil

1 bunch swiss chard, cleaned and roughly chopped

6 radishes, cleaned and chopped

1/2 block firm tofu, water pressed out

1/2 bunch scallions, diced
Directions:
Prepare linguine noodles according to package instructions, drain and set aside to cool

Heat canola oil in large saute pan and add garlic scapes and swiss chard, cook until leaves are wilted and stems are tender, add swiss chard and garlic scapes to noodles.

Cube tofu and add it to the saute pan along with a little more canola oil, cook until slightly crispy

Add the tofu and radishes to the noodle-swiss chard mixture and then add in the peanut sauce, mix gently until combined

Garnish with scallions, lime juice, and sriracha sauce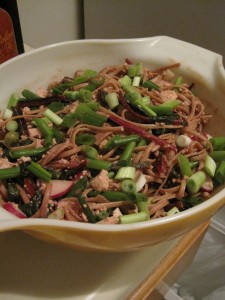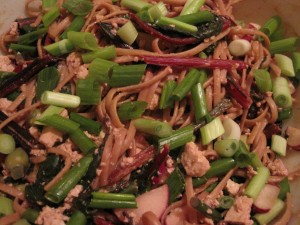 I didn't have any good desserts on hand, but I managed to create something that taste almost like cheesecake –
I mixed together 1 cup 2% Fage Greek yogurt with 1 Tbs peanut butter and then topped it off with raspberry preserves and a few crumbled graham crackers. Yum!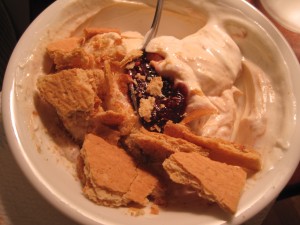 Question 1: Do you have a "go-to" sauce or condiment? I don't think my obsession with sriracha is any secret….
Question 2: Are there any foods you try to avoid before running?