I have a fun event right after work tonight, so the plan was to wake up early and run some speed intervals. How did that work out, you ask? FAIL. I didn't end up getting out of bed till 8am – I guess I needed the sleep!
Since the morning workout was a no-go and a post-work gym visit wasn't an option, that left me with one option…lunchtime! It's not ideal for me to run during my lunch break because I always feel pressed for time, but a girl's gotta do, what a girl's gotta do. I had a snack (luna bar) around 1pm and then headed over to the gym around 1:30.
To keep things interesting I did 12 sets of 1 minute hard, 1 minute moderate. With a warm-up and cool-down I was able to squeeze in 5 miles in under 40 minutes. Phew!
1 mile warm-up (9:00 pace)
12 x 1 minute hard (6:58 pace/8.6mph), 1 minute moderate (7:53 pace/7.6mph)
1 mile cool-down (8:00 pace)
5 miles total
Since we're on the subject of running, I came across this interesting NY Times article today….Rinse, Spit, and Run: Just the taste of carbs can make you run faster. Hmm.
In other news, I'm a full fledged yogurt snob. There. I said it. And it's 100% true. I traveled quite a bit last week and as I navigated the food options at airports, train stations, and quick marts I saw more than my fair share of yogurt. Unfortunately most of it was crappy yogurt. I'll be the first to admit that up until a few years ago, I used to eat a certain low calorie yogurt – 80 calories, fat-free, cool flavors…sounds good, right? On the surface yes, but once I started eating plain, Greek yogurt there was just no comparison. The pepto-bismal pink color, artificial taste, and runny consistency of those other yogurts just can't hold a candle to the good stuff. But what about the new greek yogurt made by Dannon? Is it a good, lower-priced alternative to Chobani, Fage, and Oikos? Ehh, not so much. I tried some last week (strawberry flavor) and it was way too sweet. Plus it was barely thicker than regular yogurt. Not worth it if you ask me.
I try to choose organic whenever circumstances (and my budget!) allow. I just finished reading Nina Planck's Real Food and that left more determined than ever to eat wholesome, organic food. Stonyfield recently sent me some coupons to try their new indulgent oikos – chocolate and caramel. While the portion sizes are a bit small (4 oz), these (organic!)sweet treats make a perfect lil dessert. And with 110 calories and 10 grams of protein, they're certainly healthier than the ice cream and chocolate bars I've been gobbling up.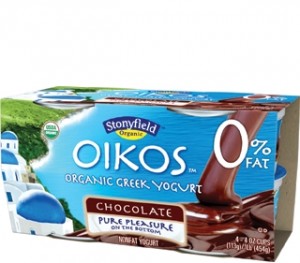 Stonyfield has generously offered to give one lucky reader a "chocolate indulgence" prize pack featuring the following:
–    1 coupon for a free Green & Black Organic Chocolate Bar
–    1 sample of Numi Organic Chocolate tea
–    1 Dagoba/Eco Lips Organic Chocolate chapstick
–    1 Skinnyskinny real cocoa organic soap bar
–    2 free coupons for Chocolate and Caramel Oikos multipacks
–    Recipe card set featuring Chocolate Cheesecake, as well Oikos spatula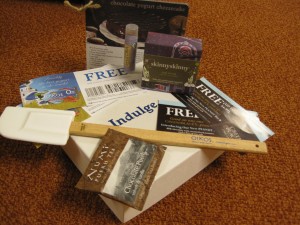 To enter the give-away, watch any Stonyfield Farm video clip and comment on something you learned about organics, or organic farming, etc. I'll pick a winner on Thursday morning!
Note: Contest open to U.S. residents only.