The other day I received a summer grilling sampler pack back from the folks at I Can't Believe It's Not Butter. I had never purchased or used this product before because I generally opt for "whole foods" such as real butter, cheese, whole grains, etc. But, I figured I'd give it a shot – I'm always up for experimenting in the kitchen! I had a bunch of zucchini from last week's CSA pick-up that needed to be used, so that served as the inspiration for my dinner. I based my creation on a recipe I spotted on Real Simple's website. Since I live in Manhattan and don't have a grill, I had to get creative. I washed and sliced all of my veggies, spritzed with I Can't Believe It's Not Butter Spray (ICBINB),  and then broiled (upside down grilling!) for about 10 minutes, flipping half-way through. Once the veggies were tender and slightly charred, I seasoned them with sea salt, cracked black pepper, and red pepper flakes.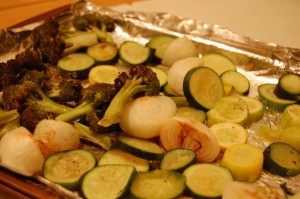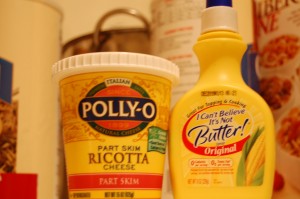 I toasted up some whole grain & flax bread and spread each slice with ricotta cheese. Finally I topped the toast with the broiled zucchini. I was a little skeptical of the flavor combination, but it ended up being a delicious twist on an open-faced sandwich. And since zucchini is so abundant this time of year, it's a great way to use up that ubiquitous green veg!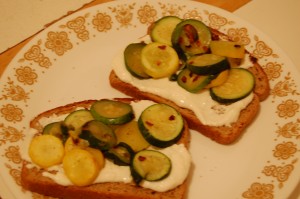 After reading Nina Planck's Real Food, I'm convinced that small amounts of full-fat dairy, eggs, and meat are actually quite good for us. That being said, a product like ICBINB (full of soybean oil and artificial ingredients) isn't something I'm likely to buy on my own. I'm probably going to give the remaining ICBINB spray to my sister (she's a fan), but it was fun trying out something new!
In other news, it took a Herculean effort to get me to track practice last night. I was inexplicably exhausted all day and came very (very!) close to bagging the workout and going home to sleep. BUT, I rallied and made it to the track.  I felt like I was slogging on the warm-up, but slightly better once the intervals began. I hit my target paces (actually the 300m's were much faster that expected), so all in all I'm pretty glad I did this workout. I have a 5k on Saturday in Prospect Park, so it was good practice to run some intervals at race pace.
Here's how it went down:
~2.25 mile warm-up
3 x 1000m – 4:03, 3:57, 3:56 (was shooting for 4:00 per rep, 5k pace)
200m recovery after each 1k
3 x 300m – 1:02, 1:01, 0:59 (was shooting for 1:10 per rep, 3k pace)
100m recovery after each 3oom
~2 mile cool-down
My post-workout adventures can be summed up by a text message from my friend Jacqui:
OMGNEWTRADERJOESOMG!! They have reduced guilt tortilla chips too!!
For those of you unfamiliar, we Manhattanites have a love-hate relationship with Trader Joe's. Love the unique products and cheap prices, hate the crowds and out-the-door lines (seriously). TJ's just opened up a GIANT, brand new store in Chelsea and it was heavenly. I went a little crazy with impulse purchases, but the crowning glory of my order was the elusive Reduced Guilt Tortilla Chips. Love. You best believe I devoured quite a few last night. On the subway ride uptown. Crunch.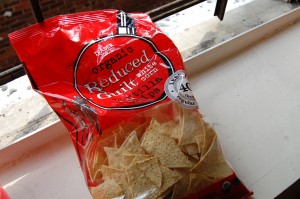 Dinner was late (i.e. the 10pm hour). And kind of boring. Sorry, it happens. I added some sliced cucumbers and parsley to the remainder of an arugula box and then topped it off with feta cheese, hummus, and sriracha sauce.
My dessert was slightly more creative. I have a new obsession with ricotta cheese, so I added some sliced banana, milk chocolate, and peanut butter puffins to a bowl. I shall call it….Lazy girl's cannoli!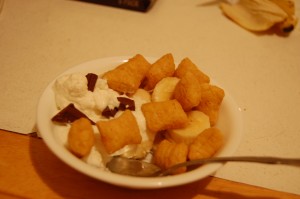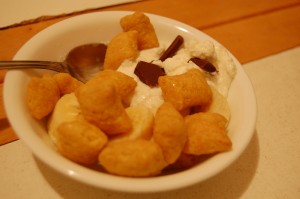 Now, can someone please explain why I'm so tired after 8+ hours of sleep and 3 cups of coffee?
In the News
From the Huffington Post: Chia seeds – are they life changing?
Long run this weekend? How to hydrate properly in the summer heat!
Are you a Butter fan? Olive oil? Margarine? Lard? (yes, I'm serious! I think lard makes the best pie crust…)
What's your favorite way to rehydrate after a sweaty, summer workout?