Happy Birthday America! Every year on the 4th of July I sign-up for the annual 3-mile race in downtown Wilkes-Barre. I started running this event about 10 years ago and I've done it in 2000, 2001, 2003, 2005, 2006, 2008, 2009, and 2010. One of these days I'll have to dig through my old running logs and post my times. This was the first year that I actually felt like I was in legit shape and I was ready to race!
I started my morning with the requisite coffee, 1/2 slice toast, pb & j, and a few slices of banana. I ate this about 1 1/2 hours before the event, so I tried to keep it light because I didn't want too much breakfast sitting in my stomach for such a short event.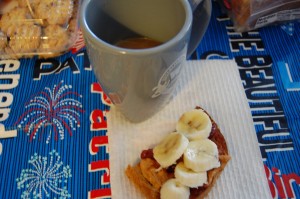 I warmed-up for about 2 miles while my personal cheering squad (hi Mom and Rachel!) got ready to spectate. At 9:10am, the race began. I got a pretty good start and focused on running the tangents for the first bit of the race. I went through the mile in 6:25 (good) and then just tried to pick off runners in front of me. I felt like I did a good job focusing on "racing" (i.e. beating other people), but my second and third miles were a bit slower than my first (6:40 pace). I finished in 19:45 and was decently happy with my time (a PR for this event by 45 seconds or so), but my legs didn't feel like they had enough "pop" in them. I suppose it could be from the two tough workouts I did last week – here's hoping! There's something about racing that brings out my type-A personality. I always feel like I could be faster, should be faster. Ah well – I have a 5k coming up at the end of July, perhaps with a small taper my legs will be a little fresher 🙂
Wilkes-Barre YMCA 4th of July 3-mile race
19:45 (6:35 average pace)
7th Female overall
3rd place in 21-25 age group
To the finish!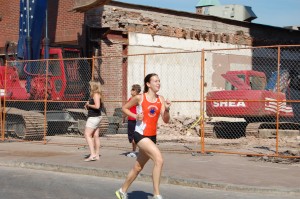 I cooled down for about 2 miles and then devoured some post-race orange slices.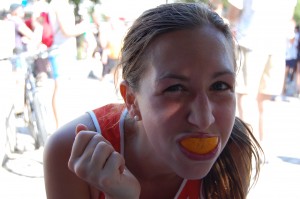 Best race photographer ever a.k.a. my sister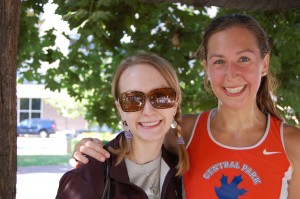 Post-race I rehydrated with some Gatorade and a slice of flax & fiber toast with pb & j and a sliced banana.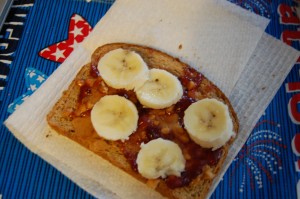 DD Iced coffee! Yesterday was a hot one.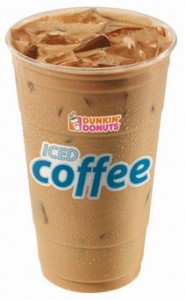 Later in the afternoon my family fired up the grill and got ready for an Independence Day cookout.
On my plate: Grilled portabella mushroom "burger" with Monterrey Jack cheese, arugula, and ketchup. Plus baked beans and sweet potato salad!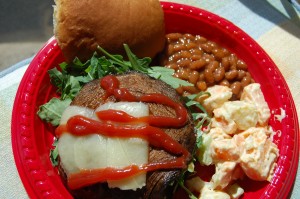 For dessert I took advantage of summer's fruit and made a yummy pie-cobbler creation. I used whole wheat flour for the crust and included lots of fresh summer fruit, so I didn't feel guilty at all for having 3 servings yesterday 🙂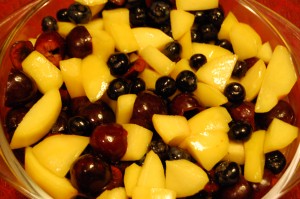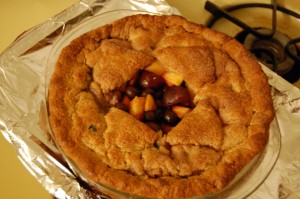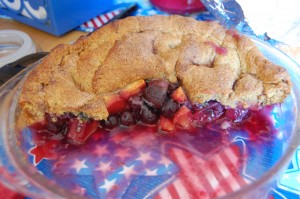 Served with ice cream!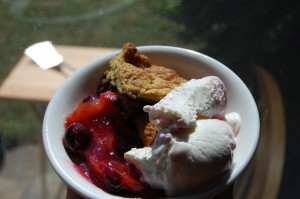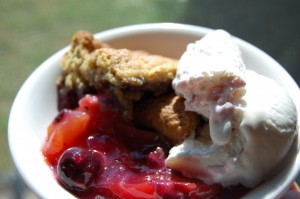 Cherry-Blueberry-Peach Pie (Cobbler)
Adapted from the Better Homes & Gardens Cookbook
Ingredients:
1 cup white whole wheat flour (or all-purpose)
1/4 cup + 1 Tbs sugar
1 1/2 tsp baking powder
3 Tbs salted butter
1/2 cup half 'n' half
1 tsp cinnamon
4 large peaches, cored and sliced into 1″ pieces
1 1/2 cups cherries, pitted
1 1/2 cups blueberries
1/2 cup sugar
1/4 cup water
2 Tbs cornstarch
Directions:
In a large bowl, mix together the flour, 1/4 cup sugar, and 1 1/2 tsp baking powder
Cut in 3 Tbs butter until the mixture is crumbly, add in the half 'n' half
Gather dough into a ball and place on a lightly floured piece of wax paper.
Using a lightly floured rolling pin, roll out dough to a 9″ round, refrigerate the dough (leave on wax paper) for at least 30 minutes
While dough is chilling, combine sugar, water, cornstarch, and peaches in a medium sauce pan and heat to boiling. Reduce to simmer and cook for 2 minutes, stirring often.
Remove from heat and add cherries and blueberries. Add all fruit to a deep dish pie plate.
Invert pie crust over top of fruit and slowly peel off wax paper. Cut an X in the center of the crust and then peel back the pieces so a window forms.
Brush pie with half 'n' half. Combine remaining Tbs of sugar with cinnamon and sprinkle on top of the pie.
Bake for about 35 minutes at 400 F degrees. Cover pie loosely with foil if it starts to brown too quickly.
Top warm pie with cold vanilla ice cream and devour. YUM!
I spent the rest of the day napping on the front porch, reading library books, eating leftovers, and playing with Kiwi! <3
Question 1: What's your favorite kind of pie?
Question 2: When you finish a race, are you content with the accomplishment? Or do you feel like you should have gone faster?