Hello! Greetings from the American Southwest. Yesterday my friend and I visited a little town called Madrid. It was originally a mining town, but became a "ghost town" by mid-century. In recent years it's become an artists colony with lots of cute little shops. I made sure to hydrate and re-fuel well after yesterday's 5-mile run to make sure I had lots of energy for sightseeing. Whee!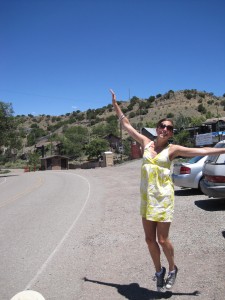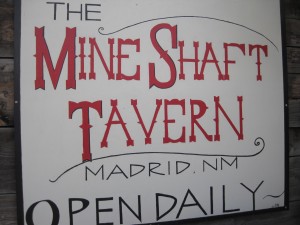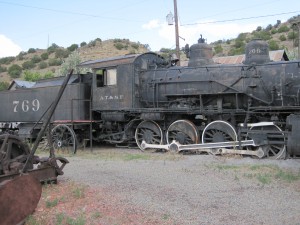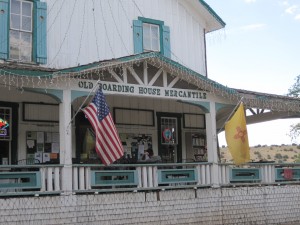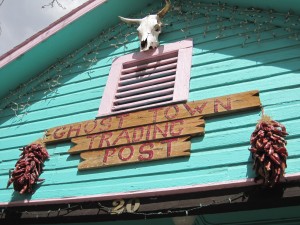 One of my favorite spots was Java Junction – an iced coffee was SO refreshing in the 100 degree sun. Yikes.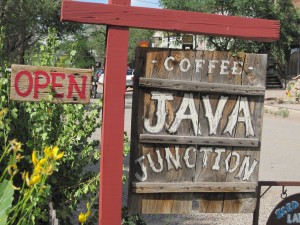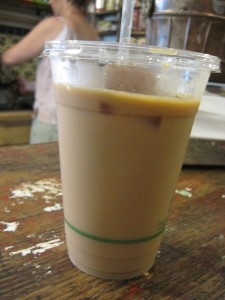 After a few hours of sightseeing and shopping, we headed to Sandia Peak where we took a tram car to the top of the mountain. We were 10,000 feet up at the top and as we hiked around I definitely noticed the altitude.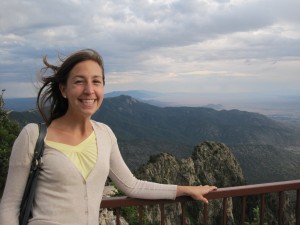 At the base of the mountain we decided to watch the sunset over the desert and grab dinner at Sandiago's.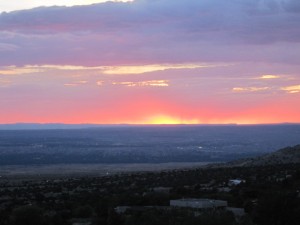 We started off with crispy tortilla chips and salsa (salsa = vegetable, right??)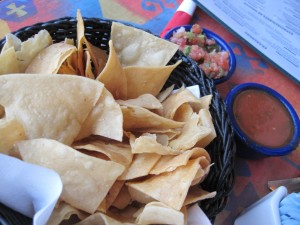 And then, my friends, I had the best plate of Mexican food EVER. I left VERY full, but how often does a girl get to indulge in cheesy blue corn enchiladas, black beans, and red & green chile rice with a sunset view? SO delicious. I left some rice on my plate, but devoured everything else. The blue corn tortillas were filled with zucchini, summer squash, black beans, cheese and topped with the local specialty – green chile sauce!!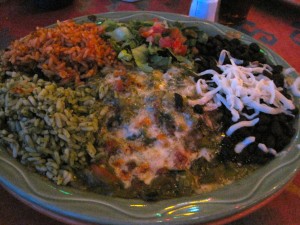 Full of tortillas, beans, and cheese, I fell asleep as soon as my head hit the pillow. Reason #456786 why I love vacation – 8 hours of sleep every night!!
After breakfast and more sightseeing, I moseyed over to the gym at the University of New Mexico (they don't ask for IDs!!) and hopped on a treadmill. Normally I favor outside running, but uh…it was 97 degrees outside. I ran a version of today's scheduled Central Park Track Club tempo workout, making a few adjustments because of the altitude.
1 mile warm-up (~9:00 pace)
3 mile progression run (7:30, 7:15, 7:00 pace)
3 mile cool-down (~9:00 pace)
Total: 7 miles in 58:45
I felt a little out of breath, but otherwise good.
When I was finished, Jess and I whipped up a quickie lunch:
OJ + seltzer and quesadillas made with flour tortillas, jalapeno havarti cheese, sauteed mushrooms, and salsa. Ready in about 10 minutes flat.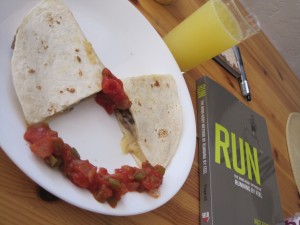 Staying healthy on vacation can pose some challenges, but it's definitely possible. Below are some of my tips:
Staying Healthy on Vacation
If you can't fit in a formal workout, move any way you can. Bike, swim, walk everywhere, take the stairs, or do squats and lunges in your hotel room.
Stay hydrated! Especially in dry climates and during the summer – your energy levels and digestive system will thank you. My personal favs are lightly sweetened lemonade, unsweetened iced tea, iced coffee, and ice water.
Limit the alcohol. You'll be much more likely to tackle an a.m. run if you choose a bottle of beer or glass of wine over a fishbowl sized margarita.
Consider the vegetarian option at restaurants. Non-meat fare isn't always healthier (hello pasta with alfredo sauce…), but it can help you get more fresh fruits & veggies. Fruits and veggies are hydrating, full of fiber, and packed with nutrition.
Don't sweat it. If you overindulge at dinner (see cheesy enchiladas above…) or miss a workout, it's no biggie. It IS vacation after all! Just plan on running a mile or two longer tomorrow morning or having a light dinner to balance things out.
Question: What's your dream vacation destination? I'd love to visit California and run the Big Sur Marathon!