Happy Monday blog readers! I'm back from a weekend of good food, wine, ocean, and friends. It was definitely a few days of indulgence, but I tried to keep things somewhat balanced. My college housemates and I ventured to Rhode Island this weekend for a little get-away. Saturday involved a 5am wake-up call and traveling, so I decided to take the day off from running. Every 10 days or so, I like to take a complete rest day from any sort of formal exercise – no yoga, no running, no spinning, etc.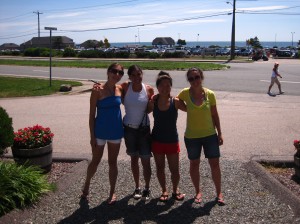 Our seaside motel was small, but clean and steps away from the beach.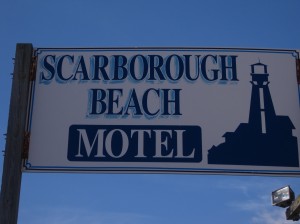 Even better? There was a BYOB seafood shack next door!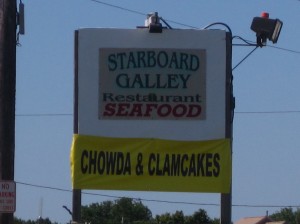 For dinner, the four of us shared a bunch of different seafood platters – fried cod, flounder, shrimp, scallops, clam strips, clamcakes,  lobster salad, coleslaw, and french fries. Maybe fried food isn't the healthiest option, but you've gotta try the local specialities, right?? I especially enjoyed the clamcakes. They reminded me of Southern hush puppies – fried dough with yummy bits of clam mixed in, yum.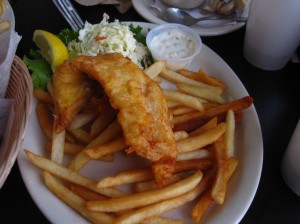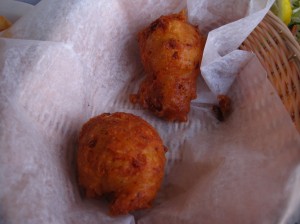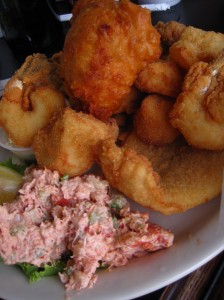 With a cup of clam chowda! The soup had big chunks of potato and clams and just a touch of cream.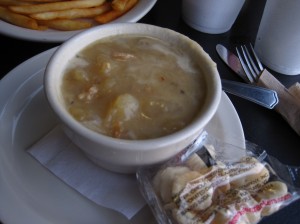 With wine, of course.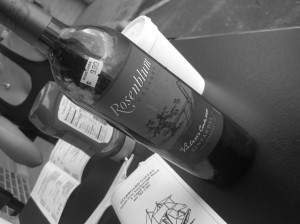 We took some wine to the beach and worked off our dinner with a walk and game of catch. I actually woke up sore the next day from pitching the ball. Yikes, does this mean I'm getting old?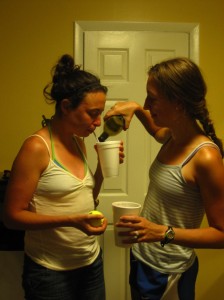 After 9 hours of sleep (yessssss!), my running buddy and I woke up to tackle a run along the beach. Before we hit the roads, I snacked on a lara bar –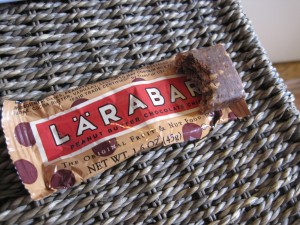 The weather was quite humid and sunny, but our route along the ocean and past Point Judith lighthouse kept us entertained. We ran for 1 hour, 16 minutes (about 8.5 miles) and then jumped in the ocean. Whee! The cold water felt awesome on my tired, hot legs.
Some iced coffee was necessary.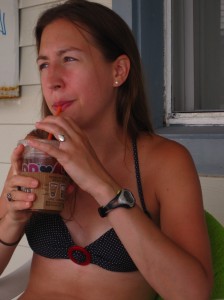 Whole grain bagel + veggie cream cheese + iced coffee = perfect post-long run fuel.
We spent the rest of the day froclicking in Rhode Island and then headed home just as the weather started to turn cloudy.
The weather in the city last night was gorgeous – mid 70's and dry with a cool breeze. I took the opportunity to head out for another run. I looped around the paths of Central Park for about 30 minutes (3.5 miles) and really enjoyed myself. It was the perfect relaxing way to end my weekend! I ended up running 12 miles total for the day – it would have been better if I did it all at once, but sometimes you gotta be flexible.
I followed run #2 up with a clean, green salad – organic arugula, sliced cucumbers, parsley, feta cheese, hummus, sriracha sauce, and kashi crackers. And there may have been some haagen-dazs ice cream for dessert…It's all about balance, right?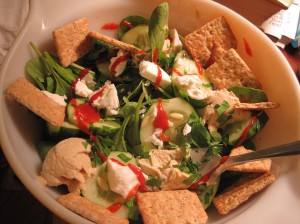 Question: What are your thoughts on seafood? I really DISLIKE sushi, but I enjoy salmon, tuna salad, cod, flounder, and shrimp!
*Special Announcement* – Want to run a 5k this weekend? The Central Park Track Club is hosting its first annual "Founder's 5k" this weekend in Brooklyn. The course is fast and shaded and registration is still open!