There's nothing like a food blog to make you remember how much beer and chocolate you consume…
Per Sarah's suggestion, I may change the name of my blog to Runner's Mini Bar or Runner's Liquor Cabinet. Stay tuned.
Where and why was I consuming all of these fabulous libations? The Vosges chocolate boutique in SoHo! On Tuesday night the shop hosted a special tasting event – beers from the Brooklyn Brewery and fancy chocolates. All things in moderation, even moderation. Right?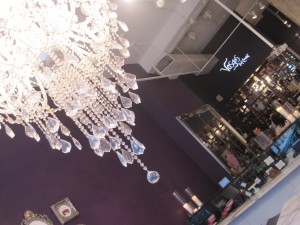 I love the gourmet flavors that Vosges creates! Dried plums, cardamom, and dark chocolate? Yes, please. Milk chocolate, sea salt, and marcona almonds? Even better!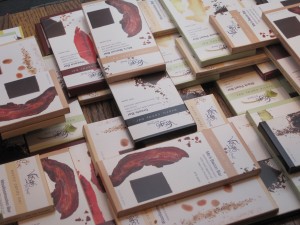 Not wanting to start drinking beer on an empty stomach, we started with some light snacks – prosciuto, fresh figs, arugula, and butter on crusty baguette.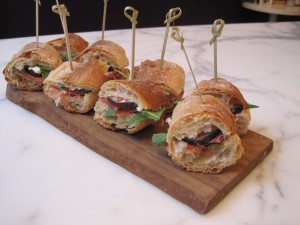 Crunchy pumpernickle bread paired with ricotta cheese, olive oil, and cacao nibs.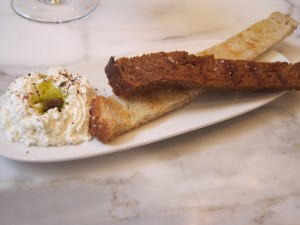 And a slice of chorizo topped with melted chocolate on baguette. Interesting concept, but weirded me out a little bit.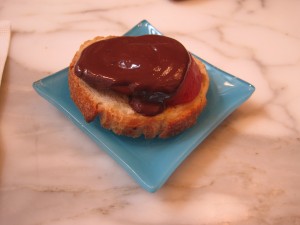 Bowls of chocolate-covered nuts were also available for nibbling –
Dark chocolate covered cashews with wasabi and ginger.
And (my favorite!) – cocoa dusted hazlenuts with chicory and espresso.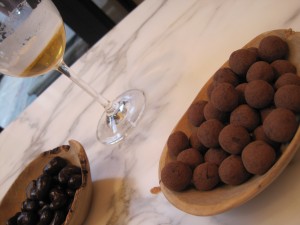 Bring on the beer! Our first tasting was the Brooklyn No. 1 pale ale.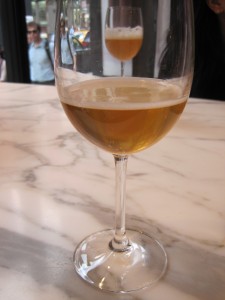 Paired with a cardamom-infused dark chocolate truffle.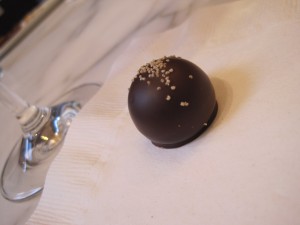 Then we moved on to a darker brew – Brooklyn No. 2, which paired nicely with a dark chocolate-blood orange-campari caramel.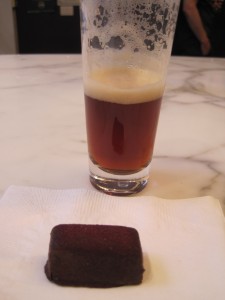 My favorite pairing of the night was an IPA and a milk chocolate covered tortilla chip dusted with red chili pepper. The hoppy bitterness of the IPA was a nice foil to the spicy, sweet, and salty tortilla chip. YUM.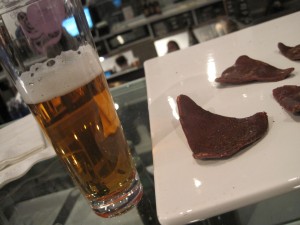 The final pairing was a very special Brooklyn Brew called "Black Ops" – it had 11% alcohol! This bold beer was paired with a chocolate-bacon truffle.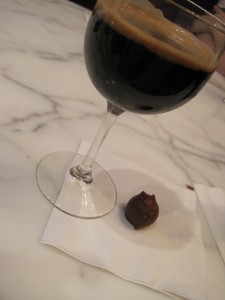 Black Ops was a little strong for my taste.
Precious, eh?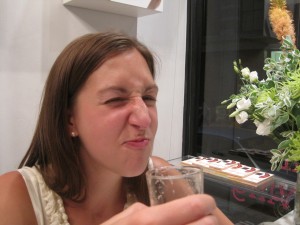 It ended up being a late night, but I rallied the next morning and hit the roads for a brief 3-mile run. Getting my sweat on actually made me feel more awake!
An even better antidote for lack of sleep? SUGAR. Getting a gelato cookie sandwich (yes, you read that right) from the Street Sweets truck has been on my to-do list for ages. I finally sampled one for myself yesterday afternoon!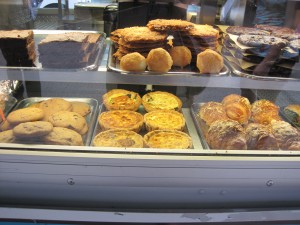 A small scoop of hazlenut gelato was sandwiched in-between two thin and crispy coconut cookies. Eaten on a hot, summer afternoon. Heaven.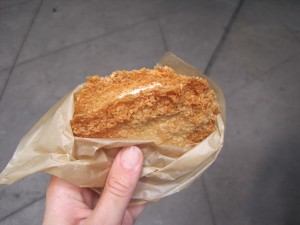 Prepare yo'selves…I'm not done yet. Just reading this post may give you diabetes.
My partner in crime for all these foodie adventures also snagged me four giant Crumbs cupcakes.  The Reese's Peanut Butter Cup, Red Velvet, Cookie Dough, and Madison Avenue (chocolate ganache with slivered almonds) cupcakes did not disappoint. The thing I love most about crumbs is the cream filling – it ensures a perfect cake to icing ratio!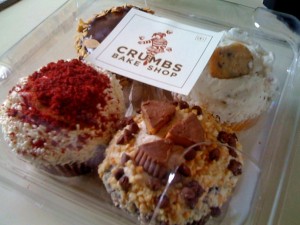 I'm well fueled (yay, glucose) for a tough workout in Central Park tonight. Stay tuned for the results…
Question: What's your favorite type of chocolate? Milk, dark, white? With nuts? Hershey's? Gourmet?
Edited to add: Congrats to commenter #41 – winner of the Stonyfield prize pack. Heather – email me your mailing address: runnerskitchen [at] gmail [dot] com
Heather @ Get Healthy with Heather says:
I learned that at each shopping trip we make big choices when buying foods. This pack sounds awesome!