Whew, what a weekend. I love summer and I'm certainly packing a lot into this one! Saturday morning I woke up bright and early for my requisite iced coffee and then I chowed down on a piece of pb & j toast. I had 9am running plans with some teammates and while the weather was humid and kind of yucky, it was nice to have company. I ran nice and easy for about 13 miles (1 hour, 52 minutes) with a Gatorade stop around mile 9. Nothing tastes better than iced cold Gatorade on a hot, summer day.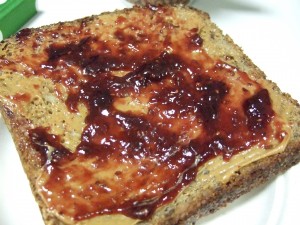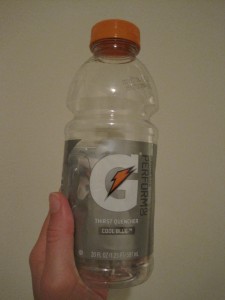 Immediately after I finished running, I met up with a blog reader visiting from our northern neighbor, Canada. We sipped on some DD iced coffees and chatted about all things blog and running related 🙂 Hi Alyson!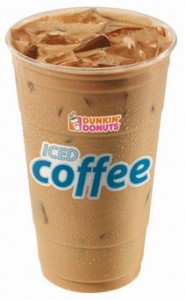 I was pretty hungry by the time I got home, so I whipped up a smoothie (greek yog, frozen peaches, banana, POM juice, and peanut butter) along with a cherry pie lara bar.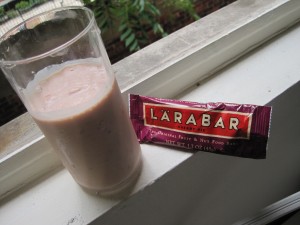 Later in the afternoon, my roomie treated me to a homemade lunch. She blanched some broccoli rabe and sauteed it along with tofu, garlic, pimenton, and plenty of olive oil. Served with cous-cous, shaved iberico cheese, and a drizzle of sriracha sauce. YUM.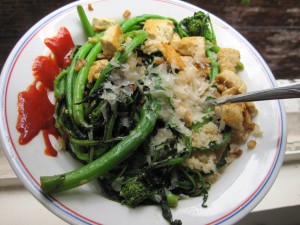 I enjoyed some of my homemade coffee-chocolate chip ice cream for dessert.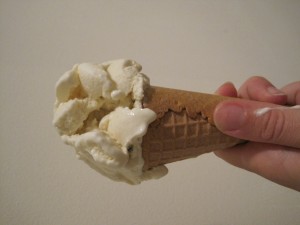 After a brief nap (the legs were asking for it!), I ate a quick dinner of veggie pizza and then hit the town for a night of martinis and manicures with my lady friends.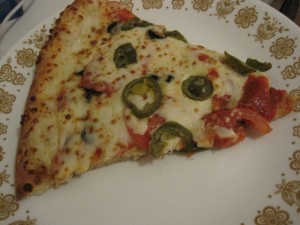 One of my favorite bars in the city offers a special $10 for a cocktail AND a manicure. Yay! I ordered a fancy martini to start off and then stuck to vodka and club soda for the remainder of the night. I find that too much sugar along with my alcohol is no bueno.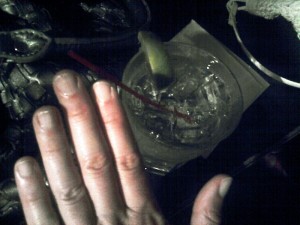 When I got back to my apartment (quite late), I downed a bunch of water and a well-balanced snack of greek yog, pb, jam, and graham crackers.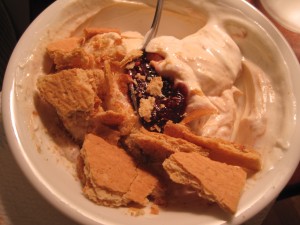 My original plan for Sunday was to run an easy 4 miles or so…
But how could I resist a trip to the beach?? A few of my running buddies were planning a long run on Robert Moses beach on Fire Island and I couldn't resist tagging along. It was a hot, sunny day and we didn't start running until after 11am, but the ocean breeze kept us (sort of) cool. We traversed some pretty sandy terrain – in fact we ran on the packed, wet sand for a solid 3 miles or so and I ran barefoot for a large portion of that. My calves are definitely feeling the effects of all that sand running! I ended up running 10 miles in about 90 minutes and felt surprisingly good. I normally would not recommend two high mileage days in a row, but…I suppose I make exceptions for a beach trip. Plus I've been logging 8-10 mile midweek runs, so today's mileage wasn't too unusual.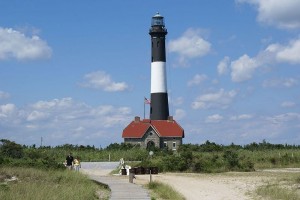 My feet were a sandy, sandy mess after running on the beach!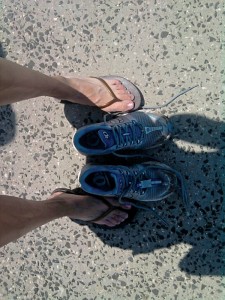 Summer long runs + ice cream = heaven.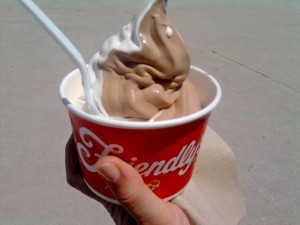 I'm headed to Albuquerque this week for a mini-vacation and my legs are looking forward to some rest days 🙂
I recently started contributing to a website focused on the NYC running scene – check out my Big Apple running tips!
!! Give-Away Alert !!
Last, but not least – a friend of mine is completing her doctorate in psychology and needs your help. She's hosting a short 10 minute survey on internet usage and needs input from blog readers. Here's the deal – I'm giving away a prize pack of the NEW lara bar flavors (chocolate chip cookie dough, peanut butter chocolate chip, carrot cake, and chocolate chip brownie). To win – take the survey and then leave a comment 1) telling me you did so and 2) telling me your favorite flavor of lara bar. I'll pick a winner on Tuesday night.