Nope, my blog post isn't referring to the quadruple Platinum record released by a popular 90's boy band, but rather to the record breaking temps that NYC has been hit with this week (103 degrees in Central Park yesterday afternoon, woo).
I started my morning in a very summery way – iced coffee from the cart near my subway stop and a big bowl of sliced peaches, banana, and wallaby maple yogurt. This yogurt is "Australian-style" and much different/thinner than Greek yogurt, but I like it! The consistency reminds me of kefir.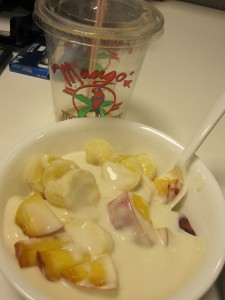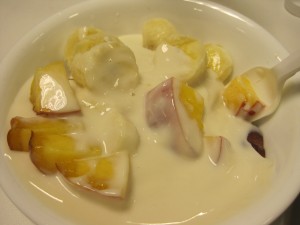 And then I had two fiber one chewy bars. Why do they have to taste like candy bars?? So good, but I know 18 grams of fiber at once (9g per bar) is probably a bad idea.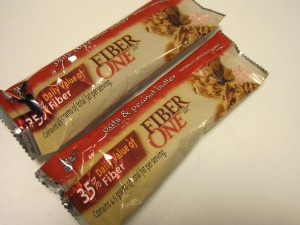 I was frantically busy all day and so lunch was gobbled up at my desk – a big container of arugula, chopped celery, croutons, and a morningstar farms spicy black bean burger with monterey jack.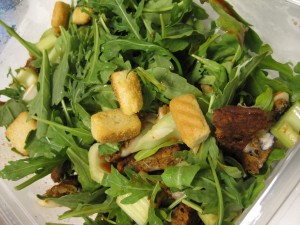 Thanks to twitter, I found out that the Cooking Channel was sponsoring a People's Pops  give-away about a block from my office. Around 3:30pm I ventured out in to the heat for a delicious (and free!) raspberry-basil popsicle. Yum.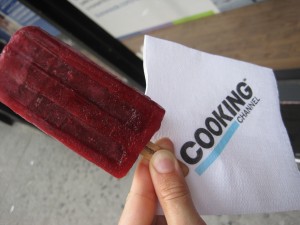 Around 5pm I left the office to rush uptown for an appointment. I made a pit-stop to pick-up my CSA veggies, and then hopped back on the subway going downtown. With about 50 bajillion bags (including two large totes of vegetables), I zoomed into my gym to drop everything off. After a quick change-a-roo, I was back out the door for a 2.25 mile-ish warm-up to the E. 6th street track. Phew, still with me? It was a crazy hour and a half.
I did some strides and then got ready to pound out some track intervals in  the crazy heat. Big ups to fellow hardcore teammates who braved the heat. Are we insane? Uhh, probably.
The assigned workout was a pyramid: 2 x 800m @5k pace, 600m @5k pace, 400m @3k pace, 200m @mile pace. Recovery was 200m with a 400m recovery between sets.
This is how it went down:
| Activity |   | Distance |  Duration | Pace |
| --- | --- | --- | --- | --- |
| Warm Up |   | 2.25 mi |  00:19:00 |    8:26 min/mi |
| Intervals |   | 800 m |  00:03:08 |    6:18 min/mi |
| Intervals |   | 600 m |  00:02:19 |    6:12 min/mi |
| Intervals |   | 400 m |  00:01:27 |    5:50 min/mi |
| Intervals |   | 200 m |  00:00:39 |    5:13 min/mi |
| Intervals |   | 800 m |  00:03:06 |    6:14 min/mi |
| Intervals |   | 600 m |  00:02:17 |    6:07 min/mi |
| Intervals |   | 400 m |  00:01:25 |    5:41 min/mi |
| Intervals |   | 200 m |  00:00:38 |    5:05 min/mi |
| Recovery Run |   | 1  mi |  00:12:00 |    12:00 min/mi |
| Cool Down |   | 2.25 mi |  00:19:00 |    8:26 min/mi |
I felt surprisingly okay during this workout (perhaps I'm becoming acclimated to the heat??). Drank nearly a whole bottle of water while running and a Gatorade after. Felt slightly woozy after I finished cooling down. Oof.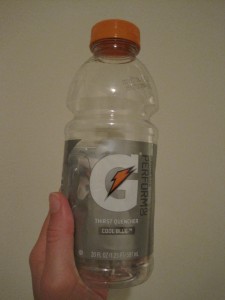 After a 2.25 mile ish cooldown, a shower and a trek back uptown, I unloaded my CSA bounty. I don't think anything makes me so happy as fresh vegetables. Gorgeous!
This week's share included:
green lettuce, arugula, kale, broccoli, yellow squash, cucumber, beets, radishes, scallions, baby bok choy, and chard.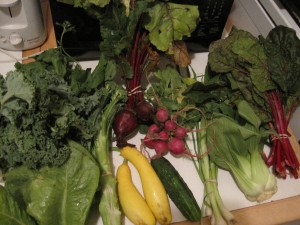 I also picked up a few more essentials from the grocery store – a block of tofu, peaches, blueberries, hummus, and Greek yogurt.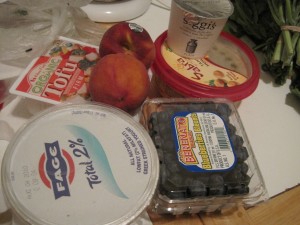 I felt a little nauseated post-run (oh, summer heat), but I made myself eat some dinner anyway. I tossed together some arugula, sliced zucchini, about 1/2 cup hummus, some kashi crackers, and sriracha sauce. Not exactly gourmet cooking, but it did the trick.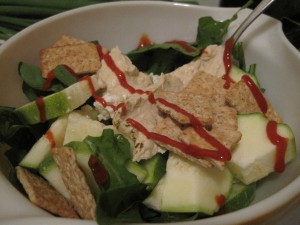 After I rehydrated and ate I felt back to normal, so I ended the night with a few helpings of mint chocolate chip ice cream. Yummmm.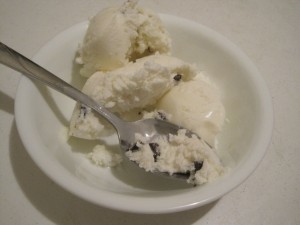 Around 11pm I got the urge to cook – it's going to be a busy week, so I thought I'd prep some food ahead of time. Stay tuned for the yummy (and veggie-packed!) recipe.
The latest from True/Slant: How to run in July (and not get heatstroke).
Need another reason to join the soccer team? Exercising as a young adult can prevent cognitive damage later in life.
How many minutes of walking will it take to burn off that ice cream sundae? WebMD's Dessert Wizard gives you the deets!
It's too hot to cook. How about a salad? Make your own delicious (and healthy!) dressing.
Question: How are you staying cool this summer? Any tips for the rest of us?