I'm a big fan of social media. It helps me stay in touch with my friends, share my favorite recipes, and sometimes I even win stuff!  I follow Whole Foods Market on Twitter and was lucky enough to win a pair of tickets to the Good Beer event at BAM (Brooklyn Academy of Music). According to Edible Manhattan: "Good Beer at BAM offers an intimate setting for breweries, food artisans, and we who love them, to raise a glass (or few) to the role beer plays in the contemporary culinary culture." I can toast to that!
The event started at 4pm, but seeing as full time job > beer drinking, I didn't show up until 6:30pm-ish. Luckily, that still gave me 1 1/2 hours to sample the goods! 
Big thanks to Amy Cao for accompanying me to this fun event! Hooray for NYC foodies 🙂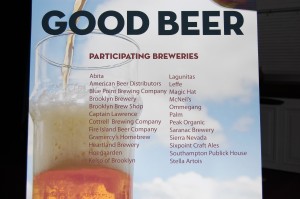 My first beer of the evening was a taste of Blue Point Brewing Company's Toasted Lager. Love this Long Island brewery!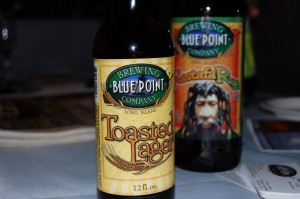 I needed a little carb-y goodness along with my brew, so I sampled a jalapeno pretzel with honey mustard sauce from Sigmund's Pretzel shop.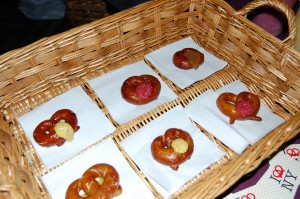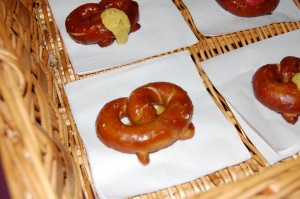 I mixed things up by having dessert first! The Ukrainian Cafe Glechik was serving up traditional Eastern European cherry-filled pierogis and pastry squares. YUM. The pastry had a dozen or so layers of flaky phillo dough filled with a light cream.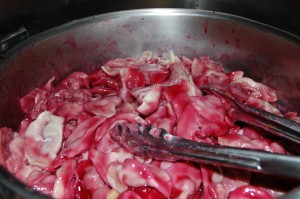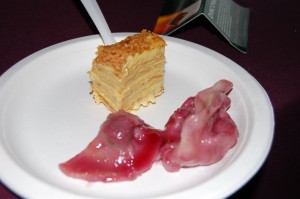 I paired my sweets with a summery Red Wagon IPA from Fire Island Beer Company. This IPA wasn't too hoppy or bitter and I really enjoyed it.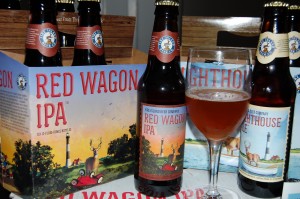 Next, Amy and I explored the offerings upstairs –
I sampled a brushetta topped with tomato and oyster (or maybe it was clam?) from Roberta's Pizza.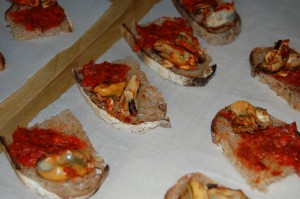 If you read my blog often, you know I'm not a big meat eater, however I make an exception for events like this. I don't cook meat at home, but I'm a foodie at heart, so when I have the opportunity to sample delicious, local cuisine – I'm going to partake! The open-faced pulled pork sandwich from Jimmy's No. 43 was quite possibly the best thing I ate all night. It was flavorful and juicy and just plain delicious!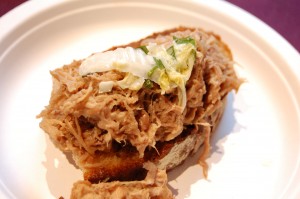 Washed down with a sample of Peak Organic summer ale.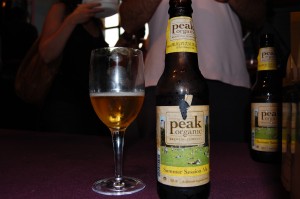 My second favorite of the night? Lightly dressed shrimp on a toasted roll from Luke's Lobster. Mmm, summer!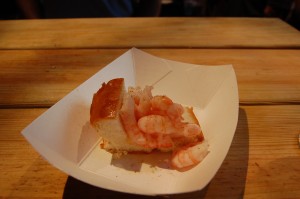 I had a bite of organic valley cheddar cheese with chutney. Quality cheese, but a little boring considering the other food options.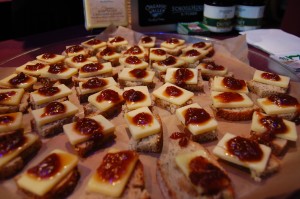 And a glass of Abite Purple Haze. This beer was so light, it went down way to fast!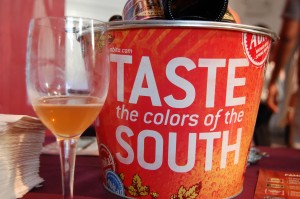 I was intrigued by Good Fork's forbidden rice and pork dish – it was good, but required utensils. My hands were a little full (purse, camera, beer glass, plate), so it wasn't the most party-friendly dish.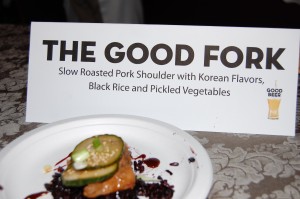 I had sampled quite a few beers by this point, so I decided to nibble on some Orwasher's bread to soak up the booze. This bakery uses fermented grape skins as a leavener (yeast) – how cool is that??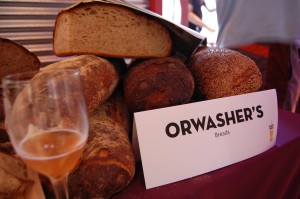 I still had room for one of my favorite wheat beers – Southhampton Publick House Double White.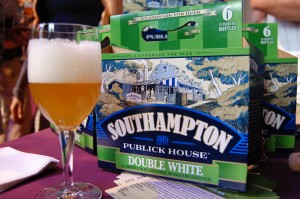 My last samples of the night were a freshly griddled tortilla filled with cotija mexican cheese, chicken (??), squash blossoms, and a green chili sauce. YUM. This was amazing! Unfortunately I didn't get the name of the restaurant (I blame the beer…)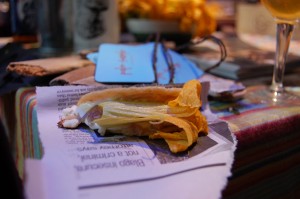 Paired with a Blond Bombshell from McNeill's Brewery.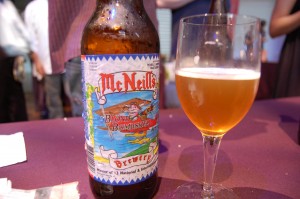 Phew, that's a lot of beer for a weeknight, eh? I love going to wine/beer/food events (see recaps of Taste of the Nation and Vosges chocolate tasting), so I've learned a few tricks along the way.
Be selective – you'll have a lot to choose from, so don't eat something just because it's there. When you arrive at the event (wedding, baby shower, cocktail party, etc), survey the scene and only sample what looks unique or delicious!

Only have a bite. It's unfortunate, but if you try to eat everything you'll get way too full (or drunk!). My strategy is to have a big, juicy bite and then throw the rest away (or even better – share with a friend!).

Get some exercise and eat cleanly earlier in the day. When I have an indulgent night planned, I make sure to squeeze in a run and eat lots of fruits, vegetables, whole grains, and lean protein for breakfast/lunch.

Enjoy yourself! Fancy events and tastings don't happen every day (unless you're

Frank Bruni

), so enjoy yourself! You can always have a salad tomorrow.
In terms of running, I've been struggling a bit this week. I don't know what's wrong with me – BLAH. I DID manage to make it to the track on Tuesday, but it took quite the effort to get me there. I fit in a quick 3 miles on Wednesday (a short run is better than none, right? right?) and then ran 6 miles on Thursday. Unfortunately it was Megan vs. treadmill and the treadmill won. I got a little too interested in an E! True Hollywood Story on Miley Cyrus and slipped off the belt. Ouch. I am now sportin' a pretty sweet brushburn on my right shin and a bruise on my left arm. I hit the floor about 1.25 miles into the run, but picked myself up and carried on for another 4.75 miles. At least there's that…..
Also, 5k in Prospect Park tomorrow and you can still sign up! All the cool kids are doing it. Plus me.
Question 1: Anyone else ever fall off a treadmill? 
Question 2: What's your favorite beer? (Can you tell I'm in weekend mode?!?)
Edited to add: Swollen and red ankle/shin. Thanks Treadmill!