Summer 2010, day 4. With sunny skies, humidity, and a high of 94, NYC is certainly participating fully.
For a runner, the outdoor track is an enduring symbol of the warm weather months. Earlier this week, I headed over to Icahn Stadium on Randall's Island to run in the Tuesday night speed series. The last time I ran a track race was in January 2009, so it had been awhile. I didn't have big expectations, but I've been putting in some quality workouts, so I wanted to see what I could do.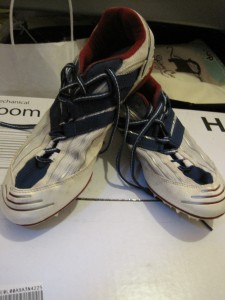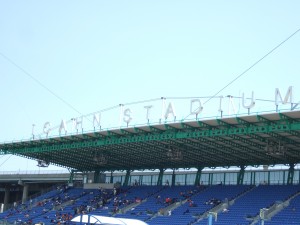 After a 3 mile warm-up, I tied on my spikes and toed the line for the 3K race. Just before the gun went off it started pouring rain, but the night was so humid that I didn't mind too much. My first lap went well (90 seconds), but then I slowed down and started averaging about 93-94 seconds per lap. I didn't really have anyone to race with so it sort of felt like a time trial. I was hurting by the end, but I just never felt like I was "racing". Meh. I finished the 3K (1.86 miles) in 11:47 and was not pleased. I knew there was a reason why I like half-marathons better than track races….Ah well, moving on.
I took the bus back into Manhattan and then cooled down for another 2 miles or so, bringing me to 7 miles for the evening. The race was a bust, but at least I got to cross one more thing off my summer wish list!
Earlier in the evening, I had picked up my CSA veggies and I threw together a quick salad. In my bowl went red leaf lettuce, sliced strawberries, dried cherries, goat cheese, garlic croutons, and balsamic vinaigrette. Plus a vitamin water zero – the "recoup" variety. After a few days of HOT long runs, wedding celebrations, and track races – I needed those extra B-vitamins.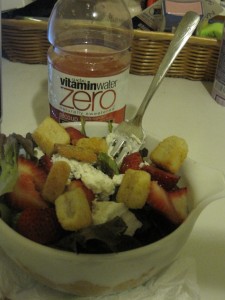 Still hungry, I had a few bowls of whipped cottage cheese, dried cherries, and Kashi heart-to-heart. It was sweet and creamy enough to pass as dessert.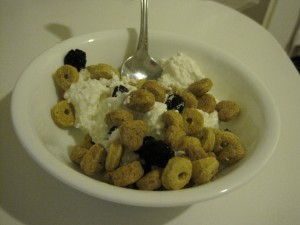 Wednesday passed in a blur and before I knew it I was racing out of the office and in to my gym. I had exactly one hour to run, change, and take the subway downtown to an event. With limited time, I had to make the most of my gym visit. I ran 4 miles in 31:10, starting off at 8:00 pace and finishing the last mile in 7:00 pace. Considering I raced in spikes the day before, I felt good! I quickly rinsed off, changed, and headed to the Institute of Culinary Education for a foodie event sponsored by Eggland's Best.
Upon arrival, I was greeted with an apron, chef's hat, and an open bar. I rehydrated with wine. That's how I do.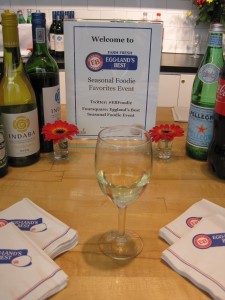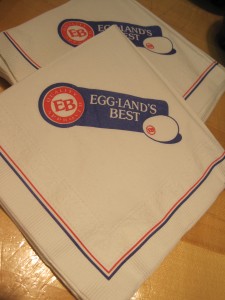 While mingling with Eggland's Best employees and fellow bloggers, I enjoyed some passed appetizers –
Tiny baked truffled egg custards with gruyere and chives, garnished with American black caviar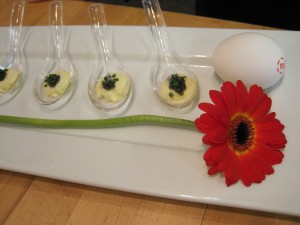 Japanese egg maki rolls with shrimp and edamame puree (like a sushi roll, but with an egg wrapper instead of seaweed)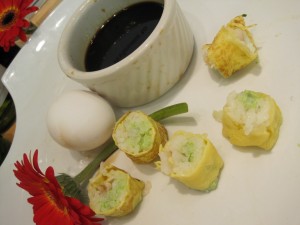 After our cocktail hour, we were introduced to Chef Erica Wides, our instructor for the evening. Our game plan – use eggs in a wide variety of seasonal dishes!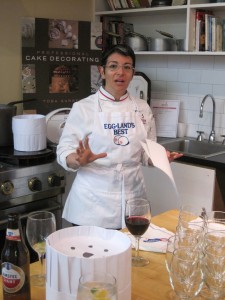 We bloggers broke up into groups and set to work.
I finally got to meet the Foodista!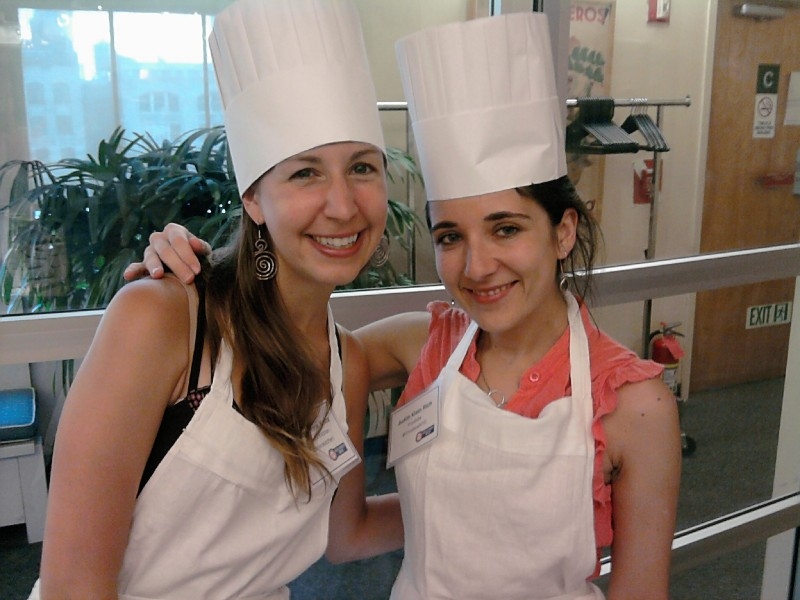 Ashley prepped fresh radishes –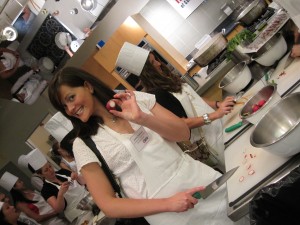 Other bloggers worked on making fresh pasta and ravioli stuffed with lobster and crab meat –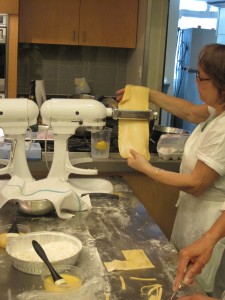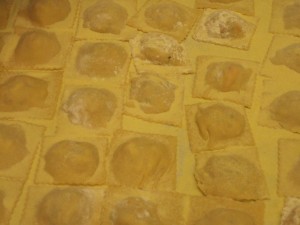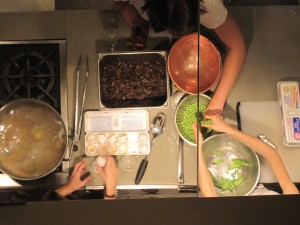 Beautifully poached eggs.
Champagne vinaigrette emulsion.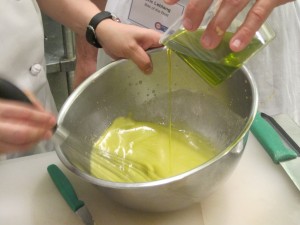 After a few hours of hard work, we sat down to dinner. Our place settings were adorable – I loved the attention to detail.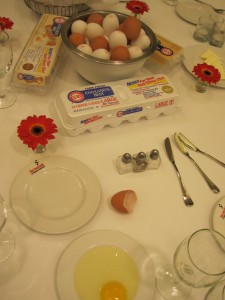 Our first course was a warm salad comprised of asparagus, radishes, morels, baby carrots, sugar snap peas, duck prosciutto (fancy!), toasted walnuts, poached Eggland's Best egg, and champagne vinaigrette. This dish was hearty, yet light. With some crusty bread and olive oil, it would make a great summer supper!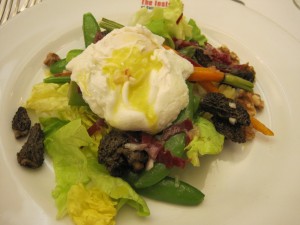 Summer Salad Recipe
White wine poached eggs
4 Eggland's Best eggs
2 cups white wine
2 cups water
Salad
8 radishes, trimmed
8 morel mushrooms, trimmed (or other wild mushroom)
12 spears asparagus, bottom ends trimmed
12 baby carrots, peeled and trimmed
12 sugar snap peas, trimmed
4 large leaves Boston or buttercrunch lettuce
4 thin slices duck prosciutto, julienned
12 walnut halves, toasted
Champagne vinaigrette:
1 teaspoon minced shallot
1 teaspoon Dijon mustard
2 tablespoons champagne vinegar
6 tablespoons olive oil
Pinch of sugar
Salt to taste
Make the white wine poached eggs:
1. Place wine and water in a large shallow saucepan over medium heat. Bring to a simmer, but not a boil. Have an ice bath ready, a pair of tongs and a slotted spoon.
2. Place 4 poaching rings* in the simmering water. Make sure the water isn't boiling; it should just have a few bubbles breaking on the surface. Gently crack each egg into a ring, and allow them to poach for 3 minutes.
3. Carefully remove the poaching rings, using tongs, and then remove the eggs using the slotted spoon. Place the eggs in the ice bath and reserve. Turn off the heat under the poaching water, but leave it on the stove for reheating the eggs later.
*Note, poaching rings can be made from empty tuna cans, just remove the bottom with a can opener, rinse and remove label. A stovetop egg poacher can be used, too. You can also poach eggs individually by stirring the poaching water to create a "whirlpool" effect, then dropping the egg into the center of the swirling water. Cook 3 minutes then remove with a slotted spoon.
Make the salad:
1. Heat oven to 400. Toss the morels and radishes with olive oil and season with salt and pepper. Place them on a sheet pan, and roast for 15-20 minutes, or until the mushrooms have exuded all their water and the radishes are tender. Remove from oven and reserve.
2. Meanwhile, heat a large pot of salted water to a boil. Have an ice bath ready and a pair of tongs. Blanch the asparagus, baby carrots and sugar snap peas until they are tender, and then remove to the ice bath. Start with the baby carrots, as they take the longest. As soon as the vegetables are cooled in the water, remove them and leave at room temperature.
3. Make the champagne vinaigrette by whisking together all the ingredients in a small bowl.
Assemble the salad:
1. Reheat the egg poaching water. While it reheats, lay out 4 salad plates and place a leaf of lettuce on each. Divide the radishes and morels among the plates, then toss the asparagus, carrots and sugar snaps in the vinaigrette and divide among plates.
2. When the egg water returns to a gentle simmer, carefully place the eggs back in the water for 1 minute to reheat, remove and blot on a towel, then place one egg on each salad plate.
3. Garnish each salad with duck prosciutto and walnuts, and drizzle with any remaining vinaigrette. Serve immediately.
Our second course was crab and lobster ravioli with fresh peas, fennel, leeks, golden beets, saffron, and chives in a lobster broth with prosecco sabayon (like a hollandaise sauce, but foamier).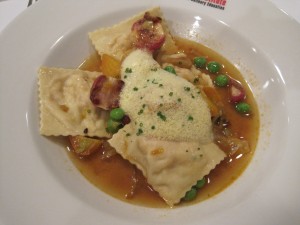 We finished up the night with individual lemon pudding souffles with mixed berries and rhubarb coulis.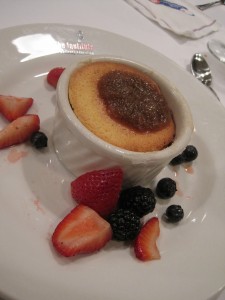 And an assortment of chocolate, vanilla, and lemon meringues (made with EB egg whites!).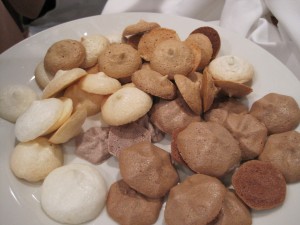 I definitely felt full when I left this event, but not overly stuffed. When I'm invited to fancy dinners, I try to eat slowly and savor about 1/2 of what I'm served – that way I can enjoy everything (especially dessert!)
Many thanks to Eggland's Best for inviting me to this event. As an active and busy gal, eggs are an awesome way for me to add protein to my diet. Plus they're inexpensive and easy to prepare. Although any egg will provide about 70 calories and 6 grams of protein, I honestly think that EB eggs are a better product (nope, they don't pay me to say that!). The yolk is always firm and bright yellow and I love knowing that I'm getting extra omega-3's and vitamins. And the best part of Eggland's Best? The company itself. From the CEO to the marketing gurus, you can tell that everyone is passionate about their work and truly believe in their product. Okay, enough of my spiel! Just wanted to share my thoughts with you all 🙂
Check out the latest from True/Slant: Do you have an office job? The 9-to-5 grind can be a runner's worse enemy.
Question: What's your favorite way to eat an egg?