In thinking about this race recap, I debated about whether I should be completely honest with you, my readers. Here's the thing – on Friday night I went out to celebrate a friend's birthday. I had a lot of fun, but I also was a very little irresponsible. I didn't get home until 2:30am and I'd had more than my fair share of champagne and cake. This wouldn't be so terrible except for the fact that I was signed up for the NYRR mini 10k Saturday morning. Usually I'm pretty good about my pre-race routine (hydrate, sleep, yada yada yada), but for whatever reason I guess I just felt like cutting loose on Friday. I woke up feeling pretty crappy on Saturday morning (6:30am wake-up call, woo), but I decided to suck it up. It was my own fault that I stayed out too late – so I decided to make the best of the situation. I downed a lot of water and caffeinated with an illy iced cappuccino (love these!). My pre-race fuel was a slice of ezekiel toast with pb & j and a luna bar.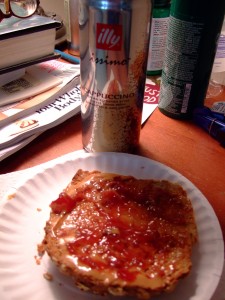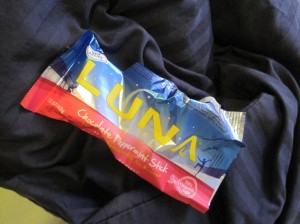 After taking the subway down to Columbus Circle and dropping my bag at the gym, I set out on a 1.5 mile warm-up. I'm not going to sugar coat it – I felt hungover, tired, and dehydrated. Ugh. Luckily, once I got on the starting line the energy of the crowd and my proximity to Paula Radcliffe and Kara Goucher (two.feet.away.ahhh!) revitalized me a bit. As the gun went off, my brain shut off and my legs just took over. We headed up Central Park West and I hit the first mile in 6:49 and the second mile in 6:47 – much faster than I expected. At this point the endorphins started to kick in – that's the only way I can explain how I ended up running so fast. I slowed a bit on the 3rd and 4th miles (Harlem Hills), but I still managed to PR and finish in 42:35 (~6:52 pace). That's about 24 seconds faster than the Healthy Kidney 10k I ran a month ago. I honestly don't really know how to wrap my head around this – obviously I'm really happy with a PR, but I'm also a little disappointed in myself. If I had actually slept for 7-8 hours and abstained from Andre, I'm sure I could have gone even faster. Or could I have? There's so much about running that's unknown, so much that's dependent on the mind and not the body. There were races where I felt like I did everything right and yet still crashed and burned (i.e. more college races that I can count and ahem…the 2009 Boston Marathon). Anyway, I suppose the point of my honesty in this post isn't too encourage pre-race partying (actually it's a BAD idea), but to show you that your pre-race prep doesn't have to be perfect. Things happen, you're only young once. And sometimes, you can have your cake and eat it run well too.
Note: Even though I ran fairly fast, I was still 43rd in my age group. Damn. NYRR road races are competitive. I need to start running small town races. It would be nice to win something, heh.
Big thanks to my CPTC teammate who snapped this photo at mile 5 – isn't my facial expression precious? Kidding.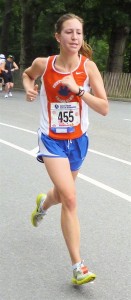 I finished up with a 1.5 mile cooldown and then a bunch of teammates and friends (including fellow bloggers Shelby and Sarah!) convened for an impromptu picnic.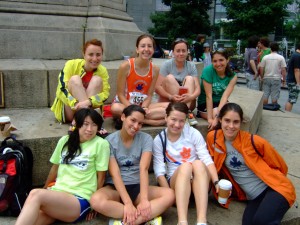 In an attempt to consume more post-run protein, I downed a chocolate muscle milk light. Pros – it contained 20g protein. Cons – too expensive and tasted artificial. Next.
I also ate some cherries and snap peas. My body was craving produce.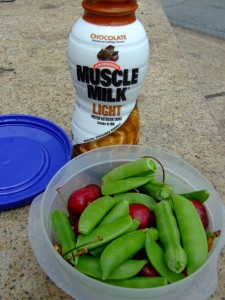 Oh yeah, and about 3 or 4 oatmeal-chocolate chip cookies. I gobbled them up in the locker room of my gym. I was hangry.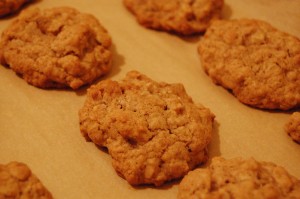 As an aside, Jacqui is my hero. This girl downed 2.4 lbs of Whole Foods macaroni and cheese post-race. Plus 26 (yup, 26!) ketchup packets. WIN.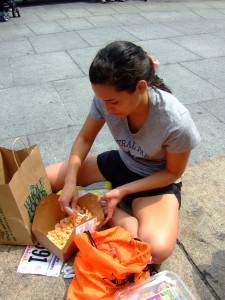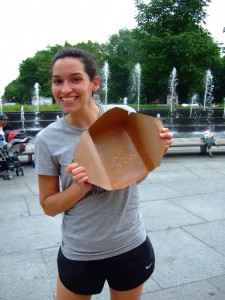 The rest of my day involved a lot of showering, napping, and eating. I feel like I can't really the convey the quantity of food I consume on long run and race days. I'm constantly having bites of this and spoonfuls of that. The highlights from yesterday afternoon/evening included a big bowl of Fage Greek yogurt with a chopped apple and a crushed granola bar.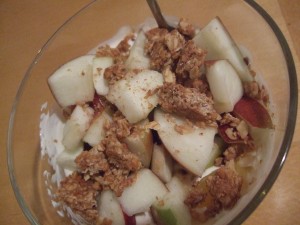 A LOT of Trader Joe's valencia peanut butter with flax seeds. Delicious.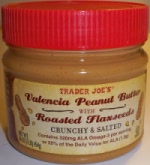 Gatorade.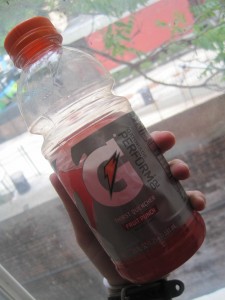 Anddd some adult beverages, including a sangria made with star anise. Amazing!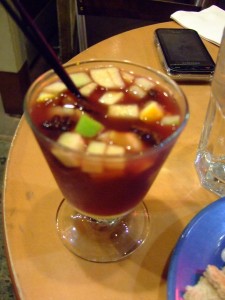 Mediterranean appetizers – grilled eggplant, falafel, whole wheat pita, and hummus. Yum.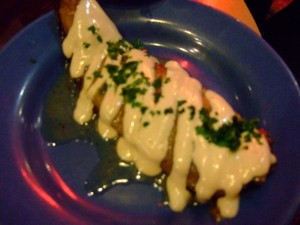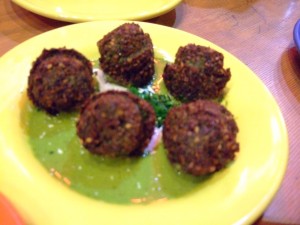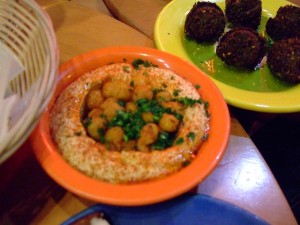 And a few more beers in the Village. Have I mentioned how much I enjoy being 25 and living in NYC??
Phew, what a weekend. But before I sign off – I want to feature some homemade cookies that were sent to me by a fellow foodie friend. These chocolate chip cookies were based on the famous NY Times recipe published back in 2008 and they were delish. I'm not even going to tell you how many I ate on Friday, hehe. Thanks Brian!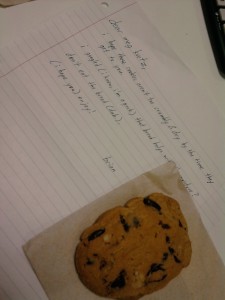 It's been a busy weekend on the NYC running scene – check out the coverage over on Running Shorts!
Question: What's your favorite way to celebrate post-race?? (If your answer is beer, I won't judge).