Happy Summer! Yesterday marked the summer solstice and since I had the day off of work I was able to enjoy it fully 🙂
The bestie's wedding was b-e-a-u-t-i-f-u-l and the day went by too fast. My hair salon appointment was scheduled for 8am on Sunday, so I dragged myself out of bed at 6:30am for a quick 4 mile run. It was early, but the only time all day I had to squeeze in some training. There will always be something waiting to get in the way of your runs (work, family obligations, happy hours, late nights…), but I try not to give myself the option of bailing. Buckle down and get it done! Plus, running early in the morning (or after a long day) makes me feel hard-core.
After my early a.m. run, the day flew by. Isn't the bride gorgeous??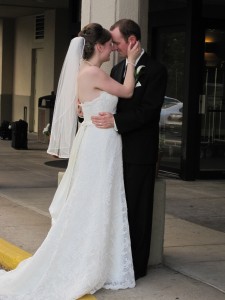 All dressed up with my buddy Joe.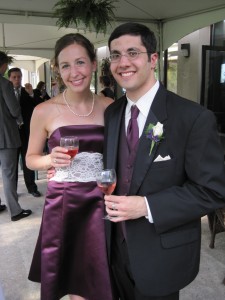 Bridesmaids.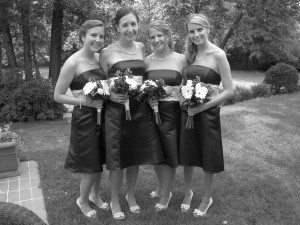 I snapped photos of my delish wedding dinner, but uhhh eggplant parmesan doesn't photograph so well. Especially in black and white. Luckily cake and ice cream ALWAYS looks good 🙂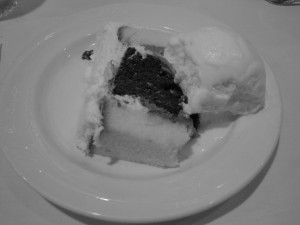 I think I danced every song and by the end of the night my feet were so ready for a break. Monday was spent in recovery mode (oh, open bar…). I celebrated the first day of summer with many hours of bare feet and cut off jean shorts. And a 3-hour nap.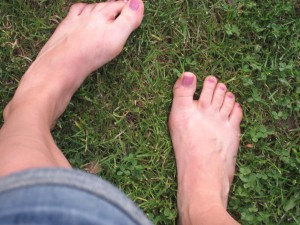 What's summer without a GIANT ice cream cone? Some friends and I went to Hillside Farms Dairy for a post-dinner treat. I devoured my chocolate-peanut butter waffle cone. Yum.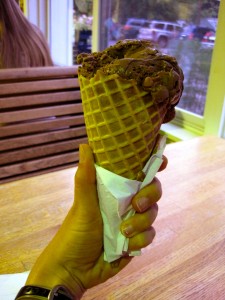 Did you notice anything missing from my day? Nap? Check. Ice cream? Check. Run? Oops.
To my mother's dismay, I headed out for a night run shortly before 11pm. My new Nike compression shorts are wayyyy short, but I love 'em!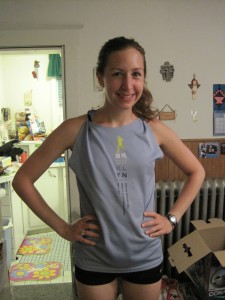 In an ideal world, we'd all be able to run during daylight hours or indoors, but sometimes you need to run super early or quite late. It's possible that your gym will be closed and your training buddies will all be asleep. What to do? Running in the dark can be a viable (and safe!) option. Here are my tips:
Tell someone that you're headed out for a run and let them know the route you'll be taking and approximately how long you'll be gone.
Bring identification (I love my road ID) and wear light colored/reflective clothing.
Do NOT wear headphones. You need to be aware of your surroundings.
Stick to well-lit streets and paths. If there's not many cars, I like to run in the center of the road. There's less chance of pot holes and it feels safer in case there are any creepers hiding alongside the road.
Think about investing in a headlamp or bringing along a flashlight.
Go slowly and focus on lifting your knees – if you shuffle, you're more apt to trip on uneven pavement and pot holes.
Bored with corn on the cob? Try this tex-mex inspired corn salad.
How exactly do you prepare rhubarb? The June 2010 Food 411 newsletter has all the answers!
Question 1 : Have you ever eaten rhubarb?
Question 2: Do you have any night running tips?