Last night I ran my third consecutive JP Morgan Chase Corporate Challenge race in Central Park. I have my beefs with this over-crowded race (I'm talking to you keds-wearing, jeans-clad, fanny-pack woman who somehow found her way to the competive runner's corral), but all-in-all it's a fun event. After Tuesday's ladder workout, my legs were definitely not feelin' fresh, so I decided to do this event as a tempo run. The first mile was 7:25 and then I dropped the pace a bit each mile after that. I finished the 3.5 mile course in 25: 15. My legs felt heavy and I am very much looking forward to easy mileage today and tomorrow.
Most post-race photos are not nearly as beautiful as some, but I thought I'd post one anyway, heh. Love that tomato red face. So precious.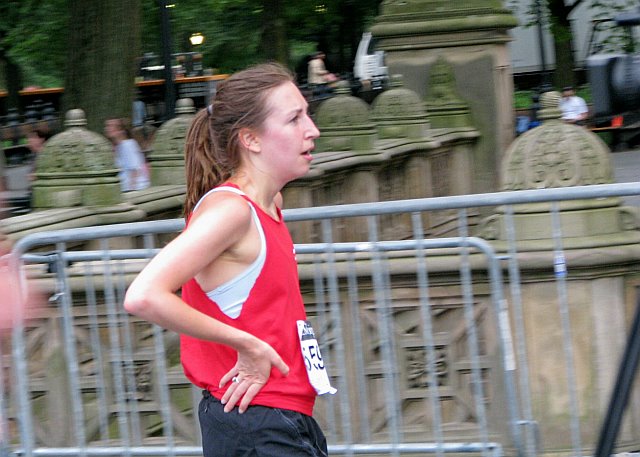 For comparison, here are my times from this race for the last 3 years:
2008 – 26:02 (~7:20 pace) (Race effort)
2009 – 30:27 (~8:42 pace) (Injured and out of shape, booooo)
2010 – 25:15 (~7:12 pace) (Tempo effort)
With a 2 mile warm-up + 3.5 mile tempo + .5 mile cool-down I ended up running 6 miles for the day. Not as much as I'd wanted, but I was seriously wiped out by the end. I hightailed it home and made some good eats –
I served some israeli cous cous salad on top of CSA arugula (love!) and had a grilled veggie and dijon mustard sandwich on a whole wheat baguette. With seltzer, because I'm addicted to the bubbles.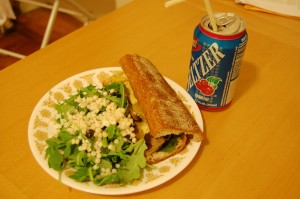 Dessert was a cup of strawberry cheesecake Skinny Cow ice cream. Yum! I'm not usually a fan of strawberry, but this was good (although almost too sweet).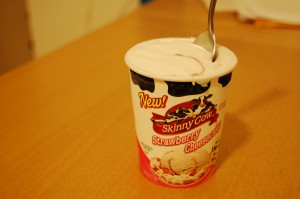 And some spoonfuls of my BFF – nutella! I love carbs, yum yum yum.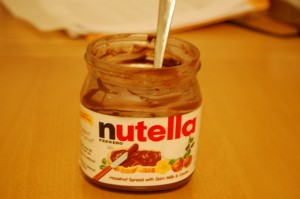 I'd like to say I did something productive (or at least fun) with the rest of my night, but instead I fell asleep after dinner, on my sofa, still in my sweaty running clothes. Whoops.
Question: What's your favorite carbohydrate? I'm not (shock, surprise!) a pasta or rice fan, but I do like bread, cereal, and potatoes.