So, my Tuesday did start out so well (think: 4:30am mosquito attack, sleeping through my alarm, subway delays, etc). I'm sure I ate breakfast , but I don't remember what it was. Let's skip over to mid-morning…
I was recently sent some Kardea bars to sample. With 1 g of plant sterols and 7 grams of fiber (5g soluable) this product was created to help manage cholesterol levels. While I don't have high cholesterol, I still found this to be an enjoyable and nutritious snack. Each bar contains 150 calories, 5 grams of fat, 21 grams carbohydrate, 7 grams protein, and 7 grams fiber. The texture reminded me of a power bar  – very dense and chewy. The banana-nut flavor had a nice banana-y taste and didn't leave any weird aftertaste in my mouth. The only thing I wasn't thrilled about was seeing brown rice syrup (a.k.a. sugar) as the first ingredient. Overall, I enjoyed this bar and while luna and clif bars are still my go-to, I could see myself buying this again.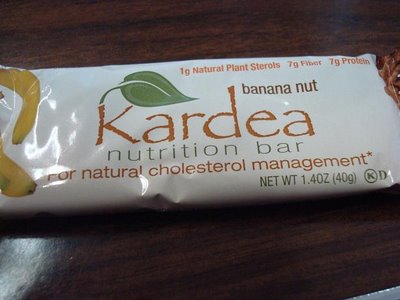 Because I stayed out too late on Monday night needed extra rest, I slept through my alarm and didn't have time to pack a lunch. However, I redeemed myself by spending less than $2.50 on lunch (reason #345678 why I love my office cafeteria) – I snagged an organic peach and a peanut butter and raspberry jam sandwich on Zabar's health loaf bread.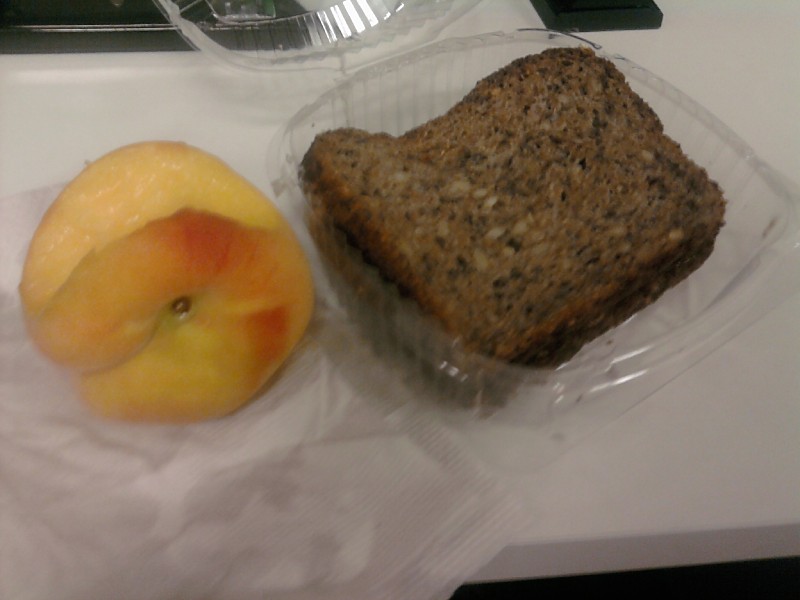 For some reason, my trusty pb&j didn't hold me over well, so I needed a hearty afternoon snack – strawberries, cantaloupe, plain yogurt, honey, and lots of ice all blended together into a smoothie. Yum.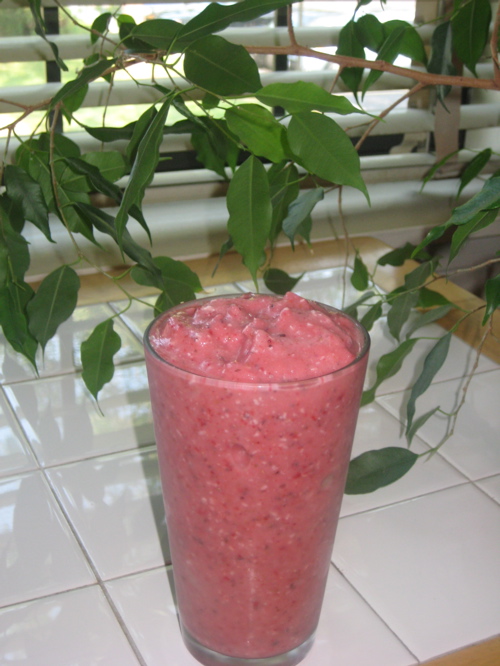 So, I won't get into the details, but my day was pretty crappy. I never felt like I "had it together" – I spent the whole work day scrambling to get things done and by 5:30pm my to-do list was still a mile long. It's not usually worth it to complain, but sometimes a full-time job, blogging, freelance writing, running, and LIFE just feels a little overwhelming. Anywayyyy, I made the decision that I was going to track practice no matter what. Running is important to me, my t0-do list will still be here tomorrow.  
As I was leaving the office, a co-worker asked if I was headed home before the thunderstorms started. I immediately responded with "No, I'm actually headed to track practice". After I got the requisite funny look (track practice?? Isn't that for high schoolers?), I started thinking about my "double life".  Most people who know me, know that I'm a runner, but sometimes I feel like my running life is a life of its own. Prioritizing track workouts over working late, long runs over long brunches, and running shoes over Manolos certainly isn't the norm for a 20-something Manhattan-ite, but I wouldn't want it any other way. I love the freedom that comes with gutting out a hard workout on the East River track or the happy exhaustion that sets in after a long run. For that brief period of my day, I'm not an over-worked 25 year old with piles of dirty laundry, a late rent check (it's in the mail, I swear!), or a buzzing Blackberry. Instead, I'm a runner who's only concern is hitting the correct splits and finding an icy post-run Gatorade.
Anyway, enough of my rambling, I did actually get to the workout on time and here's how it went down:
2.5 mile warm-up

12 x 400m with 200m recovery jog

First 6 were supposed to be at 5k Pace: 95, 95, 90, 92, 92, 91

Second 6 were supposed to be progressively 1 second faster: 91, 89, 88, 87, 87, 82

2.5 mile cool-down
I was pretty happy with the execution of this workout – the intervals ended up being a little faster than I was planning (I was originally shooting for 95 second laps, equivalent to about ~19:45 5k pace), but I was able to run faster for the last 6 and that's what really mattered. I was feeling pretty spent by the end though (and dehydrated like whoaaa).
Jacqui and I stopped at Trader Joe's and I'm surprised I didn't buy the entire store. I ripped into a pb & j larabar on the train ride home, but still emerged from the subway feeling very dirty, tired, and hungry.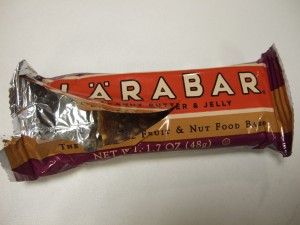 After much-needed shower, I made the fastest dinner possible: spinach dip, celery, cucumber, and pita chips. I had seconds thirds of everything. I was hungry, but yet so hot and dehydrated that my appetite was just off. The crisp veggies and creamy yogurt dip were very refreshing.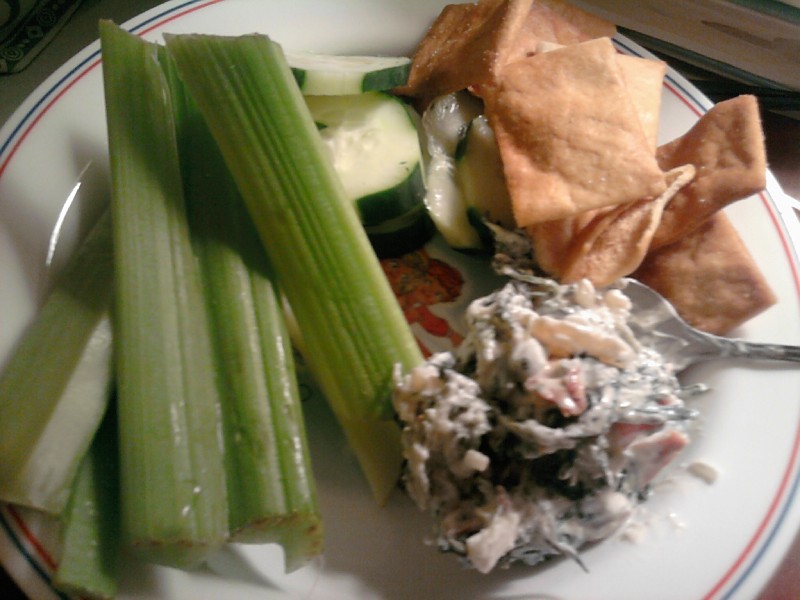 I ended the night with a Skinny Cow truffle ice cream bar. I like the product, but I'm not a fan of the name.
Dear food companies: please stop calling things "skinny". I don't like it. Love, Megan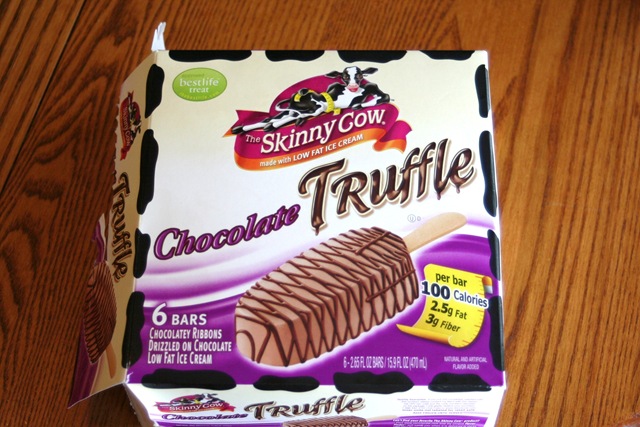 I had a little trouble falling asleep (my heartrate is always super elevated after interval workouts), but when I did finally drift off, I slept like a rock. A little too much like a rock, actually. I slept through my alarm again (FAIL) and almost missed Jacqui for our scheduled morning run. Thankfully we were able to meet up on the reservoir and I ran about 5.5 miles before work this morning. I was sore, tight, and really thirsty. And that's all I'm going to say about that.
Happy Running Day!! Head on over to the Running Shorts page on True/Slant for a lots of fun articles – Geoff and I have a lot planned for this week.
Question: What are your thoughts on foods that are labeled "skinny", "lite", or "thin"?