Summer. Hot. Running. Those things have been the theme of the last few days. On Thursday morning I ran 3 morning miles with Alma. Run #1 and Shower #1 of the day. Later that evening I met up with CPTC for a tempo workout in the park. Man, it was brutal. Close to 90 degrees and humid. Yuck. The assigned workout was 2 x 2 miles @ 10k pace with 1 mile recovery jog in between. I knew I had to dial back my effort because of the heat, so I ended up running marathon pace (~7:35 pace) instead of 10k pace (~6:50 pace). My splits were 15:12 for the first 2 miles and 15:07 for the second set. I felt decent by the end, but it was still a hard effort. My mileage for the night was 8 miles (including warm-up and cool-down), so I totaled 11 for the day. Not bad for a Thursday!
After chugging loads of water, I refueled with a pb & j shake from my gym: 1.5 cups apple cider, big scoop of peanut butter, frozen banana, frozen strawberries, and 1 scoop of whey protein. Delicious!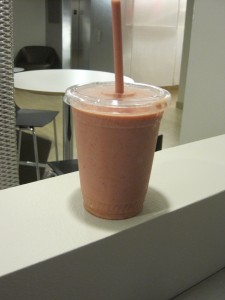 And thennn it was time for cookie baking and Real Housewives of New York with friends! I want this pink Kitchenaid mixer so badly…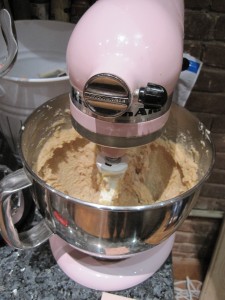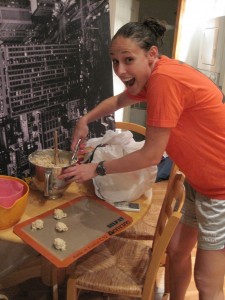 3 chocolate chip cookies warm and fresh from the oven assisted in my refuel efforts 🙂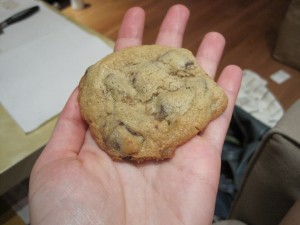 I got home around midnight and was still SO hungry, so I toasted up a slice of Ezekiel bread and topped it with hummus and cheese.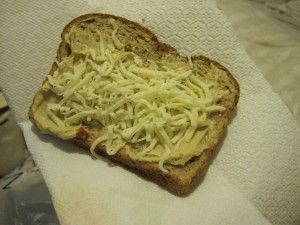 Ehhh, Friday was a less than stellar day. I was really upset that night (for reasons I don't want to talk about on the bloggie) and did not end up running. However, Alma chased down the ice cream truck and brought me chocolate ice cream in bed. That was pretty awesome. Thanks roomie!
Sometimes shitty stuff happens, but I'm not going to let it ruin my summer, my day, or my morning. SO, on Saturday I did what always makes me feel better – long run with friends!
I ran 12.25 very sunny and sweaty miles in 1:47 with the company of some wonderful running buddies. It was hot (mid-80's), but there was a decent breeze and we made sure to stop frequently at the water fountains.
At the end of my run, I bought an ice cold Gatorade from a street vendor. Is there anything better after a sweaty, summer run??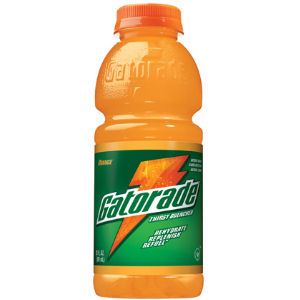 Well, if anything can top Gatorade, it's frozen yogurt from Bloomingdale's. I cannot express the love I have for this stuff. Thank you Jacqui for introducing me to it and changing my life for the better! Hehehe.
Obviously I did not have my camera with me (summer running = sports bra and shorts minimalism!), but luckily google images saved the day! I ordered a "small" peanut butter – so perfect after a long run. And I love that the "small" size is actually ginormous.
Apparently all that bridle path and reservoir running in CP made my legs very dirty –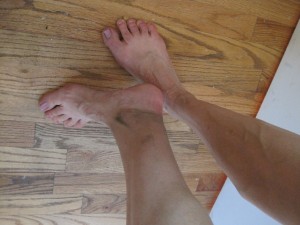 After cleaning up (hello, cold shower), I decided to tackle a strange veggie that was included in last week's CSA pick-up: Kohlrabi! This root veggie reminded me of a cross between broccoli and raw potato. Interesting! I cut off the pokey things, peeled it, and shaved 1/2 into my salad.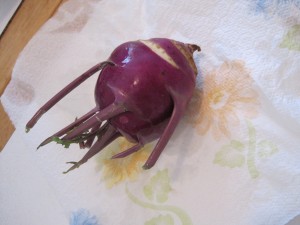 I mixed together a big bowl of CSA arugula, kohlrabi, Eggland's Best hard-boiled egg, shredded mozzarella, hummus, garlic croutons, and sriracha sauce.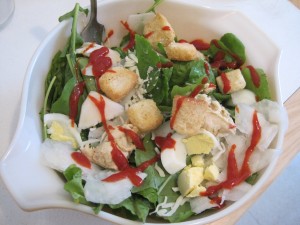 Perfect. I followed up all those veg with a slice of ezekiel toast with coconut butter and chocolate chips.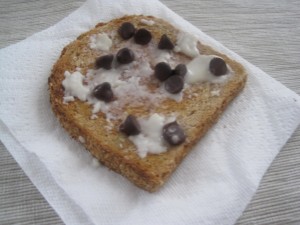 I'm getting ready to go on a running adventure – I will report back later! Here's hoping it's successful 🙂 Can you guess where I'll be going???
Question: What's the weirdest fruit or veggie you've ever eaten?