Hello blog friends! I'm in a surprisingly good mood for being a tad sleep-deprived on a Monday. I was a bit MIA this weekend due to a weekend trip to Boston. I reunited with my college roomies for two fun days – I drank a little too much and didn't sleep enough, but I did have a very excellent decent run on Sunday morning and a LOT of fun. Those are the important things, yes?
Before I left the city, I squeezed in a 4-ish mile run. It was supposed to be a long run, but you know…
A few hours later…I arrived in beantown!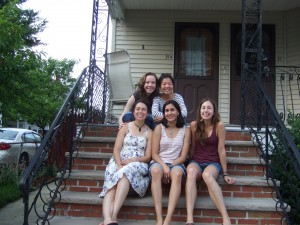 We had plenty of adult beverages! Including lots of fancy beers – gone are the days of "Natty Ice". Thank goodness. However, I was most impressed with the pitcher of homemade horchata (a milky drink usually made of ground nuts, seeds, and spices)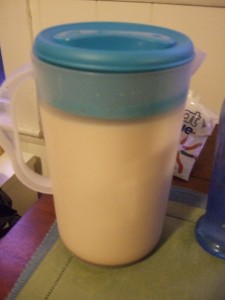 Instead of a "sit-down dinner", I ended up eating a lot of snacks (and cake!). It happens. There was homemade guacamole. Ole!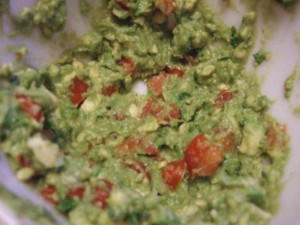 Mini pretzels sandwiches with a melted rolo in the middle. How cool, easy, yummy is that?? I want to try it with a mini pb cup next.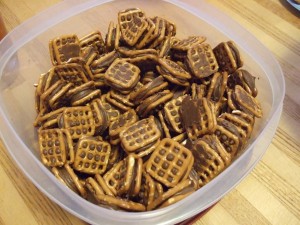 Someone brought homemade hot pepper jelly and served it over cream cheese. Holy, moly, this was good. I would have never tried this at home, but now I am intent on recreating it!
Someone loves Smitten Kitchen as much as I do – margarita cookies! These were a little sweet, a little salty, and the perfect accompaniment to party drinks!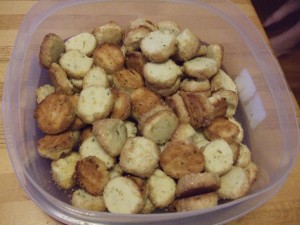 Homemade soft pretzels. Soft, sweet, dough-y, salty. 'Nuff said.
A strawberry-milk chocolate-jack daniels pie in a pecan crust. Amazingly delicious.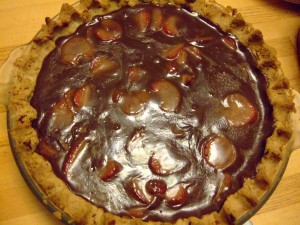 Homemade flan!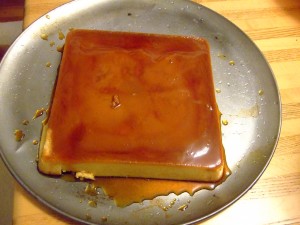 And the piece de resistance: Red velvet cake. Cream cheese icing. Friends. Beer. I couldn't ask for a better Saturday night.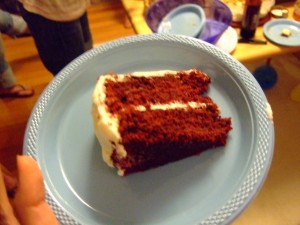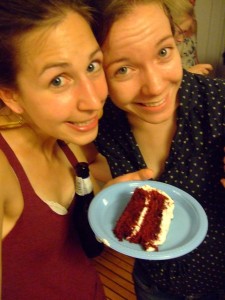 If you look closely, you can see the chocolate whiskey and beer cupcake in my hand. I failed to take a photo, but I can assure you they were wonderful.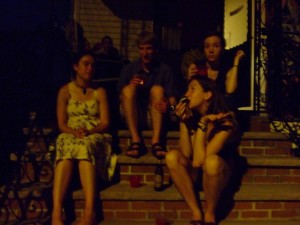 It was a fun night.
The next morning…well, that wasn't quite as much fun. I chugged some water, ate a fig newton, and then Hannah and I  hit the roads for a decently long run – 9 miles!
We rewarded ourselves with Starbucks iced coffee 🙂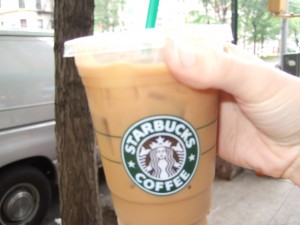 Some post-run stretching occured. With a towel on my head. An apple was eaten at some point.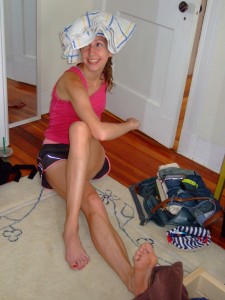 And then we ate a very yummy brunch at a greasy spoon in nearby Somerville – The Broken Yolk.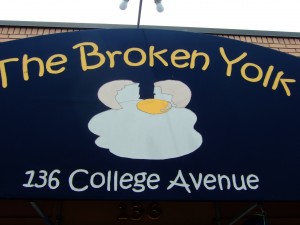 I ordered a Greek omelet (spinach, tomatoes, oregano, and feta) with homefries and whole wheat toast.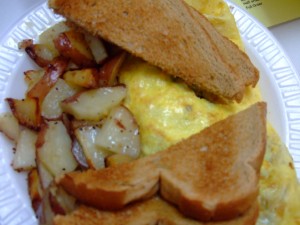 Shortly after, I was back on the bus to NYC….Why do fun weekends pass by so quickly??
Need some running inspiration? Read about the girl who ran 50 marathon in 50 states in less than 25 months!
Question 1: What's your favorite omelet combination?
Question 2: What's your favorite Smitten Kitchen recipe?