Note: I don't update my "training schedule" page anymore, but if you click on the Strands link, you'll be directed to my online running log.
Hungry for more updates? Become a Facebook fan of the Runnerskitchen and/or follow me on Twitter.
Guess what today is?? CSA delivery day! I'm so excited to go pick-up my first farm share of organic, local veggies.
Usually I go to the track on Tuesdays, but since I'm racing a 10k on Saturday I'm dialing down the intensity this week – no speed workouts! Despite lack of sleep (why, oh, why was I scrubbing the kitchen floor at 1am this morning???), my legs have been feelin' peppy. I felt energetic enough to run 10 miles yesterday evening. The run passed by quickly because I had awesome running buddies to keep me company 🙂 I'm planning on running 6-8  tonight. The weather is glorious – low 70's, sunny, and no humidity. Whee!
I started off the morning with a breakfast cookie (seriously, don't knock it 'till you've tried it). I mixed together 1/3 cup oats, Tbs chia seeds, Tbs raw cacao powder,  1 Tbs peanut butter, splash of almond milk, and 1/2 banana. After it was all mushed together and spread out in a tupperware, I let it sit in the fridge overnight and then topped with 1/2 banana and Fage Greek yog this a.m.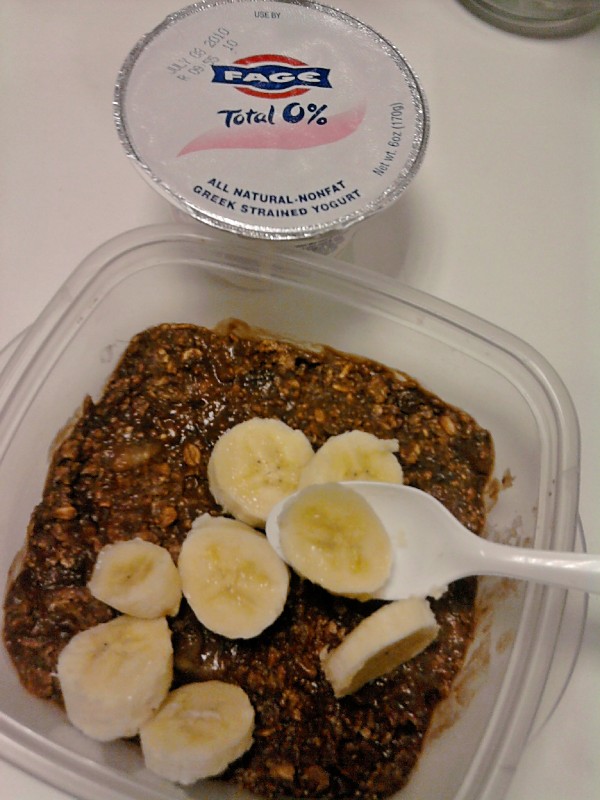 I managed to pack my lunch (win!): arugula, hummus, mozzarella cheese, walnuts, dried cherries, kidney beans, chickpeas, and sriracha sauce. A lot of the goodies fell to the bottom of the tupperware, but I promise they were yummy.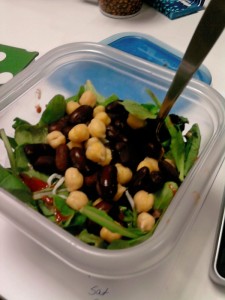 Kashi crackers + cream cheese + hot pepper jelly on the side. This is a genius combo! Try it.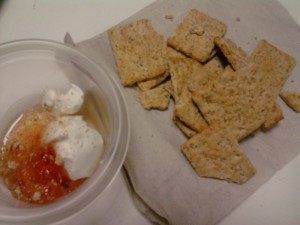 Anddd a chocolate chip granola bar and a calcium supplement for my afternoon snack-a-roo.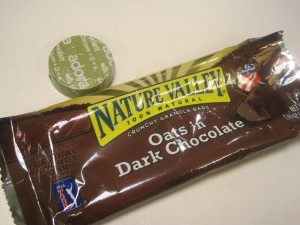 I just left the office and am headed uptown to pick up my bounty of veg (and hopefully get my butt out the door for a run). Before I go, check out my answers to some recent blog reader questions –
Reader Questions
1) I know you address very openly what you eat before long runs or midday runs (well all the time!), but I was curious if you had a go-to snack/breakfast that you ate before runs first thing in the morning that are under 10 miles.  On days when the first thing you do is roll out of bed and run, say a good 6 miles, do you snack on something beforehand or just stick to your trusty coffee?  Also, does your snack change depending if you're heading out for a 3.5 or 8 mile run in the am?
Honestly, I usually just have coffee before my a.m. runs. I eat dinner pretty late (8:30/9pm), so I'm not usually famished in the morning. However, I always always always eat a little something before a long run (8+ miles) or race. My go to pre-run meal is a banana, toast, and peanut butter.
2) Do you ever have times when running or exercise in general just doesn't seem like fun or seems too tiring? I'm just wondering if you ever allow yourself or believe in taking some time off from exercise or reducing workouts. Any thoughts or suggestions you have on this would be greatly appreciated!
There are definitely days when I feel unmotivated or tired. On those occasions, I ask myself – is it mental or physical? If I'm physically tired, I cut back on mileage/speed work or take a rest day completely. If I'm just bored or unmotivated, I try to find a friend to run with me (distraction!) or I mix things up by "running an errand" i.e. running to the grocery store, library, or post office. It makes things more interesting! My philosophy is that there's nothing wrong with a day off every once in awhile. I think the time away from running will make you appreciate it more.
3) I've been running for a couple years now and I was wondering how many days you typically take off for recovery after a half marathon and if you feel it's beneficial to do an easier workout when you're still sore.
Depending on how sore/tired I feel, I might go for an easy 3-4 mile jog the day after a 1/2 marathon race. However, after my last 1/2 marathon, I was feeling particularly tired, so I took two full rest days. I think it all depends on your body and your running history. Some light activity can help flush the lactic acid from your muscles. so I think that doing yoga, swimming, or an easy bike ride is fine even if you're a little sore (as long as the soreness isn't injury related).
4) How much do you eat on lighter workout or recovery days? I feel STARVING all darn day monday and today even though I definitely ate back enough on Sunday [1/2 marathon race day] and have just walked the last couple days. Have you ever dealt with this?
I think it's totally normal to be hungrier in the days following an endurance event. Sometimes my appetite is "off" after long runs/hard races, but then I am ravenous the next day. Try to focus on eating quality, nourishing foods such as fresh fruit, veg, greek yogurt, lean protein, whole grains, etc. These choices containe fiber and protein which will fill you up. You can also try upping your healthy fat intake (avocados, nuts, seeds, coconut butter, olive oil, etc) to increase the satiety you get from meals.
CSA Share Week of June 8th
1 head of lettuce
arugula or purple mizuna
swiss chard
'Red Russian' kale
bok choy
scallions
red and pink radishes
potted herb plant
I need your help!! What sort of things should I cook/make with my veg??