After lovingly examining all my CSA goodies (yes, I'm a weirdo), I decided to make a variation of this Serious Eats recipe (thanks for the suggestion Sarah!) However, I had to make some substitutions and changes – the original recipe was wayyy too high maintenance and this homey don't roll that way.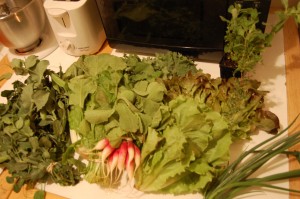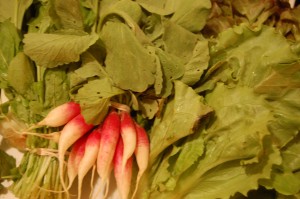 Summer sesame asian noodle salad
Ingredients:
1/2 box whole wheat linguine
1 bunch of boy choy, cut into 1″ slices
canola oil
6 radishes, sliced into rounds
dozen snap peas, trimmed
6 scallions, chopped
For the dressing:
2/3 cup sesame seeds
nubbin of grated ginger
1 clove garlic
3 Tbs soy sauce
3 Tbs white wine (or mirin)
1/3 cup sesame oil (or a little more)
1 Tbs sriracha
Juice of 2 limes
1/3 cup warm water
1 Tbs sugar
Instructions:
Cook the noodles according to the package instructions, drain, and cool.
Heat Tbs canola oil in a skillet and stir fry the boy choy for about 5 minutes or until stalks are tender and leaves are wilted.
Mix together the cooked noodles and vegetables in a large bowl.
For the dressing: Toast the sesame seeds in a dry pan over medium heat until lightly toasted. Combine sesame seeds and all other dressing ingredients in a food processor and pulse until emulsified.
Add enough dressing to lightly coat the noodles and veggies (I used about 1/2 the dressing). Mix together in the bowl, chill, and sprinkle with crushed cashews before serving.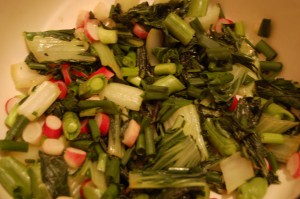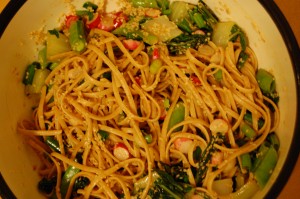 Did you know? Boy choy, a traditional Chinese vegetable and member of the cabbage family, is packed with vitamin C, vitamin K, calcium, and potassium.
Sesame seeds are a good source of manganese copper, calcium, magnesium, iron, phosphorus, vitamin B1, zinc and dietary fiber.
Running update: Despite my best intentions, I didn't end up going for a run after work on Tuesday. Instead, I ate a lot of nutella and watched Glee. Whoops. Finally, around 11pm I tied on my shoes and hit the roads for a run. I ran a swift 4 miles in Central Park (yes, by myself – mom, pretend you didn't read that) and it was exactly what I needed. I had a lot on my mind and that 32 minutes of me-time was exactly what I needed. I finished shortly before midnight – maybe one of the latest runs I've ever done.
Wednesday's run had the benefit of good company (Jacqui!! and few minutes with Alma), but the weather was rainy, rainy, rainy. I ran for about 8.5 miles (1 hour, 15 minutes) and was soaked and cold by the end. Yuck. I stashed my stuff at the gym before heading out to run in CP and the front desk staff seriously thought I was nuts for choosing the park over the treadmill. Maybe so.
Indulged a little bit too much? Eat these three foods to get your body back on track.
Newest True/Slant article: The best summertime eats for runners!
Live in NYC? Soul Cycle's UWS locale is offering FREE lunchtime rides on Friday's at 1pm. The catch? The instructors are newbies, but you're still guaranteed to get your sweat on at the swank NYC studio.
Question 1: What do you crave when it's too hot to cook?
Question 2: What's the latest (or earliest!) run you've ever gone on?