T-minus 130 days!!
18 weeks from now I will be running the NYC 2010 marathon. Monday marked the beginning of marathon training, week 1! You can see my tentative training schedule on Google Docs. It's based on a McMillan training plan, but I have a feeling I'll be making more adjustments as the weeks roll by. Monday called for an easy 4 miles and so I headed to the gym after work to get it done. It had been a long day in the office and I needed to be at another event by 8:30pm, so I just shut my brain off (or tried to, anyway) and ran 4 miles in about 33:30.
After the gym, I headed uptown to the Museum of Natural History. Tribe Hummus invited me to the launch party for their new product line – Tribe Origins. Okay, I'm going to be straight with you – I usually buy Sabra's hummus because I think it's the most delicious. It's extra creamy (worth the extra calories!) and is topped with a delicious drizzle of olive oil. I usually shy away from other brands because I find them a bit too gritty. I wasn't sure what to expect from Tribe's new product, but I thought I'd give it a try.
I was greeted at the door of the museum with a glass of chilled white wine. Hey…it's hot outside…gotta stay hydrated 🙂
I met some lovely Tribe representatives who escorted me around the room and introduced me to different varieties – Classic, Zesty Spice & Garlic, Spicy Red Pepper, and Tomato & Veggie.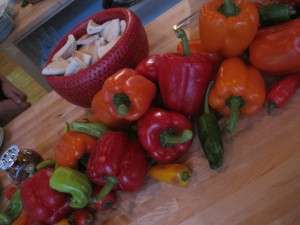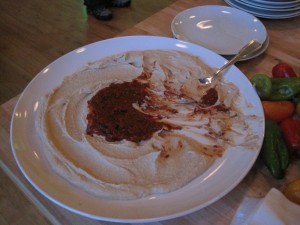 I loaded up (several!!) plates with dollops of the hummus and a variety of greenmarket veggies and pita wedges.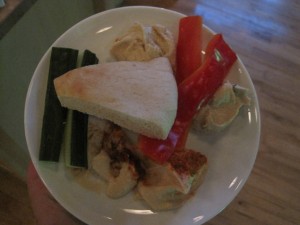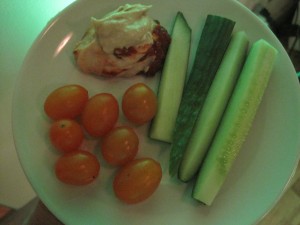 After some mixing and mingling, the party moved outside to an open roof terrace. We were treated like A-list foodies: open bar, passed appetizers, music, etc. It was a really fun night! And most importantly….what did I think of the hummus??
I think it's a winner! It reminded me a lot of the Sabra style of hummus. Smooth, creamy, with an almost whipped consistency. This style of hummus is a bit higher in calories (70 cals per 2 Tbs serving vs. 50 cals per serving), but the extra olive oil and tahini are healthy fats and they really make a big difference in taste.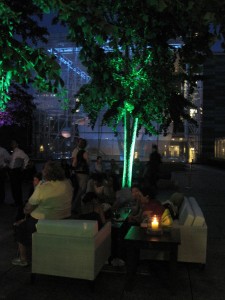 Another one of my heart healthy favorites is dark chocolate (yay, antioxidants!). Vosges recently sent me a goodie bag with samples of their "exotic chocolate bars". I incorporated these gourmet treats into my afternoon snack on Monday.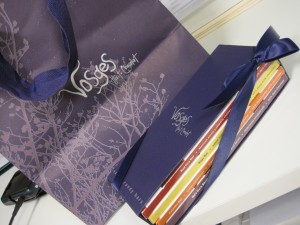 The first bar I sampled was the Calindia bar – 65% Venezuelan dark chocolate with Indian cardamom, organic California walnuts, and dried plums. Thoughts? I really love cardamom, so I was psyched to taste that in this chocolate bar, however I felt the dark chocolate overpowered the walnuts and dried plums. I'd give this bar a 5 out of 10.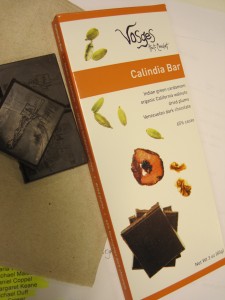 On Tuesday afternoon, I sampled the Naga bar – 45% deep milk chocolate with sweet Indian curry powder and coconut. Verdict? Love, love, love! Confession: I think I like milk chocolate better than dark. I'd give this bar a 9 out of 10. I can't wait to try the other Vosges flavors I received (Mo's dark chocolate bacon bar and the Red fire bar).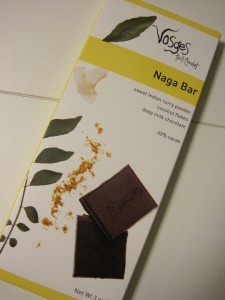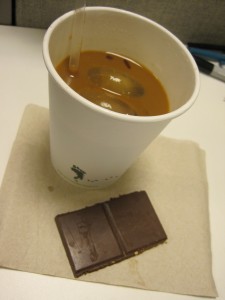 I enjoyed my afternoon chocolate with a cup of ghetto homemade iced coffee. I've been trying to lay-off my Starbucks habit, so I've been pouring myself a cup of office coffee and then sticking it in the freezer for an hour or so. The coffee cools off nicely and even develops a slushie like consistency around the edges. And the best part? It's FREE. Take that $3 Starbucks iced coffee. I was hoping all of that chocolate + caffeine would give me the energy to rock my weekly Tuesday track workout.
After a 2.5 mile warm-up to the East River Track, my teammates and I got ready to roll. Yesterday's workout involved lots of shorter intervals to improve our leg speed for the Founder's 5K at the end of July and then the NYRR Club Championships in August. Even though I'm "officially" in marathon-training, I'm trying to keep the weekly mileage moderate and the workout intensisty high (at least until September, anyway).
Here's how the workout went down:
4 x 600m @5k pace with 200m recovery:
4 x 400m @ 3k pace with 200m recovery:
Yikes. This was a tough workout. I felt a little shaky (and way dehydrated) by the end, but I was pretty happy with the results. I was able to consistently get faster on the intervals. However, I think I need to start doing strides (80-100m pickups) before track workouts. My legs felt a little awkward during the first few 600's, but by the time we moved on to the 400's, they seemed to find their groove.
I finished up with a 2 mile cool-down, about 12 gallons of water, and then scarfed a fiber one oats & chocolate bar in the locker room. 9 grams of fiber? Stomach please don't hate me tomorrow. Once I returned to my apartment I was feeling tired and lazy, so I made myself a smoothie in lieu of a "real dinner". My smoothie packed a pretty powerful nutritional punch, however: 1 frozen banana, 1/2 cup frozen strawberries, 1/2 cup POM juice, 3/4 cup Greek yogurt, and a big scoop of peanut butter. Yummmmm.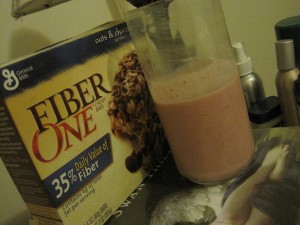 Later on I toasted up a slice of ezekiel bread and topped it with more peanut butter and some mini chocolate chips. I definitely had some nibbles before bed, but I was exhausted and so no documentation. Dayummmm, that workout took a lot out of me. Here's hoping it makes me faster!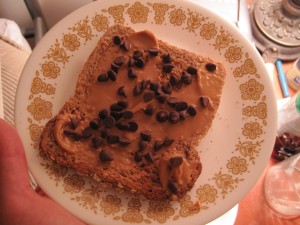 True of False?  Running "by feel" will result in a better workout.
Andddd, congratulations to Jessica, winner of the $40 gift certificate to CSN stores.
Jessica @ Jessica Balances says:
I need a new toaster… like whoa. And a new blender wouldn't hurt, either.
Question: What's your favorite smoothie combination?