Happy Wednesday! Despite the rainy, cold weather I've had a fairly good week of training so far. I slept through my alarm this morning, but luckily Alma woke me up in time to run 6 miles before work. However, I did have to run pre-coffee. Oof, I am not used to that.
 Last night I headed down to the E. 6th Street Track for a Tuesday evening workout with the Central Park Track Club.
1.5 mile warm-up
8 x 400m @ 5K pace with 200m jog recovery
Splits: 94, 91, 90, 89, 89, 89, 89, 87
4 x barefoot strides on the infield
2 mile cool-down
6.5 miles total
Technically my 5k pace is about 6:40 per mile (1:40 for 400m), but I think I'm in better shape than that, so I was happy to run ~90 second quarters (6:00 mile pace). The last 100m or so of each repeat hurt a bit, but all in all, I felt strong during this workout. Shout outs to Elgin and Shelby– great workout buddies! And doing barefoot strides on the soccer infield was fun! I'm trying to incorporate more strides and barefoot running into my routine – I think it will help me to focus on being a more of a mid-foot striker (vs. heel striker). Studies and books like Born to Run show that being a heel striker can lead to more impact and more injuries.
My camera situation is still in flux, so please excuse the camera photos, but I've had a few exciting eats to share with you:
1) An amazingggg "junk salad" that I ate on Tuesday: romaine, arugula, shredded carrots, cucumbers, mushrooms, red onion, ratatouille, sweet potato salad, 3 bean salad, feta cheese, whole grain croutons, and sriracha sauce. Salad bar <3.
2) After Tuesday night workouts, I reward myself with a trip to Whole Foods-Bowery. Last night I finally sampled the "on-tap" Kombucha. What's Kombucha, you ask? It's a fermented tea with a TON of health benefits.
"Scientific research shows the benefits of Kombucha, whose high concentration of probiotic-rich acids can provide a powerful energy boost, and detoxify and cleanse the blood of disease-causing toxins, allowing the body to alleviate a wide spectrum of ailments and conditions; from the mildest indisposition to the most serious diseases." [Source]
The taste can take some getting used to (it's fizzy and sort of vinegar-y), but I like it!
3) After dinner last night, I dug into my newly-made Smitten Kitchen chocolate sorbet. Holy cow, I don't even like chocolate ice cream all that much, but this was AMAZING. Deep and chocolate-y and even sorta healthy! This recipe is made from just a handful of ingredients: unsweetened cocoa powder, dark chocolate chips, sugar, vanilla, salt, and water. The consistency was soft and not icy at all. I topped my sorbet with a big dollop of truwhip and some unsweetened coconut flakes.
The texture of the sorbet was much better than my peanut butter ice cream. I think the following factors contributed to its success:
1) I stored the ice cream canister in the freezer for 48 hours – it was VERY cold.
2) I allowed the machine to run for 30+ minutes (about 5 minutes longer than the suggested running time). This allowed for more air to be incorporated and thus a creamier texture.
3) I stored the sorbet in a flat, shallow container vs. a tall, skinny container. This makes it easier to scoop!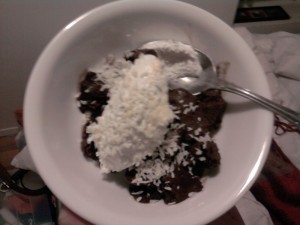 Greek yogurt is a runner's best friend! Check out my guest post on my friend Matt's blog – Eat With Me. Don't have time for your own blog, but love food? He's accepting contributors!
Is tofu healthier than chicken?
Five "bad" foods that you should be eating!
Today is "Skip Lunch, Fight Hunger Day"! Donate what you would normally spend on lunch (approx. $10) and feed 15 hungry children! Tickets are also still available for the Taste of the Nation event benefiting Share Our Strength. The NYC Taste of the Nation event is next Monday (May 17th) – I'll be there! Fab restaurants such as Blue Hill, Gramercy Tavern, Dirt Candy, Telepan, and Pure Food & Wine will be providing the grub. Can't wait!
Question: What's your favorite type of protein? Chicken? Tofu? Eggs? Beans?