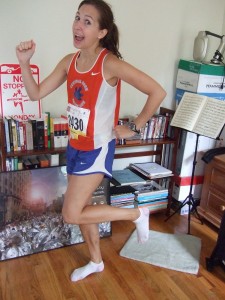 Happy Tuesday! I had a little too much fun at Taste of the Nation last night (recap coming soon!), so while I recover get my photos organized, check out the oldie, but goodie posts I dug up for you:
IT band pain and how to fix it
How to buy fancy groceries on a budget
How much of running is mental? I think it's at least 50%. Check out my latest True/Slant article on the topic – It's all in your head.
In a previous post, I asked if you had any running questions. Read on for the Q & A!
1) I, too, am running the NYC Marathon in the fall, and I was wondering – is there a specific training plan you follow (did you find it in a certain book or on a certain website)? I'm just wondering which training plan you think is best!
Well I've never actually followed a pre-set training plan, I've always created my own, but if you go to www.runnersworld.com you can check out their wide variety of training plans. I just put the finishing touches on my 2010 NYC Marathon Training Plan – take a look! Big props to Megan from Bites of the Apple – she created the framework for the plan andddd she's going to be my training buddy!
2) I know running long distances requires lots of practice, but here is my issue – after maybe 2 miles, my legs hurt so badly, to the point that they are throbbing. I've run in a few 5k's over the past couple years, but feel like I can't do anything more than that. On top of my legs hurting during my run, the rest of the day they are sore and often throb. I now try to only run once or twice a week to not overdo it, but that doesn't seem to make a difference. Is there a reason for this? Do you have any tips for ways to improve longer distance running?
Hmm, it sounds like you might be starting off too fast. Many new runners will begin at a pace that is just not sustainable for them and this makes running very unpleasant. It's better to start out slowly, take occasional walk breaks, and build endurance over time. If your calves are still giving you trouble, you might want to try upping your potassium intake. Dehydration or an electrolyte imbalance can cause muscle cramps.
3) As someone who is currently in training for a marathon, I was running how upping your training mileage affects your weight and also whether you estimate calorie intake?
My weight has stayed with in the same 5-lb range for the last 3 years or so, however I do notice a slight gain when I'm running very high mileage (i.e. marathon training). I'm not really sure of the cause, it could be fluid retention (from increased carb consumption or muscle tissue inflamation) or perhaps I'm just eating more – running makes me hungry! It always seems to even out in the end though, so I try to focus on quality foods and not overthink it. I don't count calories on a daily basis, but occasionally on long run days or race days I will use a tool like calorie count to make sure I'm refueling enough.
4) I had been running for about 2 years and participating competetively in endurance events (mostly 1/2 mary's and 1/2 iron men) for about a year when the dreaded IT band syndrome benched me about six months ago. Do you have any tips for the return to running? I'm especially struggling with my mentality; when I know I've run 13 miles at sub 8 minute pace it's soooooo frustrating to struggle trying to maintain an 8:30 pace for a mile or two. I feel like I'm starting from scratch! How did you build up your speed and endurance so quickly after your IT band injury?
Runner's World recently published an article about post-injury worries. The article provided some tips on how to regain confidence after some time off. Coming back from injury isn't easy, so if you can, try not to compare your current paces and race times to your pre-injury times. Just try to get a little faster or run a little longer than the day before. It will come back to you!
Question: If you could give a new runner one piece of advice, what would it be?