On Monday night I was lucky enough to attend a fancy gala event at the Hyatt Hotel near Grand Central Station. This event has been nicknamed "foodie prom" by the media and it was so much fun! In addition to a dazzling array of eats (and drinks!), I got to dress up and play with my new Nikon D40 camera. Proceeds from ticket sales go towards alleviating childhood hunger.
Share Our Strength's Taste of the Nation® is the nation's premier culinary benefit dedicated to making sure no kid grows up hungry. Each spring and summer, the nation's hottest chefs and mixologists donate their time, talent and passion at nearly 40 events across the United States and Canada, with one goal in mind: to raise the critical funds needed to end childhood hunger.
My foodie-friend Brian from Bridges, Burgers, & Beer joined me on this culinary adventure as we sampled our way through New York's most renowned restaurants. Best part of the night? Multiple people asked us if we were members of the press. Wheee! Must have been the fancy cameras 🙂
If you read my blog regularly, you know that I don't eat much meat, however I don't consider myself a vegetarian. My reasoning? I prefer a plant-based diet, but I also LOVE fancy food and I want to be able to taste everything. For example, last night I tried pate. I was a little hesistant at first, but it was good. Very savory, a little salty, reminded me of meatloaf. I snapped a photo of nearly everything that I tried, but I'm sure a few bites and tastes escaped the camera. Enjoy my culinary recap!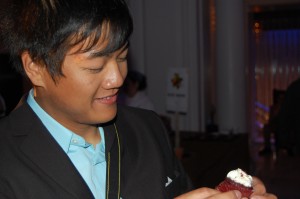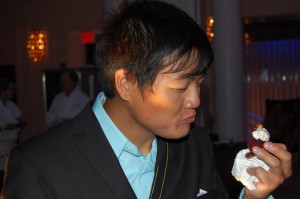 I probably had a few too many cocktails, but surprisingly I never felt overly stuffed. I felt a littttle out of sorts on Tuesday morning (it's not a hangover, it's called enjoying my 20's!), but still made it to work on time 🙂
In other news, my legs have been feelin' pretty banged up from Saturday's 10K, so I'm taking it easy this week. I elliptical for 30 minutes on Monday, ran 5 easy miles on Tuesday, and completed a 6 mile tempo run yesterday morning (Wednesday). Alma and I warmed up for 2 miles and then ran a series of 30 second, 1 minute, and 2 minute fartlek pick-ups. I felt okay, but my legs were rebelling by the final speed interval. I think I could have tweaked last week's post-race routine a bit more (more protein = faster recovery?). I'll have another chance on Saturday – I'm running the Brooklyn 1/2 marathon, eek!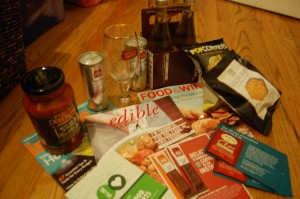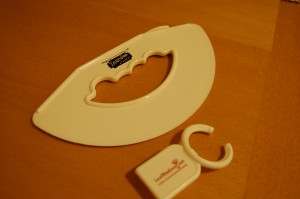 Last, but not least – I received these 2 kitchen utensils in my Taste of the Nation goodie bag. Any guesses on what they might be used for? I have NO idea.