What do you get when you combine a weekend of sun and 85 degree temperatures and a brand new ice cream maker? HOMEMADE ICE CREAM! I based my creation on a recipe from the Peanut Butter & Co. cookbook. I am mostly happy with the result, but I think it's going to take a few tries before I completely figure out the process. I've been reading up on homemade ice cream-making tips (did you know adding vodka can improve the texture?) and I'm already planning my next frozen experiment.
Ingredients:
1 quart of half n' half (or 2 cups cream, 2 cups whole milk)

1 cup brown sugar

1 tsp vanilla

6 egg yolks, lightly beaten

1 cup smooth peanut butter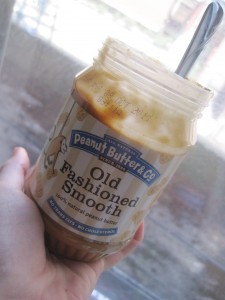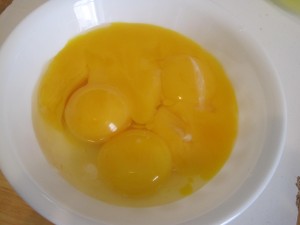 Directions:
Combine the peanut butter, half 'n half, brown sugar, and vanilla in a medium saucepan and heat over low until the sugar is dissolved.

Take 2-3 Tbs of the warm cream mixture and stir it into the egg yolks – this will raise the temperature of the yolks, so they don't scramble when you add them to the saucepan.

Slowly pour the egg yolks into the cream mixture while stirring constantly. Cook over medium-low heat for about 5 minutes.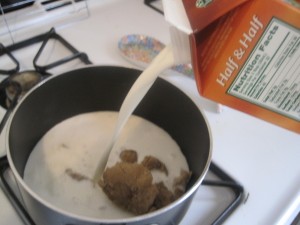 Pour the egg-cream mixture into a bowl and cover with saran wrap. Chill in the fridge until very cold (over night is best).
Plug in your electric ice cream maker and turn it on. Make sure the ice cream maker's freezer bowl is COMPLETELY frozen. Get in the habit of storing your bowl in the freezer – makes things easier! Pour in the cream mixture and allow it to churn for approximately 30 minutes.
The ice cream will have a soft-serve like consistency. If you'd like it to be firmer, pop it into the freezer for a few hours. If you have the space, try storing your ice cream in a wide, shallow container instead of a tall, skinny one. This will ensure a more even consistency.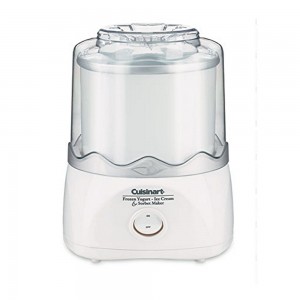 I topped my ice cream with some raspberry jam – instant pb&j!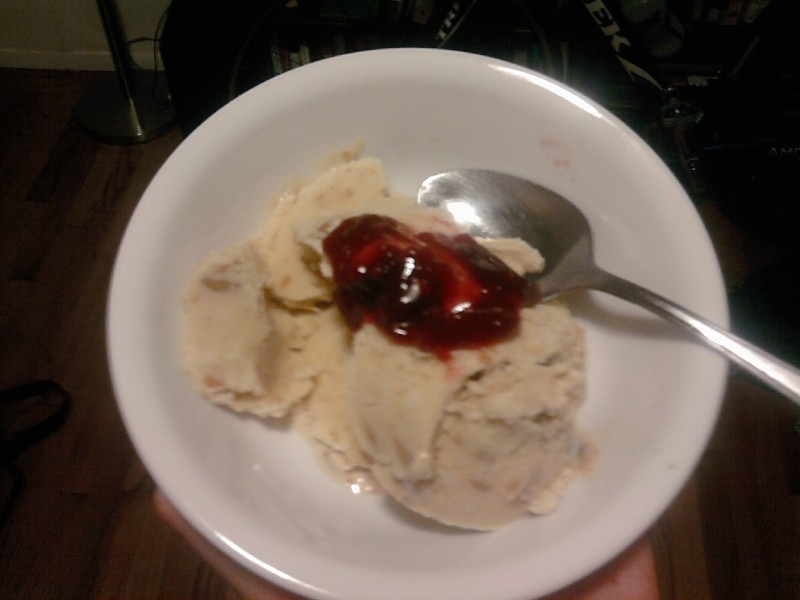 Running Updates: IT band is still feelin' good – YAY. I ran 5 sweaty, but relaxed miles (45:00) yesterday and followed that up with ~45 minutes of pilates and yoga exercises. Alma convinced me it would be a good idea. It was. My hips and abs say thank you!
Today, the roomie and I hit the roads around 7am for a morning run. I was not a fan of the pouring rain, but it still felt good to fit in 6 miles (54:00) before work. I think my least favorite part about running in the rain is having to trek back inside soaking wet. I hate the feeling of wet socks, yuck.
I was trying to convey my crankiness.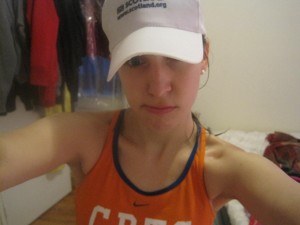 I have a few races coming up in the next 2 months (two 10ks and a half-marathon) and then NYC 2010 MARATHON training will begin July 1. Huzzah!
Live in NYC? Check out this article on 10 FREE ways to get healthy (and have fun!) in May.
My very funny friend Sarah offers up some hot-weather running advice.
Do you have any running questions for me? About my routine? Motivation tips? Advice on gear? Leave your question in the comments and I'll answer in a special running Q&A post later this week.