Happy Sunday! I'm back with a race recap as promised. Yesterday I ran the Healthy Kidney 10k in Central Park and I've very pleased with the result. I started the mornin' with black coffee (need.this.before.running), a banana with pb &j, and a clif z bar. Note to self: Giving yourself 90 minutes to digest is borderline. Next time eat breakfast earlier!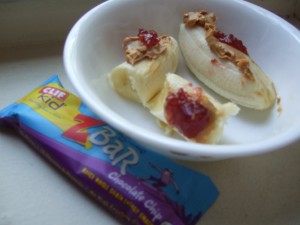 The Race:
| | |
| --- | --- |
| Race Name | Healthy Kidney 10K |
| Warm Up | 2 miles |
| Distance | 10 Kilometers (6.2 miles) |
| Time | 42:59.00 |
| Splits | 6:58, 6:57, 6:53, 7:12 (umm, hills?), 6:45, 6:51, 78 seconds for the last .2 |
| Cool Down | 3.8 miles |
| Pace Per Mile | 6:55 |
| Overall Place | 628 out of 7,826 |
| Age Place | 22 out of 1,178 |
I probably wasn't as rested (went to spin class Friday, oops) or hydrated as I could have been, but I'm fairly pleased with the result. I managed to run the second half faster than the first (always a good thing!) and I stayed mentally tough throughout. The 4th mile was brutal – nearly 30 seconds slower than my 5th mile – but it seems like everyone struggled with the hills at this point in the race.
1st 5k – 21:37
2nd 5k – 21:22
I had some right hamstring weirdness, but the IT band felt pretty good. I wore the lunaracers for the whole 12 miles, no problems. My previous 10k PR was 46:49, so this is a nearly 4 minute improvement. I'll take it!
The Recovery:
After a cool-down with some teammates, I headed to my gym to shower and chug some water. I ate an apple on my way to the subway. Room for improvement: Next time get some Gatorade and protein in my system – stat.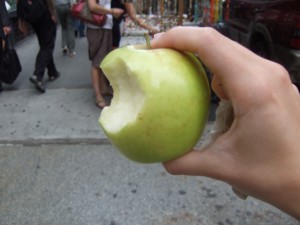 I was ready to chew my arm off by the time I got home (hello 12 miles of running!), so I whipped together a quickie lunch – high fiber wrap filled with hummus, arugula, shredded mozzarella, chickpeas, and sriracha.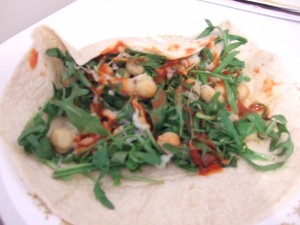 Followed by a Greek yogurt with dried cherries and walnuts mixed in.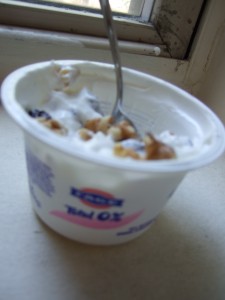 I spent the rest of the day sipping frappuccinos, frolicking in the sunshine, and then headed downtown for a b-day party. It was a delightful day, but my calves were VERY unhappy with me this morning. I woke up around 8am (only getting 6 hrs of sleep, ew) because my leg muscles were cramping up. I think it's a combination of yesterday's race + wearing racing flats + dehydration. Wahh. I chugged about 8 glasses of water, a cup of coffee, and a banana (potassium!) before heading out on an easy 4-mile recovery run with Alma. We finished up with some barefoot strides and I actually felt better towards the end. I'm still pretty beat up though. I think I need a rest day. SOON.
I also need to make some more creative meals. I'm about ready to chuck my peanut butter jar and sriracha sauce out the window. Help a girl out – what should I make??
Check out the latest Running Shorts article – Geoff gives the run-down on the elite Healthy Kidney 10k runners!