Happy weekend! It's gorgeous outside, so this is going to be a quick blog post 🙂
Workout Recap
Wednesday: 6 miles in 51:20, morning run with Alma, legs felt a little tired after Tuesday's track workout. I had the usual IT band twinges in my right knee, but it felt better than usual.
Thursday: 3 miles in 23:50, Lunchtime run on the treadmill – switched the pace every 1/2 mile to keep things interesting. My IT band and hamstring felt awesome! No pain.
Friday: 3 miles in 26:00, pre-coffee (aghh!) morning run followed up by a 45 minute lunchtime spinning class.

Saturday: 13 miles in ~2 hours, easy-paced long run with Alma and Jacqui. Wore the Asics 2150's and had virtually NO IT band pain. Yay. Dear Central Park, please turn ALL of the water fountains on. Ok, thx!
I've run 41 miles so far this week and my IT band seems to be feeling better. I've been foam rolling, stretching, and doing 3 x 10 single leg squats every day. I think (hope!) it's working.
Besides fitting in some good runs, this week has been sort of stressful. Without getting into details, there were multiple nights  where I didn't get home from work and sit down to dinner until the 10pm hour. Stress means I've been eating a LOT of chocolate – I bought a big bag of Dove promises chocolates on Wednesday. That bag is long gone.
Besides chocolate, I've been eatin' some good stuff-
I really think that a banana (potassium), cottage cheese (protein + sodium), and whole grain toast with pb&j is the perfect post-run power breakfast. So many nutrients!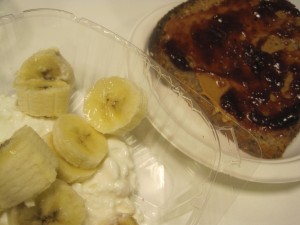 I received a sample of pretzel m&m's in the mail the other day – loved 'em! This new product is a nice mix of sweet, salty, and crunchy.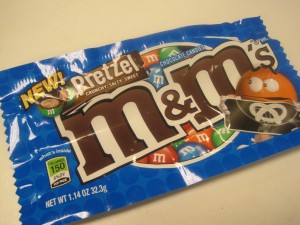 Although I love chocolate, I also tried to gobble up some veg in the form of giant salads. My usual lunchtime mix includes mixed greens, onions, mushrooms, shredded carrots, chickpeas, feta cheese, croutons, sriracha, and lil bit of wheatberry salad.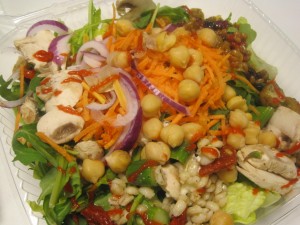 Pistachios are perfect for a stressed out gal. Cracking open the shells is therapeutic!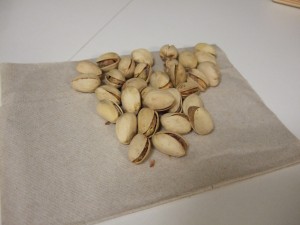 The yummiest quick dinner ever??? A baked (ok, microwaved) sweet potato topped with coconut butter.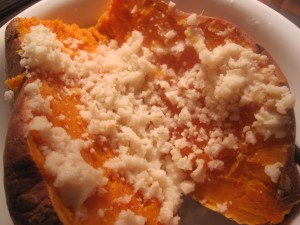 And for dessert – a semi-frozen caramel oikos greek yogurt with a dollop of nutella mixed in.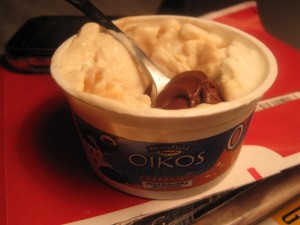 Ok, I'm off to go cross some things off my summer to-do list!
Question: What is your favorite flavor of ice cream?