TGIF bloggie friends! I hope you're all enjoying your weekends so far – I'll live vicariously through you as I'm doing laundry and planning on a 10pm bedtime. Why so lame? I have a 4:45am wake-up call tomorrow morning because the Brooklyn 1/2 marathon starts at 7am. Yikes. I'm still not sure what my plan is for the race – the legs have been feeling junky all week, so I might run it easy rather than race it. It'll be a game time decision. I ran about 7 1/2 miles around Central Park and the reservoir Thursday morning (glorious sunshine!) and 3 1/2 miles this morning. Today's run was pre-coffee. Note to self: Don't do that.
I shouldn't be too surprised that I'm feeling less than stellar – this week has involved lots of late nights and not enough sleep. However, I've also been having lots FUN, so I can't complain too much.
On Tuesday, I met my fellow foodie friend Brian at Sophie's Cuban Restaurant. My cuban sandwich wasn't quite as good as the one I ate at Gus & Gabriel's last August, but I still enjoyed it. Cuban bread, melty swiss cheese, salty pickles, pork, ham – you really can't go wrong.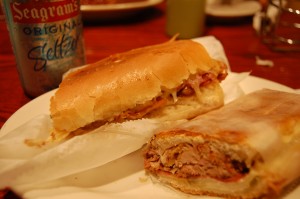 On Wednesday evening, I met some lovely blogger ladies for cocktails at a Korean tapas restaurant called Chom, Chom. There was a bit of a snafu regarding our drink order (our waiter tried passing off martinis as sangria, seriously, dude…), but my Korean sangria ended up being pretty good. The company, however, was definitely the night's main attraction. Hey, Hey – Leslie, Sofia, and Katie! I followed up my sangria with a large cup of Tasti D-lite. Dinner of champions, I tell you.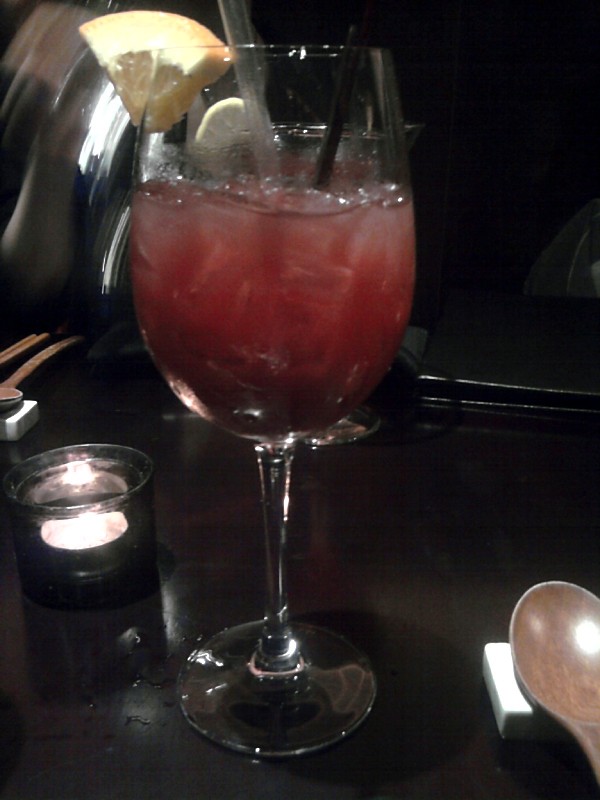 Thursday involved another round of froyo (don't judge) – this time from Bloomingdale's 40 Carrots Cafe. Jacqui, Shelby, and I had planned this weeks in advance – Thursday is the only day to get the peanut butter flavor! I don't know how they do it, but this froyo is some of the BEST I've ever eaten. The plain flavor reminds me a lot of 2% fage – smooth, creamy, and delicious. If you live near a Bloomingdale's – go.get.some.froyo.now. Best part? For less $$, you get double the portion that Pinkberry offers. WIN.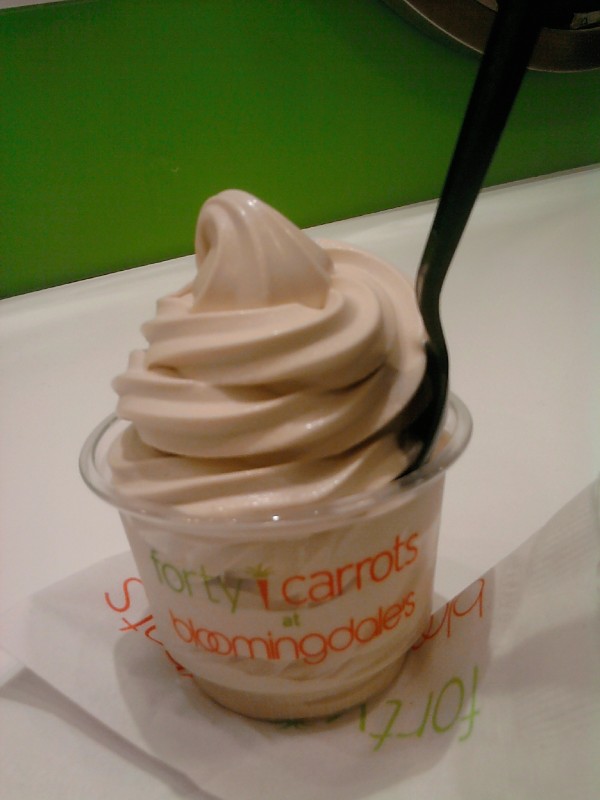 Lest you think all I do is booze and eat froyo, I did actually cook something this week (nevermind that it was at 11:30pm on Wednesday night…). Inspired by the 101 Cookbook's Pan-fried chickpea salad , I whipped up my own version.
Chickpeas and Leeks with Yogurt Dressing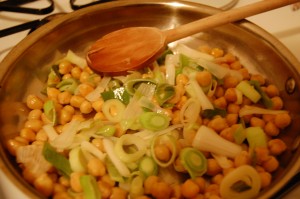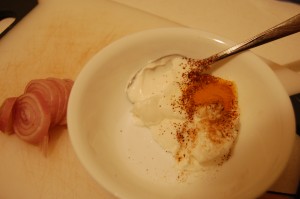 Ingredients
1 Tbs canola oil
1 can of chickpeas, rinsed and patted dry
1 leek, washed and chopped
1 clove garlic, minced
1/3 cup low-fat Greek yogurt
generous dashes of salt, cumin, tumeric, coriander, and chili pepper (to taste) – you could also use 1 1/2 tsp curry powder
1 shallot, sliced
Directions
Heat the oil over medium-high heat and then add the chickpeas, cook for about 3-5 minutes or until golden brown
Add the leeks and garlic and sautee for another few minutes, until leeks are soft, remove from heat and add shallots
In a small bowl, combine yogurt and spices
When the chickpea mixture has cooled to room-temperature, add the yogurt mixture and stir gently to combine
Serve over a bed of lettuce or stuff into a pita pocket – this makes a great light lunch!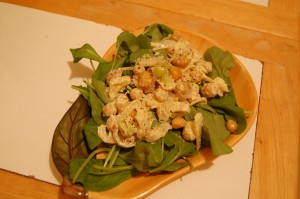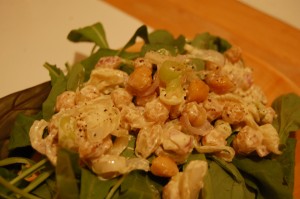 Note: The shallot flavor was a little overwhelming (woo! onion breath), so I might cook that with the leeks next time. This dish would also be good with some feta, chopped apricots, or slivered almonds as a garnish.
Will running ruin your knees? Check out my latest True/Slant article for the answer!
Question 1: What's your favorite way to enjoy chickpeas?
Question 2: Do you ever run races "easy"? i.e. run for fun and not time?