So, last night I was making chocolate sorbet and I had a little incident with my camera. The lens won't retract and I fear it may be broken. BUT in the spirit of being positive, this gave me the final push I needed to purchase an SLR camera. I got a pretty good deal on a Nikon D40 and I can't wait until it arrives!
Usually electronics problems + Megan = bad scene. However, last night I was pretty proud of the way I handled things. No tears. No pity party. I did a web search for Canon "lens errors" and apparently it's a common problem. I did drop the camera (although it didn't hit the floor very hard…), so the warranty probably wouldn't cover a repair. C'est la vie. I hit the sheets around midnight and was up again before 7am. Alma and I headed out for a morning 6-miler in Central Park and my legs felt amazingly good. I almost couldn't believe I ran 17 miles yesterday. Was it the Scuttlebutt sandwich? The afternoon walk that stretched out my legs? The Pearl Izumis? I have no idea, but I am feelin' GOOD.
Anyway, until I figure out my camera situation, you can enjoy some yummy recipes from today's guest chef – Jesse!
___________________________________________________________
The following recipe was a quick lunch based on one of Jamie Oliver's Food Revolution recipes. The dish included pre-cooked rice noodles, garlic, ginger, green onions, chili paste, sliced mushrooms, sliced carrots, and cilantro. The sauce has sesame oil, splash of soy sauce, fresh lime, and thai fish sauce.
Rice Noodle Stirfry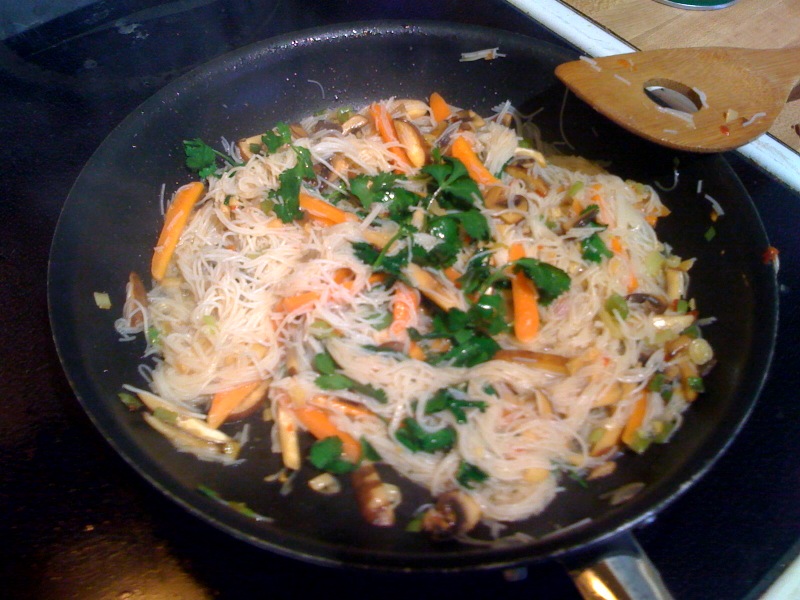 Heat the pan, add oil, toss in the garlic, ginger, chili paste, and green onions. After a minute throw in whatever veggies you want/have on hand. After another minute toss in the rice noodles and cilantro. Sprinkle a bit of all the liquids over the top. Cook for another 30 seconds or so and you're done! Yummy!!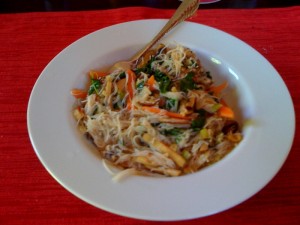 Jen and I got a new handheld blender at the bridal shower and I tried it out for the first time yesterday.  I was trying to come up with a way to use some frozen stock to clear out my freezer a little bit.  I wanted a soup that would be good chilled so I made a Carrot Ginger soup.  It was super easy and came out deliciously!
Carrot Ginger Soup
Ingredients:
Butter/olive oil for sauteeing
1 onion, chopped
4-5 carrots, chopped
1 parsnip, chopped
a sprinkle red pepper flakes
Freshly ground Cumin (a couple Tsp.)
1-2 Tbsn fresh ginger, diced
Juice of 1 lime
1 qt stock (I couldn't remember if the jar I used was chicken or veggie but either would be fine.)
Sea Salt/Pepper to taste.
Heat butter/oil in a soup pot, gently saute onions, carrots, parsnip for a while on med-low heat until they are tender.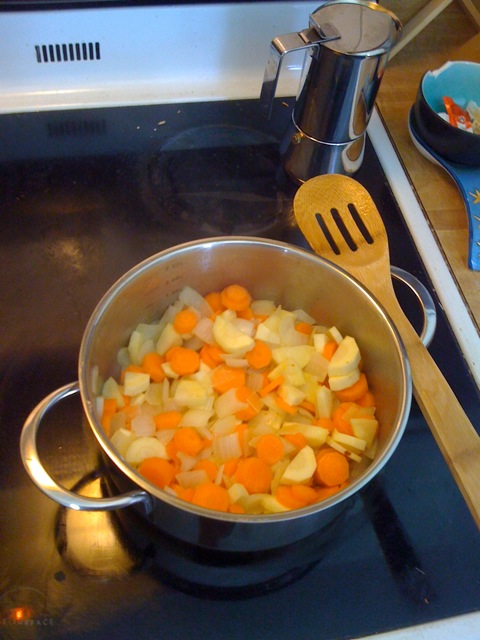 Add in the Red Pepper flakes, the ground cumin (I recently got a bag of cumin seeds, so I decided to grind my own), and the ginger.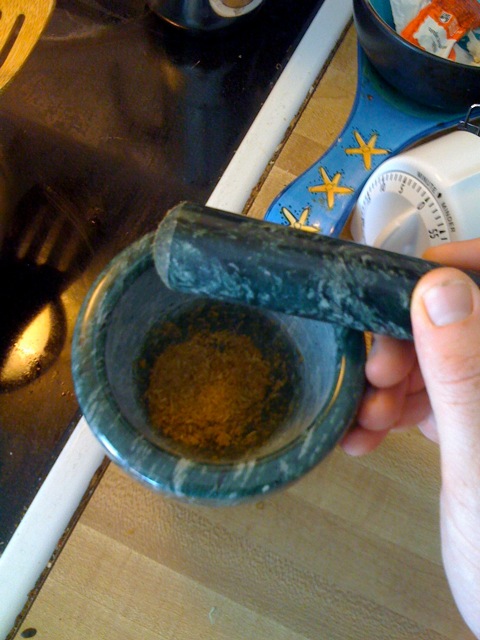 Saute for a bit longer then add in the lime, stock, salt, and pepper. Let simmer for about 15 minutes.  Then we get to the fun part!  Using my brand new Cuisinart Handheld Blender I pureed the soup until it got a nice creamy texture.  I was a little scared using the blender for the first time.  It tried to splatter soup all over me until I figured out how deep it needed to be in the pot, but it's totally easier than previous methods I've used for pureeing hot soup.  There's something about the slightly sweet, slightly citrusy, gingery creaminess that works so well, plus this soup is quick, easy, and cheap!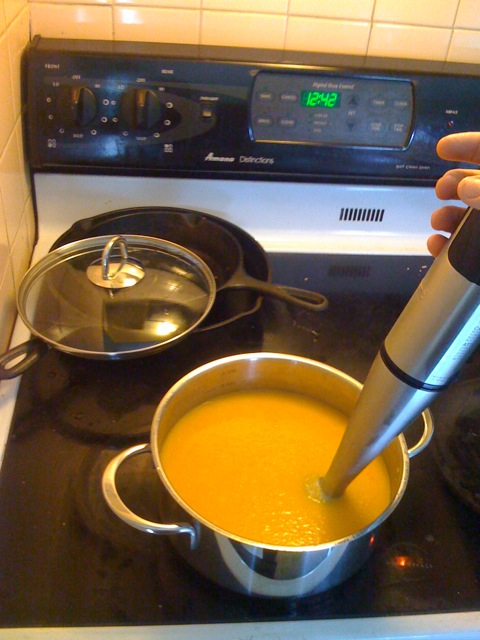 Thanks Jesse!
What kitchen gadget is on your wish list? Now that I have an ice cream maker and a kitchenaid mixer, I'd really really really like an immersion blender!