The other day I heard an odd whirring sound come from my Kitchenaid stand mixer. After a moment of panic, I realized I just hadn't locked the arm into place. Pheww. However, my mini-heart attack made me realize how much I love this piece of kitchen equipment. If it broke tomorrow, I'd have no doubts about spending $200 to replace it. My mom gave me the stand mixer as a birthday gift a few years ago, so it only seemed appropriate that I use it to make her Mother's Day cookies.
I based my recipe on Smitten Kitchen's Favorite Chocolate Chip Cookies, but made a few alterations.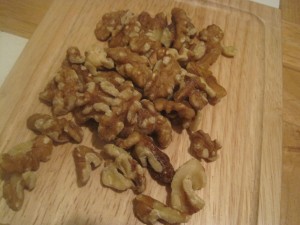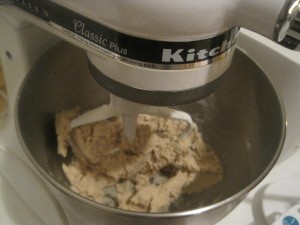 Ingredients:
8 Tbs whipped butter (was trying to use this up, regular butter would be OK too)

1/2 cup brown sugar, lightly packed

1/2 cup white sugar

2 egg whites

1 tsp vanilla

1/2 tsp baking soda

1 1/4 cups all-purpose flour

1 cup walnuts, finely chopped

1 cup mini chocolate chips
Directions:
Pre-heat the oven to 300 F and line two baking sheets with parchment paper
Cream together the butter and sugar, add the egg whites, vanilla, and baking soda
Add the flour and mix just until combined
Stir in the walnuts and chocolate chips
Put rounded Tablespoons of dough on the baking sheets and bake for about 15 minutes or until golden brown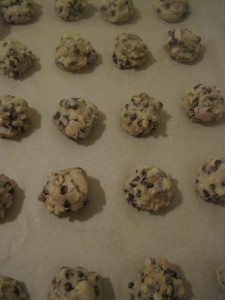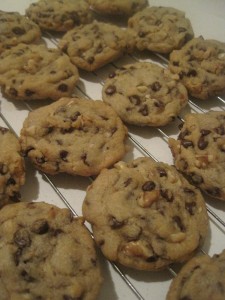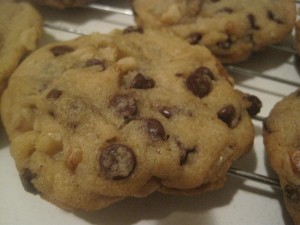 Before packaging these babies up and fed-ex'ing them to Pennsylvania, I made sure to sample a few for "quality control". They were delicious! The walnuts were chopped up finely enough so that they didn't interfere with the chocolate taste, but they still contributed a toasty, nutti-ness. The edges were chewy and the middle was soft and gooey – delicious!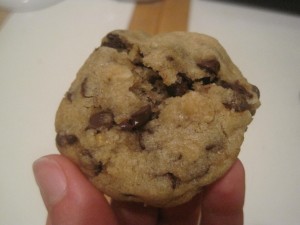 Besides baking cookies, I've been having a pretty good week. I had a very yummy "junk salad" for lunch yesterday. Lots of fun ingredients! Arugula, cucumber, carrots, onions, mushrooms, marinated beet salad, chickpeas, blackeyed peas, feta cheese, croutons, and sriracha sauce. YUM.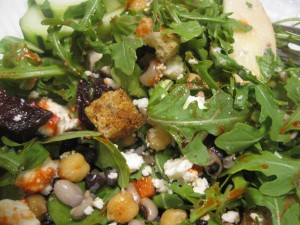 I also received a sample pair of Pearl Izumi Synchro Fuel trainers. I was a bit hesistant at first – I'd never worn Pearl Izumi shoes before AND I had forgotten my socks in my gym bag, but I'm happy to report that the combo of new shoes + no socks did NOT give me blisters – even on an 8 mile run! My stride felt smooth, yet cushioned in these lightweight trainers. Even better? No IT band troubles, yay! My only gripe – the tongue of the shoe was very big and puffy – it sort of reminded me of a basketball shoe.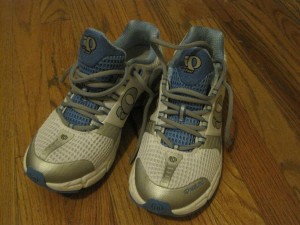 Yesterday I headed to Central Park for the weekly Thursday road workout. The weather was breezy, but sunny – perfect!
3.5 mile warm-up (ran from my apartment)

2 x 2 mile repeats @10K pace with 1/2 mile recovery

2 mile cool-down

10 miles total
I 've only ever raced one 10K (heh, yes, really), so I wasn't sure how the pace would feel. The first 2 mile repeat felt tough, but only slightly uncomfortable and I finished in 13:59 (~7:00 pace). The second 2 mile repeat felt harder, probably because I was tired, but I was able to run a bit faster and finish in 13:42 (~6:51 pace). Woo-hoo! I felt strong during this workout and definitely not completely wiped out by the end. I finished up with a nice 15 minute-ish cool-down with my college buddy, Jess.
And now it's Friday! TGIF 🙂
Are you at your ideal racing weight? Head on over to Running Shorts to check out my review of Matt Fitzgerald's new book for athletes.
I just bought a ticket to the fancy-schmancy charity event – Taste of the Nation NYC. Are any other New York bloggers/readers going to be in attendance? I'd love to meet you!
What's your favorite type of chocolate chip cookie?