TGIF. This week actually went by a little too quickly (my to-do list is still too long, gahhh!), but I'll never complain about it being the weekend. Tomorrow is my next race – the Healthy Kidney 10k. This race usually brings out a decent elite field, so it should be an exciting event to run and watch! I haven't run a 10k since 2008 (46:49) and since it was only a few weeks post-marathon it wasn't an all-out effort. I'm feeling pretty strong, so I'm hoping to run sub-7:00 pace tomorrow (or about 43:30). The weather report looks good, so hopefully my legs cooperate!
Last night I didn't get out the door for my run until nearly 9pm (oops), so I just did a short 4 miler. The last mile of my run was done up the West side of the park (i.e. mile 3 of the race) and I ran it pretty fast (6:45) to get a feel for race pace. Holy hills. Basically the first 3 miles of tomorrow's 10k are uphill, meaning I need to start off conservatively and hopefully pickup pace in the later half of the race. Ideally, I'd start out running 7:05's for the first few miles and finish up with some 6:50's. Here's hoping!
This morning I actually woke up early enough to make coffee at home (win!). Hello, Frida Kahlo mug. I've missed you!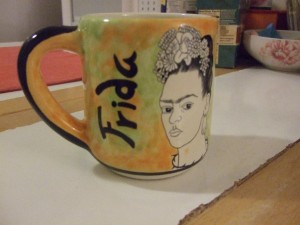 Once I got to work, I chowed down on a  "power breakfast": sliced banana, cottage cheese, and Eli Zabar's health bread with pb & j. I love this combo!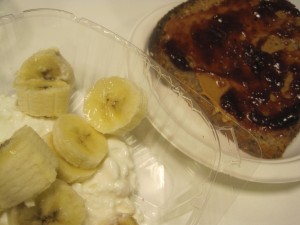 Confession: In the past 2 weeks, I've made about 4 (failed) attempts at going to a spinning class. I always talk myself out at the last minute. And even though I know the cross-training is good for me, I'd rather run! Anyway, I was super proud of myself for attending a 45 minute spinning class during lunch. I wasn't totally thrilled to be there, but I stuck it out.
The cafeteria options were kind of slim today (no beans on the salad bar, wtf), so my salad was a bit lacking in protein: mixed greens, shredded carrots, red onion, cucumber, green beans, roasted potatoes, feta cheese, pasta shells, and sriracha sauce.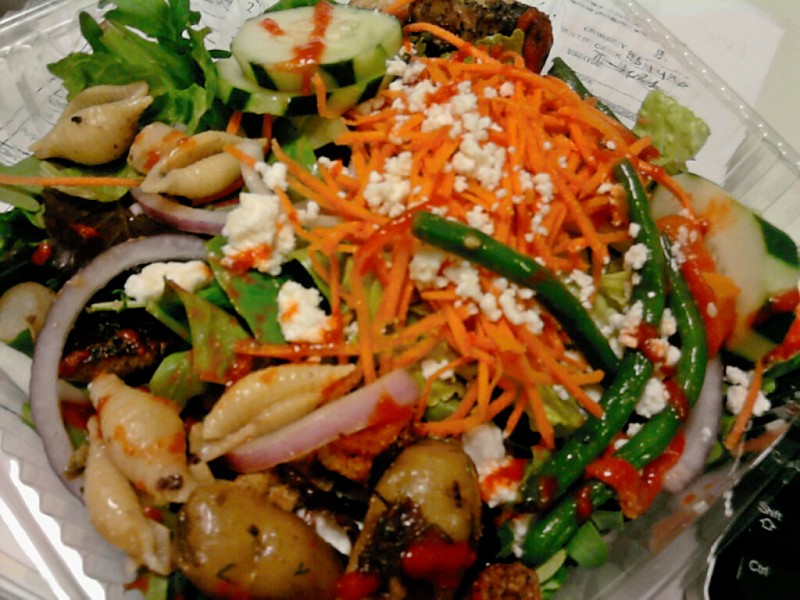 Not surprisingly I was hungry about an hour later.
Today is one of the last days of Starbuck's 1/2 price frappuccino promotion, so obviously I had to get one. On the menu board I noticed that a tall mocha lite frappuccino only has 100 calories. It tastes like a frosty! If you're watching your caloric intake this would be a great dessert replacement (you can even get it decaf). Bonus: the 'bucks now uses Stevia instead of Splenda to sweeten their lite drinks.
I also scrounged up some honey nut cheerios. I felt like a kindergartner while I was eating them by the handful.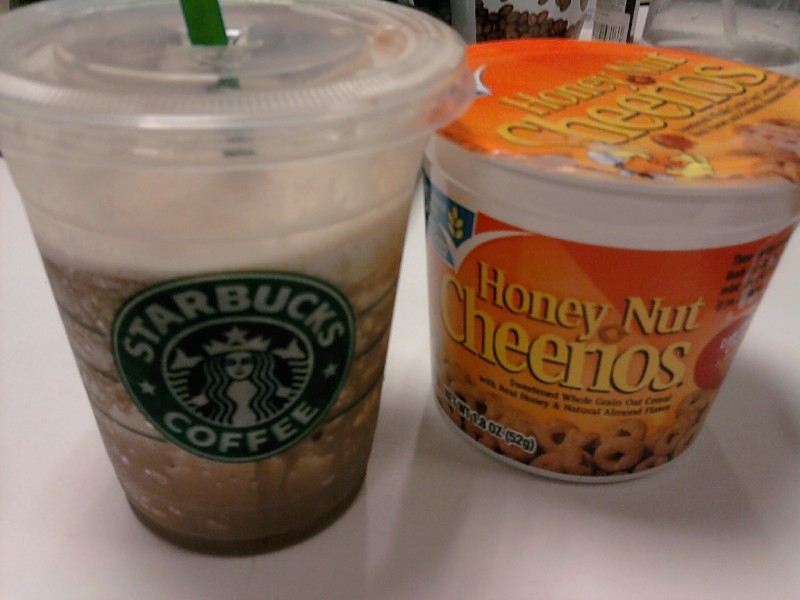 After work, I ran to NYRR (about 3 miles round trip) to pick-up my race packet. It was hot. I was tired. Meh.
I refueled with a new Odwalla beverage that I received as a sample. I had about 1/2 bottle of Odwalla's new Strawberry Protein Monster.

Pros:
would make an easy post-workout snack
25g of protein per bottle
good source of vitamin B and calcium
Cons:
300 calories per bottle (for 300 calories, I'd rather ice cream)
Soy protein powder taste (not a fan of this)
33g of sugar per bottle (whoaaa)
I like the idea of a fruity protein beverage, but 300 calories and 33g of sugar for a drink just seems like too much – especially when it tastes "healthy".
Dinner was simple, but it did use up some fridge leftovers: arugula, roasted sweet potato, 1/2 can chickpeas, shredded mozzarella, hummus, and sriracha. I used a LOT of sriracha and my mouth was on fiyah. I had to grab some un-pictured Kashi crackers to cool it down.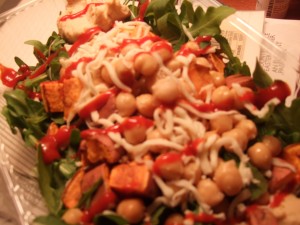 I also had a healthy-ish dessert: chocolate sorbet (homemade!), truwhip, and sliced strawberries.
Ok, I have a race in the morning. I'm going to lay out my uniform and set my alarm. Stay tuned for a race recap!
Drink this, make less mistakes at work.
Which burns more calories – running or weight training?
What are your thoughts on running during pregnancy?Would you or have you ever run while expecting? I cover Kara Goucher and Paula Radcliffe's training in the latest Running Shorts article – Baby on board.
UPDATE: 42:59 for the 10k. Wheeee. Full recap later.