Happy Marathon Monday! Last year Alma and I were pounding 26.2 miles of pavement in Boston. Check out my 2009 Boston Marathon race recap! I have to admit, a part of me wishes I was running the marathon this year. But the other part of me still vividly remembers the hallucinations and dry heaves of miles 20-26. Heh.
Aside from that, it was a fun time! Really.
Want race weekend updates? Lucky for you, Running Shorts' newest contributor, Geoff Decker, is reporting from beantown. Check out his latest articles:
I've been quite the weekend warrior these past few days – lots of running, cross-training, and yoga. I think I packed more into Fri, Sat, and Sun than I did all work week!
Weekend Workout Re-cap
Friday: 45 minute spinning class at my gym (loved the instructor!), stretching, and 3 x 60 second planks while reading a magazine. I am super lazy when it comes to strength training, but I've found that distracting myself with gossip magazines makes planks bearable. Core strengthening + arm strengthening + catching up on celebrity news = WIN.
Saturday: 11 mile run in about 1 hour, 35 minutes. 7 of these miles were with Alma! FYI: 95% of the time I don't really know how fast or far I'm running. I usually assume I'm running 8:30-9:00 pace on easy days. I try to wear my Nike + for long runs, but the battery was dead on Saturday. Oops. Because of my Garmin-less existence, I expect a 1/4 mile margin of error for each run (i.e. the run is probably a little shorter or longer than I think). Despite my type-A personality, this doesn't really bother me for some reason. I suppose that's a good thing. I'll roll with it. Downside of today's run: My right IT band and hamstring were misbehaving. I iced, took ibuprofen, and stretched after the run. Cranky.
Sunday: 7 miles in 1 hour, 1 minute. 4.5 of these miles were with Sari 🙂 And then a 60 minute hot vinyasa yoga class with Katie and Agnes. Today I wore my old Asics 2150's and some pre-wrap around my IT band. Marked improvement. Maybe the new lightweight trainers (Asics DS trainers) are causing some of the IT band issues? Will continue to monitor the situation.
Confession: I haven't been very creative in the kitchen lately. I've been eating a lot of greek yogurt, peanut butter, and cookies. All delicious things, but not exactly blog-worthy. On Sunday I decided to make Smitten Kitchen-inspired roasted potatoes with romesco sauce. This recipe took about 90 minutes from start to finish (plus dish-washing!), so it's not exactly quick, but it's certainly delicious. And I have a ton of yummy romesco sauce to use all week long on top of eggs, bread, tofu, etc. I followed Smitten Kitchen's directions exactly, but I made some substitutions when it came to the ingredients.
Megan's Version: Crispy Roasted Potatoes with Romesco Sauce
Romesco Sauce
5 ancho chiles

2 serrano chiles
2 tablespoons

raw almonds

raw walnuts
2 tablespoons blanched hazelnuts (or, you can rub their skins off once they are toasted and cooled)

1 1/4 cups extra-virgin olive oil

2 Tbs earth balance (for frying the bread and chilis) + 2/3 cup extra virgin olive oil (streamed into the sauce)

1 slice country bread, about 1-inch thick

1 slice of Ezekiel sprouted grain bread
1/3 cup canned

San Marzano tomatoes

diced tomatoes
1 clove garlic, chopped
1 tablespoon chopped flat-leaf parsley
1

/2 lemon, for juicing

splash of lime juice (all we had in the fridge)
A splash of

sherry vinegar

balsamic vinegar
Kosher salt
Potatoes
1 1/2 pounds Yukon Gold potatoes

1 lb red potatoes + large carrot

1/4 cup

2 Tbs extra virgin olive oil (I reduced the oil here – the recipe already contained A LOT of evoo)

4-5 cloves of garlic, unpeeled

2 cloves of garlic, minced (added to the potatoes when I transferred them to the stovetop)
2 bay leaves

6 springs thyme, plus 2 teaspoons thyme leaves

omitted
1 cup Romesco sauce (from above)
2 tablespoons chopped flat-leaf parsley
Kosher salt and freshly ground black pepper
For recipe instructions, check out the original SK post!
Mmmm, grilled bread + toasted nuts + evoo + tomatoes. + garlic + chilies. Crispy potatoes. Heavenly.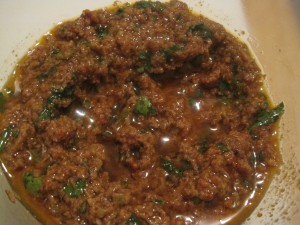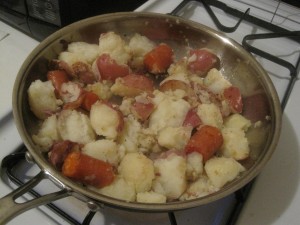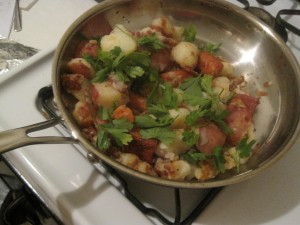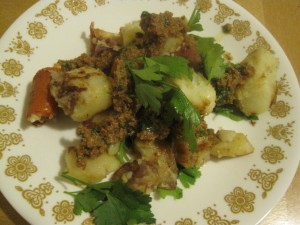 A few days ago I received the offer to create my own personalized chocolate bars. I perused the Chocomize website and created some pretty yummy combinations. My first chocolate bar contained: Belgian dark chocolate, potato chips, pretzels, dried raspberries, and hazelnuts. This bar was inspired by my vegan "compost cookies". Loved the sweet and salty flavors!
The second bar that I created was definitely my favorite. I combined Belgian milk chocolate, cardamom, dried tart cherries, dried coconut, and banana granola. This treat was inspired by one of my favorite baking projects ever – olive oil granola. Cardamom is definitely underrated. I love it!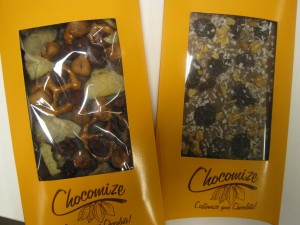 Once these chocolate bars are gone (which will be VERY soon), I am going to order some more. I think that they would make a really unique Mother's or Father's Day present! For a 10% discount, enter "runnerskitchen" into the coupon section of the checkout.
Freebie Alert: Head in to your local Origins store on April 22 (Thursday) when you can swap your empty bottle of face wash (any brand will do) for a brand new Origins full-size cleanser. (One per customer while supplies last.)
Question of the Day: What's your favorite potato dish? Give me some crinkle cut french fries and I'm a happy girl 🙂