I first saw this Reese's commercial at the gym, while running on the treadmill. I laughed so hard I almost fell off the belt. And I'm not ashamed to admit that I've been watching this youtube video on repeat….
My inner twentyfive-year old was really psyched to receive a package full of Easter goodies from my mom. Whipped peanut butter, nutella, Reese's peanut butter cups, thin mints. I am one lucky girl! I'm not going to tell you exactly how many Reese's peanut butter cups I've eaten in the last 24 hours, but let's just say…A LOT.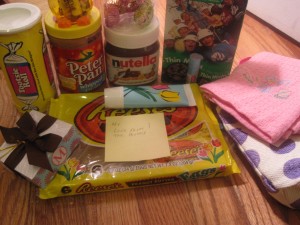 And how can you not love a plastic chick full of smarties? Hehehe.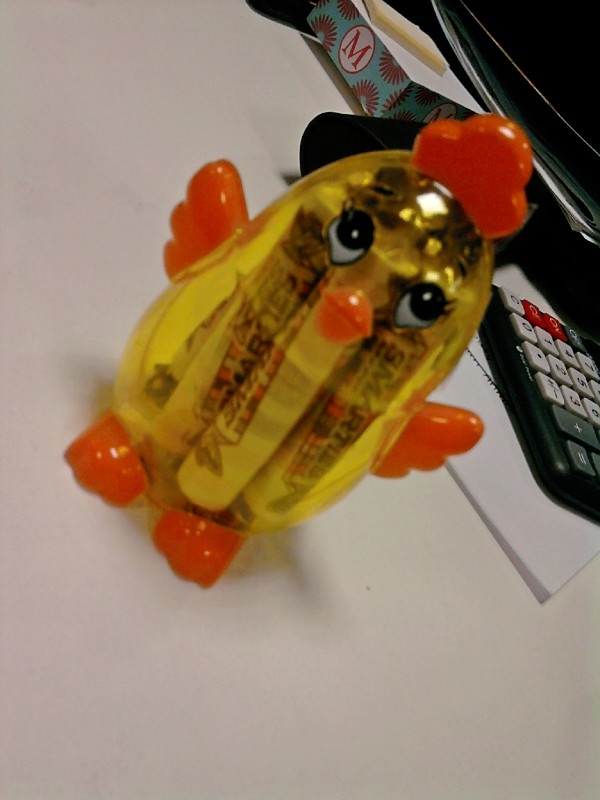 More delightful things – SUN, 75 degree temps, and tulips during my lunch break. I spent much of the winter dining at my desk, but I am so.over.that! Even if going outside means I have to deal with the traffic exhaust on 6th Avenue, hoards of foreign tourists asking me where Niketown is located, and sketchy hot dog vendors – I will not let this beautiful weather pass me by. Oh midtown Manhattan, you're so special.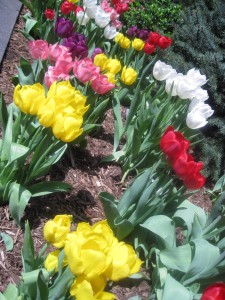 I dined al fresco whilst reading the latest issue of Runner's World. My salad contained the usual veggies (greens, onions, mushrooms, carrots) as well as feta cheese, whole grain croutons, black beans, corn, tabbouli, and sriracha sauce.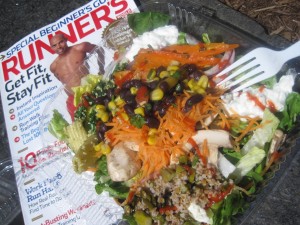 Ever the healthy eater (HAH), my afternoon/pre-workout snack involved some of the aforementioned pb cups and a cappuccino. Is there anything better than eating chocolate and drinking a warm beverage? I love how the candy gets all melty in my mouth, mmm.
And finally after nearly a month's hiatus (due to races and rest weeks), I completed a Tuesday speed workout!
At my gym, on the treadmill. Outdoor Central Park Track Club workouts at the sketchy E. 6th Street track start SOON. Can't wait!
1 mile warm-up

8 x 600m @ 5k pace (~6:30 pace for the first 7 reps, ~6:00 pace for the last one) with 200m recovery

1 mile cool-down

6 miles total in 47:00
I was feeling motivated, so I ended with a thorough foam-rolling sesh (my IT band says thank-you!) and some push-ups/core work. I had to seize the moment – I'm on the barely once-a-week plan when it comes to strength training….
Post-workout? Some freshly cut pineapple. On sale this week at Whole Foods!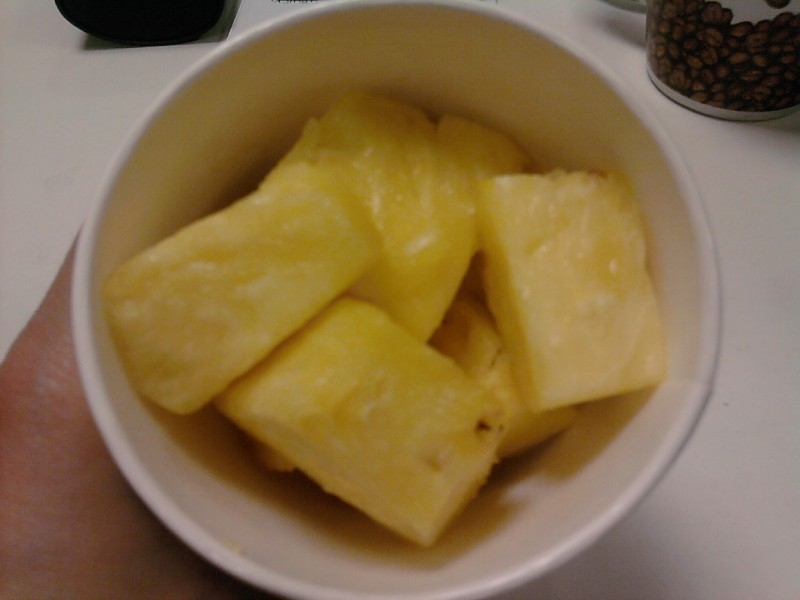 You've seen enough of my random dinner salads lately (Sauerkraut, Megan? Really??), so tonight I decided to make something a little bit more legit.
Superfood Salmon Salad (makes 1 big  serving)
Ingredients:
1 5 oz. can of wild, Alaskan Salmon (omega-3's)

1/4 cup 2% Green yogurt (calcium, protein)

2 tsp Dijon mustard

2 celery stalks, diced

2 Tbs walnuts, chopped (antioxidants)

2 Tbs dried tart cherries (natural anti-inflammatory)

salt & pepper to taste
Directions:
Combine all ingredients in a large bowl and serve on top of a bed of spinach and whole grain crackers.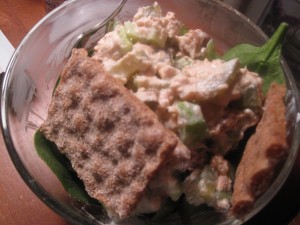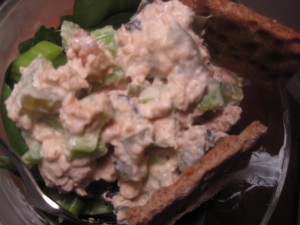 Another win this week: my first pedicure since January! I tipped the pedicurist extra – making my toes look presentable was truly a Herculean task.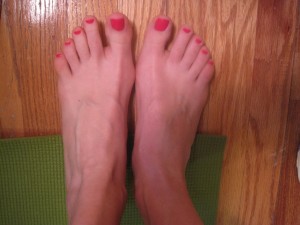 Would your pantry make Grandma proud?
Will running while pregnant reduce your child's risk of obesity?
Question: What's your favorite thing about spring weather??