In case you haven't heard, New York City is bypassing Spring and skipping right to Summer this year. The last 2 days have featured temperatures in the 80's/90's and lots of SUN. After months of winter wind and cold, my body has sort of been freaking out – especially while running. I met up with Jacqui and Megan on Wednesday night for an easy run in the park. Unfortunately the heat made my mouth drier than the Sahara and our 9 minute per mile pace felt like wayy harder than it should have. Crap. To add insult to injury, the water fountains in Central Park are not turned on yet – us three dehydrated ladies approached the fountain near the reservoir only to see it that it was bone dry. I ended up running for an hour and 12 minutes (~8 miles?) and was more than ready for a gallon of water and some ice cream after my run. I'm hoping that my body becomes acclimated to the temperatures before actual Summer arrives – if nothing else, this heat wave has motivated me to figure out a hydration plan (a fuel belt perhaps?) before I start marathon training.
Thursday was another hot one – and the prospect of doing an 8 mile tempo run (4 miles at marathon pace, 4 miles at half-marathon pace) made me more than a little nervous. The last time CPTC did this workout was February 18th (7 weeks ago) and I finished the 8 mile loop in 59:28 (~7:20 pace). Given the heat and my recent IT band irritation, I wasn't sure what to expect. I tried to do a thorough job with hydrating – lots of water and some fresh pineapple about an hour before the run. I also popped some chewing gum before the workout – I've found that it prevents dry mouth.
1 mile warm-up
4.03 miles @ marathon pace (31:10 or ~7:44 pace)
4.03 miles @ 1/2 marathon pace (28:55 or ~7:11 pace)
2 miles cool-down
11 miles total
Yesterday's workout was about 30 seconds slower than February's effort, but I'm trying not to be too hard on myself. It was 70 degrees outside last night (vs. 40 degrees in February) and I've had a pretty tough schedule of races (a 5K, a half-marathon, and a 15K). There were many points last night when I just wanted to give up and slow down, but I gutted it out and was able to drop over 30 seconds per mile for the second 4.03 mile loop.  I always feel completely spent (and slightly nauseous) after long, grinding efforts like this. But I'm a busy gal and I had lots on my to-do list for the evening – so dinner was a quick and easily digestible smoothie. I combined 1 cup of frozen mixed berries, 1 banana, 1 cup almond milk, 1 scoop of Amazing Meal, and a big handful of spinach. Topped with some "not sweet vanilla" galaxy granola.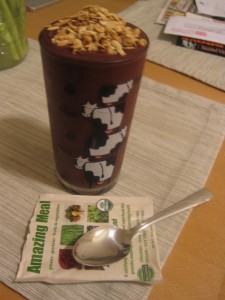 And then I got down to business on a special baking project for my roomie – Happy Birthday Alma! Remember when I baked her birthday cookies last year? I promise this year's goodie will be even better. Stay tuned for photos and a recipe! Of course….I had to do some sampling, just to make sure everything tasted alright 🙂
I make a confession in my latest True/Slant article – Sometimes I wish I wasn't a runner.
Need some motivation? Women's Health Magazine offers up the 101 Best Running Tips.
Announcement: Deep Chocolate VitaTops (12-pack) are now available at Costco in the Midwest (IA, IL, IN, KS, MI, MN, MO, OH, WI). With 100 calories, 6 grams of fiber, and tons of chocolate flavor, Vitatops are a much healthier choice than the average bakery muffin.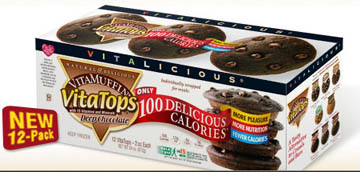 To enter to win a 12-pack of Vita tops, leave a comment telling me your favorite type of muffin!