Thursday morning I set a new record – I didn't get out of bed until 8:45am. Yikes! Luckily, it only takes me about 15 minutes to get ready for work and I was out the door by 9am. First stop: Starbucks for my free coffee! Next stop: work.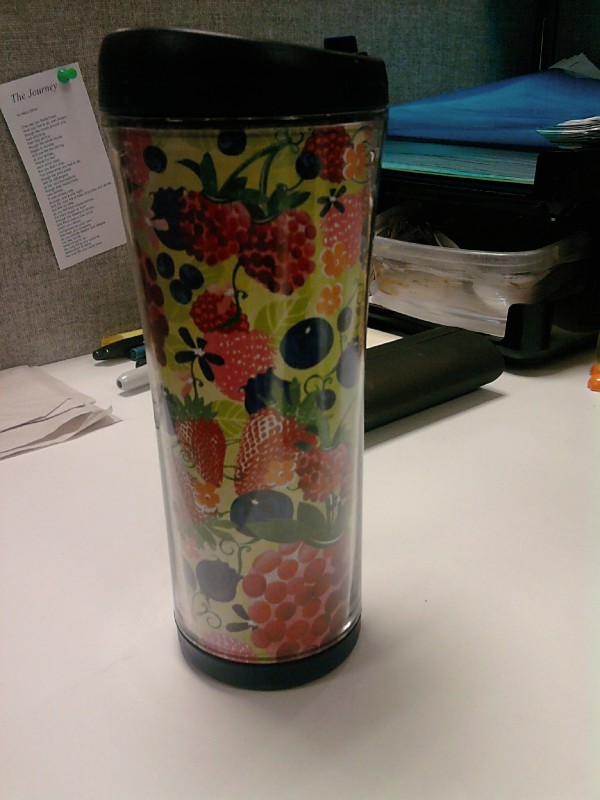 After some of that extra strong java, I needed a stabilizing breakfast. My morning meal was a breakfast cookie made with oats, peanut butter, maca powder, ground flax, raw cacao, and 1/2 smashed banana. I let it sit in the fridge overnight to firm up and then topped with 1/2 sliced banana and greek yogurt.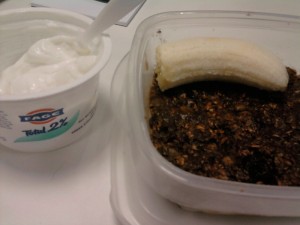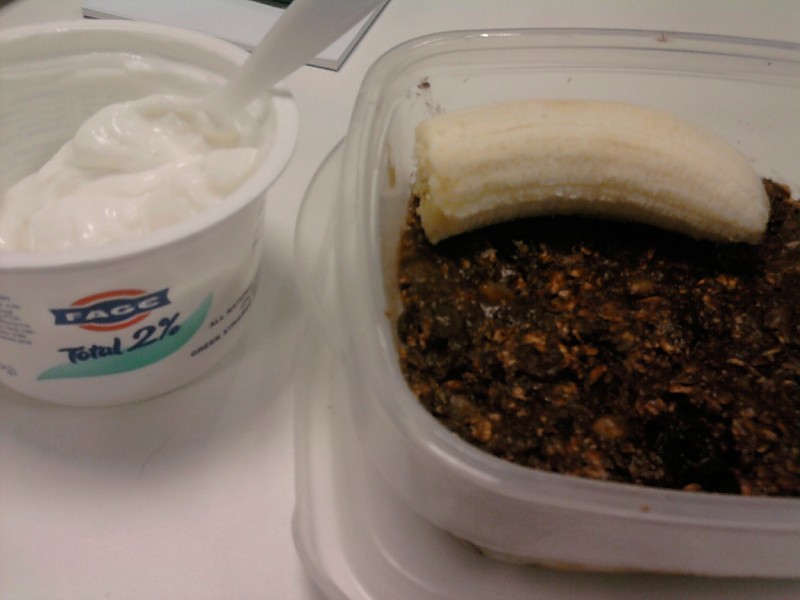 Lunch was a little odd, but I needed to use up some fridge ingredients. I sliced a kiwi and plated that with a bunch of celery sticks and a few Tablespoons of Peter Pan whipped peanut butter.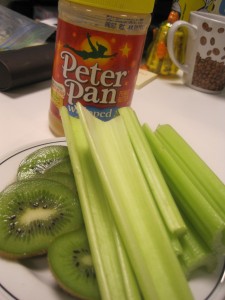 And a Builder's Bar for protein (20 grams). Tasted like a candy bar!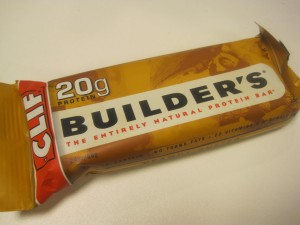 A few weeks ago I received 3 bags of Galaxy Granola to sample (Not Sweet Vanilla, Raspberry, and Vanilla Almond). This granola is baked with applesauce instead of oil and it's very addictive! I keep the bags in my desk drawer for an easy pre-workout snack. Today I tried the vanilla almond and it was delicious. I loved the big pieces of almonds! A 1/4 cup serving contains 120 calories, 2 grams of fat, 4 grams of protein, 4 grams of fiber, and only 5 grams of sugar. I'm a hungry girl, so I had at least two servings.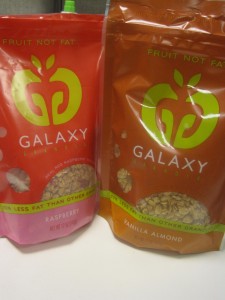 Later on in the afternoon I took my reusable mug back to Starbucks for another free coffee – iced this time. Oh man, I was so jacked up on caffeine. Falling asleep last night was a challenge.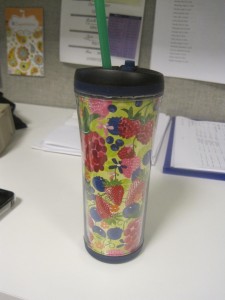 After work, I met Alma for a 4.5 mile run in the park. The weather was lovely – I hadn't been outside all day!
Dinner utilized more fridge leftovers in the form of "Healthified Nachos". I cut a high-fiber tortilla into wedges and toasted it in the oven. Then I topped this with salsa, black beans, reduced-fat cheddar, greek yogurt a.k.a. sour cream, and chopped green onions.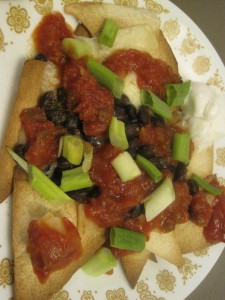 And greek yogurt with dark chocolate dreams peanut butter swirled in for dessert!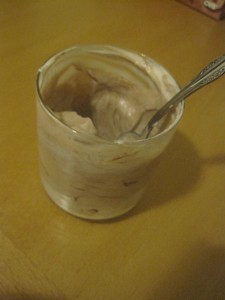 Anddddd then lots of Easter chocolate before bed. Whoops.
So I know that summer is 2 months away, but it's never to early to start planning fun things. I've compiled a wish list of things I want to do, experience, and make during the warm weather months:
2010 Summer Wish List
On a random workday, eat a large ice cream or froyo for lunch. In the sunshine.

FINALLY check out the

Brooklyn Flea

. Eat something yummy while there. Maybe one of those infamous lobster rolls?

Go to the beach (maybe somewhere on Long Island?)

Do many sweaty, summertime runs in only a sports bra and shorts. Woo! Sports bra tan.

Have a pot-luck picnic in Central Park.
What's your summer wish list?
Subway gift card winners: Congrats! Email me your mailing address  – runnerskitchen@gmail.com
Glad you had a good weekend!! Want to try to get together for 40 Carrots sometime this week/weekend?
My fave on-the-go breakfast is a Clif bar and a cup of coffee; I've always been amazed at how well it fills me up all day!
Comment #54: legalstyle says:
My favorite on-the-go breakfast is a bagel and cream cheese! Plus coffee!
Comment #77: Megan says:
My "go-to" on-the-go breakfast is usually a Clif bar and an apple. These are extremely portable and easy to dispose of at destination arrival
But, I have found that I like Panera's power breakfast sandwich sans ham. It is filling to the max and easy to eat with one hand! Oh yeah, and there is a Panera on the way home from the gym… hehe