Hello and Happy Tuesday! I was out-of-town the past few days, but now I'm back in the city and back to the grind. After Thursday's brutal tempo run and a fun party, I was dragging a bit on Saturday, but I knew that if I wanted to fit a long run in, I had to do it before I left NYC. I ran 11 relaxed miles in 1 hour, 37 minutes on Saturday afternoon and it felt surprisingly easy. After I was done, I didn't even feel that tired! It's a marked difference from the long runs I did back in the fall when I was returning from injury. I remember running for 10-11 miles and being completely wiped out for the rest of the day. Yay, fitness gains! However, my right piriformis muscle gave me some trouble during my run, so to play it safe I rested on Sunday and Monday. I was busy spending time with my fam, traveling, and battling a bit of a stomach bug, so it was an easy decision not to run.
After my run, I used up fridge leftovers in a big salad bowl – spinach, shredded carrot, dried cherries, walnuts, hummus, feta cheese, kashi crackers, and balsamic vinegar.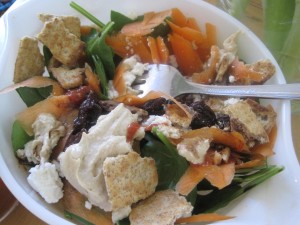 And a stevia-sweetened Lipton PureLeaf iced tea. Mmm, hydration!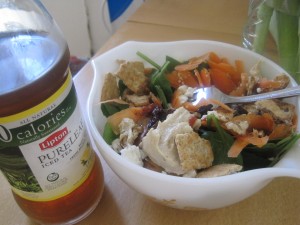 When my mom arrived to pick me up, I blended together some smoothies using frozen berries, banana, greek yogurt, almond milk, agave nectar, and raw spinach. You should have seen the look on my mom's face when she saw spinach going into the blender (!!)….but I think she liked the final product.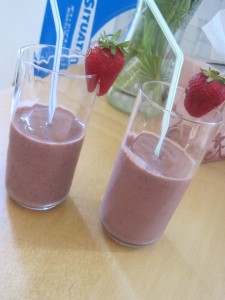 On the car ride to Pennsylvania, we stopped at McDonald's and I ordered a vanilla ice cream cone. I haven't eaten at a McDonald's in a long time – but this treat really hit the spot.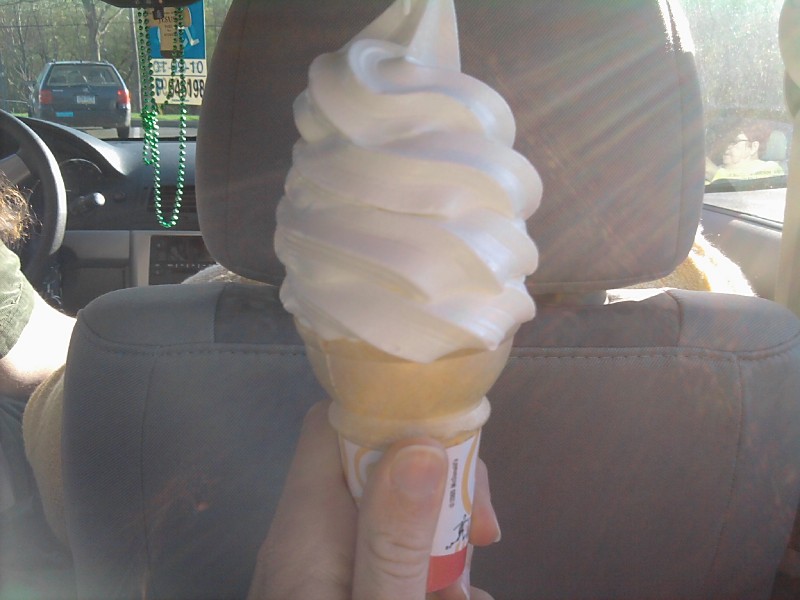 My visit to PA involved lots of good food, family, and relaxation. I was feeling a little under the weather, so it was really nice to get caught up on sleep and take a break from the city.
On Sunday, we celebrated a new arrival at my cousin's baby shower. It was so nice to see all of my relatives – especially my mom and sister 🙂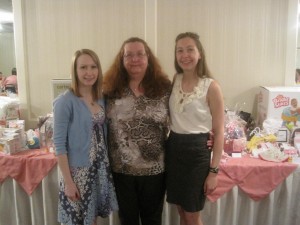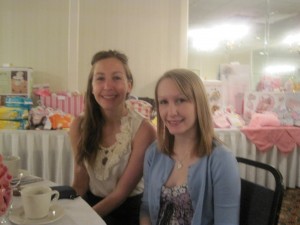 Since I don't eat much meat (especially breakfast sausages, bacon, etc) I wasn't sure what my options would be on the brunch buffet. Fortunately, I was able to put together a pretty balanced plate – no meat required! Along with my coffee and OJ, I enjoyed eggs, potatoes with ketchup, fruit, and a cinnamon raisin bagel. However, I didn't end up finishing the bagel – I wanted to save room for dessert!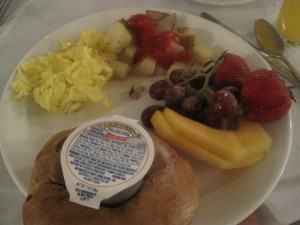 I started off with a slice of the cake. Love, love, love buttercream icing!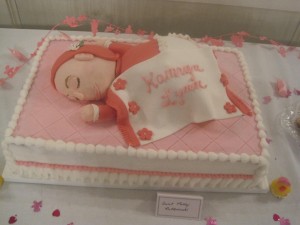 And sampled my way through the rest of the goodies – Hello Dollies (a.k.a. magic bars or 7-layer bars), peanut butter kiss cookies, mini cupcakes, and more!
And I had a scoop of "dirt" – chocolate pudding, cool whip, crushed oreos, and gummi worms. Isn't the pink pail the most adorable container for this dessert?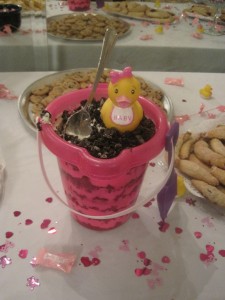 The rest of the day involved shopping with my sis, MORE sweets, and lots of quality time with Mad Men, Season 3. It was pretty perfect. Coming back to the city (and to work), was kind of a bummer. Plus I had to say goodbye to this guy: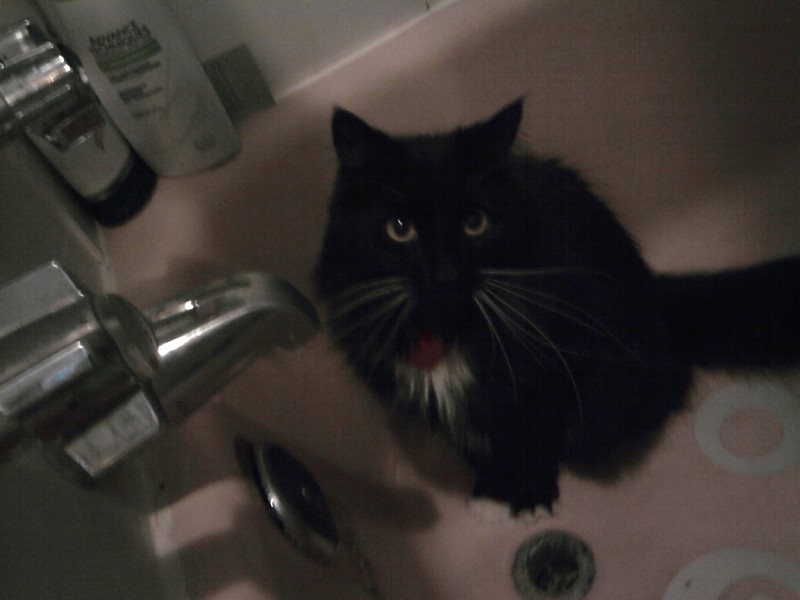 One of Kiwi's favorite spots is the bathtub. He likes to slurp water from the faucet. I caught him in action and snapped a pic with my phone. He's such a weirdo. Hehe.
After a few days rest, I'm itching to run again. If all feels well tonight, I plan on doing 1000m repeats. Here's hoping my piriformis behaves…
True/Slant was having some technical troubles over the weekend, but everything should be fixed now. Check out my latest article if you were unable to access it on Friday!
Announcement: SUBWAY is now serving breakfast! The new morning meals feature a variety of options ranging from the Western Egg White Muffin Melt to the Steak, Egg and Cheese sandwich.  All of the breakfast sandwiches come on your choice of English muffin, subs, or flatbread with a variety of veggies and toppings. Want to win a $10 gift card to sample these new breakfast meals? Leave a comment telling me your favorite on-the-go breakfast. Subway has offered to provide three $10 gift cards to runnerskitchen readers!
 
For an extra entry, follow Subway on Twitter and/or become a fan on Facebook. Then leave me another comment telling me you did so. Good luck! I'll pick three winners Wednesday night.