First things first, the winner of the iherb shopping spree give away is…
Lisa @ Early Morning Run says:
Those cookies look delish!
I would probably stock up on some Bob's Red Mill cereals, chia seeds, and cherry juice! I love cherries and cherry juice, but the juice is just SO expensive!
Congrats Lisa! Email me your contact info so I can hook you up with the goods.
After last weekend's race I was feelin' a little burned out. I was looking forward to a break from focused training. I'm on day 5 of my "rest week" and I've come up with the following observations:
Running is a vital part of my routine. Without the structure of team workouts, long runs, and races I feel a little lost. I've been sort of cranky and restless this week – I miss training!
The more time I have, the less productive I am. Despite the extra hours in my day, I've spent wayyyy too much time screwing around on Facebook and not enough time doing laundry and other "to-do's".
I'm less social. I miss my running buddies.
My eating habits are off. Food tastes better when you're hungry, but since I've been kind of bored/blah, I've been doing a lot of mindless snacking. I've also been lazy about cooking. All I want to do is eat nut butter out of the jar whilst watching Gossip Girl!
Despite my itch to get back on the training wagon, a rest week every so often is a GOOD thing. It recharges me, remotivates me, and allows my body to recover.
I might run a track 10K in the next couple of months, but if not, my next races will be the Healthy Kidney 10K on May 16th and the Brooklyn half-marathon on May 22nd.
Despite being a little cranky this week, there have been plenty of things I've gotten excited about.
1) Real Pickles – my friend Jesse has been raving about these for years and yesterday I finally was able to try them out. These raw and organic goodies are made using a lactic acid fermentation process. No vinegar needed! Why is this better for you?
From the Real Pickles website:
Today, Real Pickles is one of a small handful of businesses in the United States producing raw, lactic acid fermented (or naturally fermented) pickles. This traditional pickling process went out of favor with the advent of industrial food production. Modern pickling methods, including use of vinegar (usually in place of fermentation) and pasteurization, produce a uniform, shelf stable product suitable to the needs of the large food corporations. Unfortunately, modern pickles do not offer the authentic flavor or health promoting qualities of traditional pickles.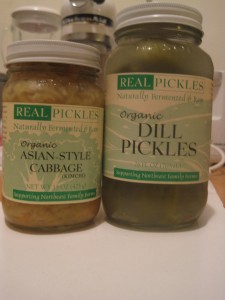 I may or may not have opened a jar on my way home from work yesterday. Yes, I was that weird girl on W. 53rd Street  chowing down on a pickle. It was good! You can find these pickles throughout the Northeast in health food stores and most Whole Foods locations. Yay.
2) Another thing I've been lovin' lately? Justin's almond butter slathered on Kashi TLC crackers. Dinner last night was about 3 platefuls. Lazy? Maybe. Delicious? Absolutely. This slightly sweet-savory-salty combo is highly recommended 🙂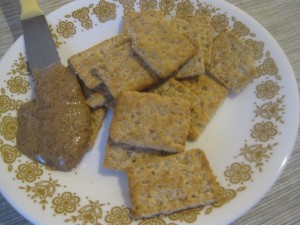 3) We all know that I love ice cream and frozen yogurt and that will never change. But occasionally, I want to add something a little more nutrient-dense into my routine. Solution? Banana "ice cream"! So simple – just put one frozen banana into the food processor and process for a few minutes, until smooth and creamy. I added shredded coconut and chocolate chips to my banana "ice cream". Yum.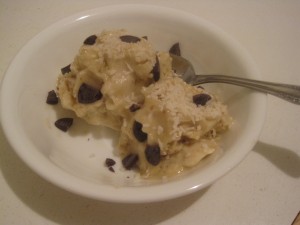 4) And of course, my week would not be complete without dark chocolate. I used to eat Baci chocolates (it means "kisses" in Italian) by the bag when I lived in Florence. Oh how I miss 2-a-day gelatos and 8 Bacis for dessert (no joke). If there was ever a time to indulge, a semester in Italy was the time to do it! I will try to make this bag last longer than 2 days.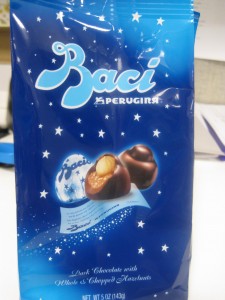 I try to eat a balanced diet, train hard, and get a good amount of sleep, however I know there's something I need to work on – hydration. Now that the weather is getting warmer, doing long runs (10 miles +) without water and electrolytes is just not going to cut it. My friend Michael is writing a series of articles on the importance of hydration for endurance athletes. Drinking enough fluid during your next race may even lead to a new PR!
And finally, I leave you with some lovely gems from the Colon Cancer 15K last weekend. Race photos. Always so bad. But oh-so-entertaining!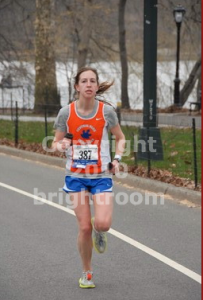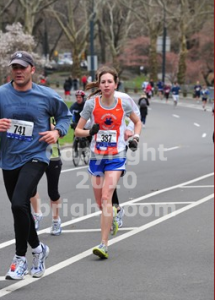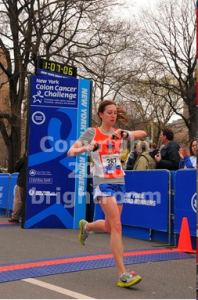 Do you ever take planned time off from running or exercise?
Do you have a favorite springtime candy?? I cannot wait until Easter goodies are marked 50% off. CVS and Walgreens, here I come!