After a lovely (slightly drizzly) 6 mile run in the park with Jacqui, I rolled out my IT band, showered at the gym, and came home to leftovers. I heated up some of my remaining potatoes with romesco sauce and served them over a bed of spinach. I also added a little crumbled herb goat cheese that was sent to me by Ile de France. This goat cheese was great – very smooth and creamy. And did you know that goat cheese is naturally low in fat?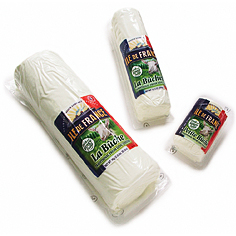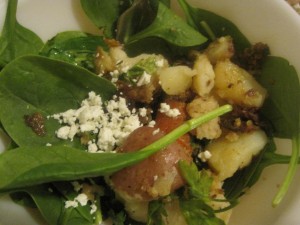 Along with my salad, I spread romesco sauce and goat cheese on a few wasa crackers. I ended up going back for seconds thirds, this combination was delish!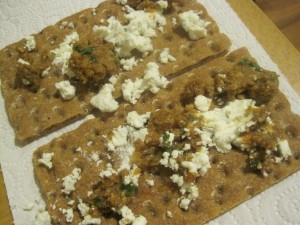 A friend of mine is getting over a cold, so I decided to bake some "Get Well" cookies. This recipe was super easy to make and utilized ingredients I already had in my pantry. And with oats, peanut butter, and powdered milk as the main ingredients – it's practically a healthful breakfast! As long as you don't pay much mind to those 6 Tablespoons of butter 🙂
No Bake Peanut Butter Cookies (makes 12 cookies)
adapted from The Peanut Butter & Co. Cookbook
Ingredients:
3/4 cup rolled oats

1/2 cup powdered milk

3/4 cup peanut butter (not the natural kind)

6 Tbs butter

2 Tbs agave nectar (or honey)

1 tsp cinnamon

1/2 tsp vanilla

dried cherries, cranberries, or raisins (optional)
Directions:
Preheat the oven to 350 F, spread the oats on a baking sheet, and toast for 8-10 minutes, shaking the pan once or twice to prevent burning.
Combine oats and powdered milk in a large bowl.
In a medium sauce pan combine butter, peanut butter, agave (or honey), cinnamon, vanilla, and dried fruit. Heat over low heat for about 5 minutes, stirring regularly.
Pour the butter mixture into the bowl of oats-powdered milk. Stir to combine.
Line a baking sheet with parchment paper and drop heaping spoonfuls of batter on to the pan.
Cool in the refrigerator for at least one hour and then allow to sit at room temperature for another hour.
Note: I have no patience and sampled a cookie after only cooling it for about ~15 minutes in the fridge. It was soft and chewy, yum!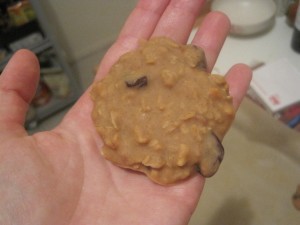 The latest from Running Shorts: Hall and Meb didn't win, but the future still looks bright for American distance running.
Happy Earth Day! Why eating peanut butter is good for the planet.
Question of the day: What's your biggest contribution to being environmentally conscious? I take public transit and/or walk everywhere I go!