I'm a busy gal – between working full-time, running 40+ miles a week, blogging, and social activities, there never seems to be enough time. Lately I've been finding ways to make the most out of every minute. Sometimes this means multi-tasking, other times it just means slacking off a bit!
For example, last night I really didn't feel like cooking anything elaborate. Alma and I had gone running before work, so I was feeling t-i-r-e-d by 7pm.  In fact, all I really wanted to do was curl up in bed and watch Mad Men Season 3, so that's exactly what I did.
Even food bloggers get lazy sometimes. My  "dinner" was PB & Co's dark chocolate dreams and sliced banana on top of Wasa crackers. And then I dug into my remaining chocomize chocolate bars – these candy bars are dangerously good! To avoid feeling too much like a bum, I did some hip strengthening exercises and IT band stretches while catching up on Don Draper's antics.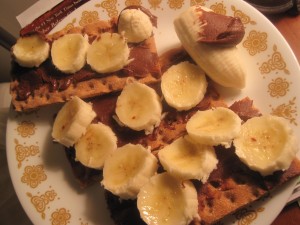 After a weeks of sleeping-in, I finally got myself out of bed for my favorite Tuesday morning spinning class. I need to make this a regular part of my workout routine – cycling strengthens my quad muscles and I think it helps my IT band feel better. Plus I have a tiny crush on the spinning instructor plays great 80's music! I finished up with ~30 minutes on the elliptical and some magazine reading.
Sometimes, a sweaty solo workout is necessary to de-stress, but most of the time I try to multi-task i.e. running with a friend (social time + exercise!), reading a magazine while doing planks, or the aforementioned TV watching + hip strengthening combo.
Breakfast was eaten in 3 parts:
1) pre-gym clif z bar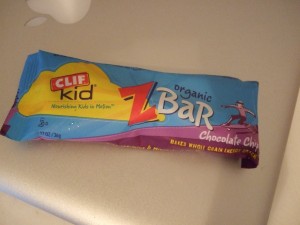 2) post-gym Starbucks soy misto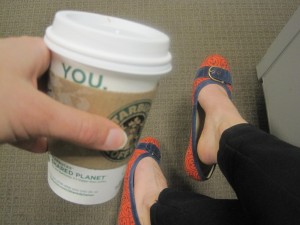 3) a "breakfast cookie" made with oats, banana, and dark chocolate dreams pb topped with 2% Fage.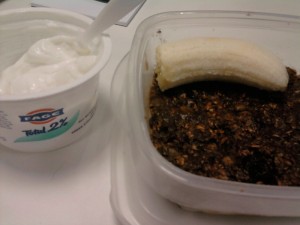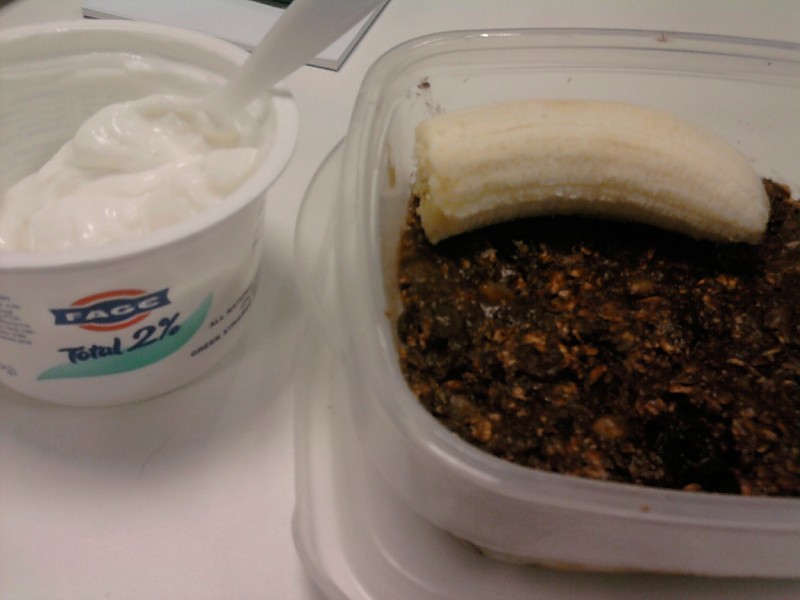 During lunch, I spent a little quality time with one of my favorite authors. I first enjoyed Anne Lamott's Bird by Bird for a freshman year seminar at Wesleyan, but I recently decided to re-read it. Ms. Lamott, you make me smile. Along with my "food for thought", I ate a salad brought from home: spinach, fruit salad, black beans, walnuts, dried cherries, and sriracha hot sauce. It was good, but not the same as my fun office cafeteria creations!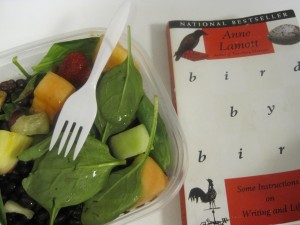 Since my job is 95% sitting (hello tight hamstring muscles!), I use a baseball to roll out/massage my piriformis, hamstring, and IT band. The best is when the ball falls off my chair and I have to go hunt it down. My cubicle neighbors probably think I am crazy.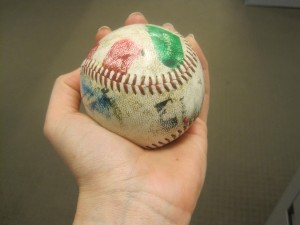 My afternoon snack (yup, I am 5 year-old at heart) was a dark chocolate-oat granola bar and a Adora calcium supplement. In my opionion, combining chocolate with anything is the best way to multi-task 🙂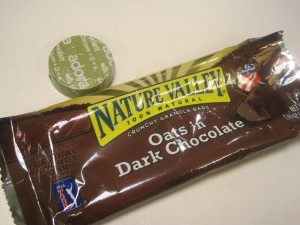 After work I'm headed to a social event with my CSA. Learning about organic vegetables + meeting new friends? Twice the fun!
Read my latest True/Slant article: What (not) to eat during a long run.
Question: What's your favorite way to multi-task?